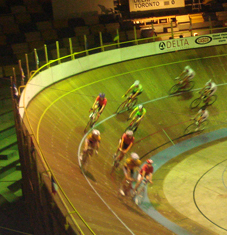 September 10, 2015 (London, ON) – With the help of the Forest City Velodrome organizing committee, the Ontario Cycling Association and Tourism London, Championship Weekend in London is taking shape.  The racing experience for each competitor will be the very best.  The organizing committee is setting up the race with the racers and race fans in mind.  Easy access from the 401, Lots of parking, fantastic sign lines for the spectators, competitors will be on the limit during all of the races.  Old fashion FREE lap rule will be in effect.  Expanded Hot Seat for the Youth Cup Series during the Saturday time trials.
The Ontario Youth Cup Finale & Ontario Criterium Championships will be held at the Sovereign Road Crit course on Saturday, September 12th & Sunday, September 13th.
Ontario resident, Ryan Aitcheson from Kitchener is scheduled to participate in the 90-minute Pro 1-2 event. Aitcheson who races full time in the United States for Team Astellas Pro Cycling, has 12 podiums in 16 races on the very tough USA Pro Criterium circuit.  Aitcheson grew up on the boards at the FCV is looking forward to returning to London.
Scott Matthews, an FCV volunteer said, "We have the organization willing to make these two great events happen, Tourism London stepped up for the Ontario Criterium Championships on the Sunday." Matthews went on to say "the Sovereign road course is a wide with very smooth. The speeds will be very high as the racers will be able to negotiate the corners at full speed". "The organizing committee welcomes all Ontario Cyclists to London on Championship weekend".
Tourism London got involved three years ago with the FCV & Ontario Youth Cup Series, The organization loves the Bicycle races and want to see even more riders come to London and participate in the Championship Weekend.
The London Airport Inn & Suites a local hotel has stepped up to offer $99 per night rooms for the participants (just say you are with the FCV cycling group).
Tourism London Youth Cup Grand Prix – Saturday September 12th,
Racing for all youth in Ontario: Squirt * Pee Wee * Minime * Cadet…. Register today.
Tech Guide: here.
Registration: here.
Ontario Criterium Championships p/b Tourism London – Sunday September13th,
Tech Guide: here.
Registration: here.
Top 10 riders in the Ontario Youth Cup Cadet Series (boy & girls) may upgrade for the Junior event.