April 25, 2017 – According to a team press release, French rider Yoann Offredo of Wanty-Groupe Gobert was attacked while training outside Paris, where he lives. Offredo was riding with two others when the passenger from a passing vehicle got out and attacked him with a wooden bat and then head butted him. The woman who was driving is reported to have been holding a knife, but Offredo blocked the driver's door from being opened. Police halted the confrontation, and a report and complaint has been filed according to Wanty-Groupe Gobert.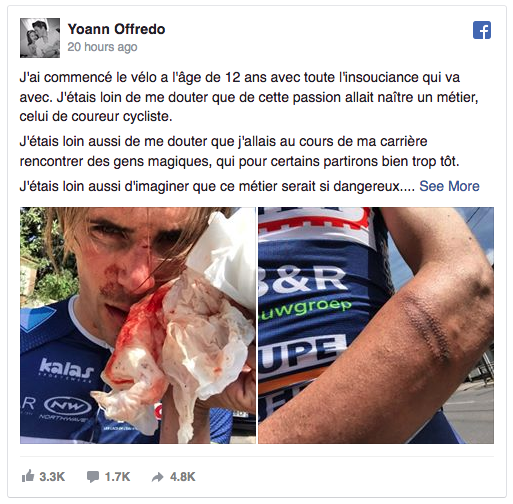 According to Offredo, "I was training with two colleagues in the Chevreuse Valley when a car went by very close past us. Suddenly the driver braked with the intention of letting us crash. I wanted to talk to the driver, but she was ready to get out of the car with a cutter blade. In a reflex I blocked the door of the car. Then the passenger got out of the car and picked up a wooden tool handle from a suitcase. With that he hit me and afterwards he head butted me."
Offredo suffers from pain and cuts to his face and bruising to his torso. He will visit the hospital for a checkup, but is expected to resume competition with the Four Days of Dunkirk from May 9-14th. Offredo has already had a strong start to the season, finished 14th at both Paris-Roubaix and Ronde van Vlaanderen.
The attack on Offredo is the latest and most severe in what seems like an increasing frequency of reported hostilities between motorists and cyclists. In early April, former Olympian and businessman, Louis Garneau, was hit by a half-full pop can which was thrown from a passing vehicle. Garneau suggested the incident was spurred on by comments made on Quebec City radio by André Arthur, encouraging motorists to hit winter cyclists. While the two incidents aren't linked directly, they illustrate the distain many face when they head out for a ride – full story on Garneau here. André Arthur story here.
Offredo posted this on Facebook following the attack:
Wanty-Groupe Gobert press release here.