September 24, 2015 – The Union Cycliste Internationale (UCI) is delighted to announce the launch of the UCI Women's WorldTour (WWT) signifying a major step forward for women's cycling. The Tour, which will be launched in 2016, will become the leading series of races for professional women road cyclists replacing the former UCI Women Road World Cup which ran from 1998 to 2015.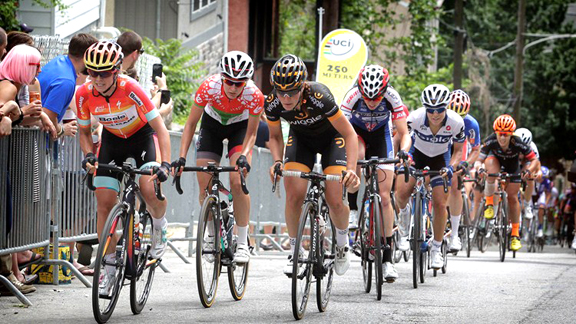 The WWT will comprise a combination of one-day and stage races and will run for 35 days from March (Strade Bianche, Italy) to September (with the recently formed one-day La Madrid Challenge by La Vuelta), increasing the number of competition days by more than 60%.
The 2016 calendar [click here] will take the peloton to 17 events across Europe, the United States and China, including for the first time multi-day events such as the Aviva Women's Tour of Britain and the historical Giro d'Italia Internazionale Femminile. The popular Amgen Tour of California and the Philadelphia International Cycling Classic will be staged in the United States.
The top 20 UCI Women's Teams will be invited to participate in each event with some organisers choosing to increase the size of the peloton by offering a greater number of teams the chance to race. There will be WWT leader and young (U23) leader jerseys and individual stage races will also be allowed to introduce their own jerseys. As well as competing for victories in the individual races, the riders will also battle to position themselves in the overall WWT rankings.
Increased media exposure is at the heart of UCI's strategy for the development of women's cycling and there will be substantial live broadcast and streaming as well as highlight packages. Organisers will also provide a news clip to be distributed to international broadcasters after the race finishes and the UCI will ensure that each event is promoted across social media, including its dedicated women's cycling channel.
Already in 2014, the UCI invested in improving the broadcast of women's professional cycling, resulting in an eight fold increase in viewership that year. Further progress is anticipated in 2015 when the audience analysis is concluded, and the WWT will bring substantial further growth.
The UCI has spent a full year consulting with event organisers, teams, rider representatives, media and sponsors before setting up the WWT.
Improvements in women's cycling are also made towards the professionalization of team structures carried out through a UCI Women's Teams Working Group created in 2015.
UCI President Brian Cookson said: "The launch of the UCI Women's WorldTour is a major step forward for women's cycling and reflects detailed and very constructive discussions we have had with all our key stakeholders for more than a year now. Growing the profile and professionalism of women's cycling was one of my election pledges and so I am delighted that we have been able to reach agreement on the UCI WWT which will see competition days increase by more than 60% with the peloton taking place in 17 events across Europe, the US and China
UCI Vice-president and Chair of the UCI Women's Commission Tracey Gaudry added: "The UCI Women's WorldTour will present a season-long calendar of events that will help build a strong narrative around our sport. With riders battling for honours in one-day classics and stage races as well as for overall WWT rankings, I'm convinced we now have a premier product that will bring a whole new set of fans to women's cycling. This is an important moment for women's cycling."
The UCI Women's WorldTour in short
– 35 days of racing
– 4 stage races
– 13 one-day races
– 9 countries
– 8 races broadcast live