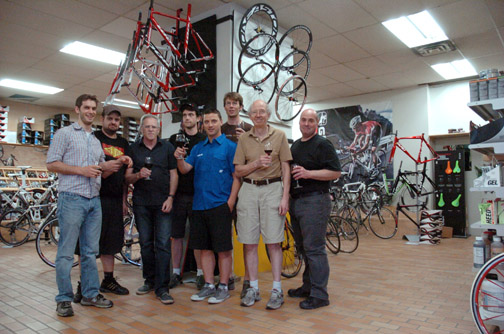 February 12, 2014 (Toronto, ON) – La Bicicletta is proud to host a wine tasting event on February 19th, drawing you into the beautiful cultures of wine & cycling. Mariano Gonzalez, sommelier at TERRONI Adelaide, will guide us through tasting of five wines of his selection, from Ontario vineyards, and abroad. Since recognizing wine tasting notes can be an intimidating, Mariano has skillfully paired the characteristics of each wine with either a past La Bicicletta Cycling Club ride, or a legendary cyclist.
This is a ticketed event limited to 30 participants, so purchase your tickets here to avoid missing the fun! Cheese and meat platters will be served.
For every glorious wine with an interesting story, there's an epic bike ride to match. In 2013 La Bicicletta launched its own Cycling Club, exploring the most epic Ontario backroads, with many jokes and myths developing en route. But every cyclist recognizes the rich history of strongmen and legendary moments that came before them. This wine tasting event will pay homage to both past riders, and La Bicicletta Cycling Club rides, in a fun night for everyone.
Event details:
Date: Wednesday, February, 19 2014, from 6-9pm
Tickets: $35 (or $30 for La Bicicletta Cycling Club members). Click here to purchase.
Location: La Bicicletta, 1180 Castlefield Avenue, Toronto, M6B1G1 (click here for a map).