February 15, 2014 (Windham Centre, ON) – As we reported earlier, the 40-year-old velodrome at Win-Del Park is facing an uncertain future. The 250m outdoor velodrome (still often referred to by its former name of "the Delhi Velodrome") is in a poor state of repair, but the oval track at Wind-Del Park could make an ideal training facility to complement the modern indoor 250m Mattamy velodrome being built in Milton for the 2015 Pan-Am Games reports the Simcoe Reformer, citing Rick Lee, manager of National Cycling Centre in nearby Hamilton.
"We see it as a good opportunity," Lee said, talking about rebuilding the Windham site and promising to give the facility "a lot of use." He said that his group, which currently trains at the Bromont Velodrome in Quebec would move its training camps to Windham. About 30 riders attend these camps at present.
The velodrome could make a great outdoor complement to the indoor Mattamy Velodrome in Milton, expected to be completed this August or September. And the Wind-Del Velodrome has heritage value in a community where there are many European immigrants who brought a strong tradition of cycling with them. But one obstacle is the cost of repairing the Wind-Del velodrome, estimated at $100,000 some 15 years ago. There also seems to be little public support for keeping the velodrome, which some locals would prefer to see converted into soccer fields.
Windham Councillor Jim Oliver suggests that the Toronto 2015 Pan-Parapan AM Games might cause track cycling to catch on in a big way in Ontario and rekindle the province's enthusiasm for the sport. A noted in our Nov. 2013 report the Delhi track scene was vibrant and bustling in past, with events hosting over 100 riders, and Oliver thinks that Milton could ultimately prove to be the Win-Del Velodrome's salvation.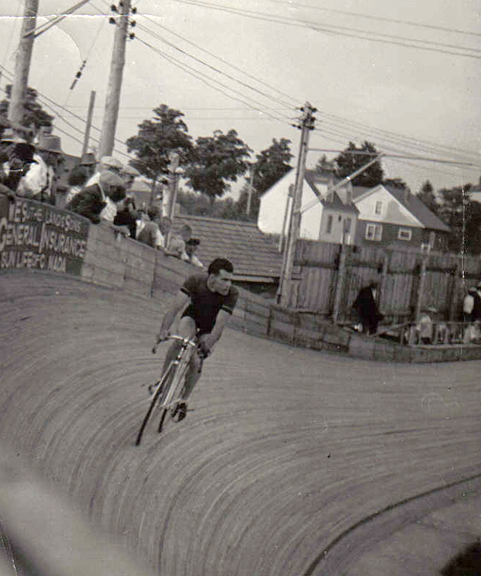 Albert Schelstraete-Coulier, renowned Ontario pro track rider who designed and built cycling velodromes across North America, and co-founded London's Forest City Velodrome with Good, built Delhi's first track around 1940 and was involved with the successive tracks that were built there, including the Win-Del Park Velodrome.
Reader comments posted after a previous Simcoe Reformer article suggest many local cyclists were unaware of the velodrome. They question why the facility is not properly advertised and promoted.
The number of velodromes across Canada has dwindled to eight (including Wind-Del) rather than increased in recent years following the 2007 demolition of a velodrome on the western outskirts of Quebec City. But the tide may be turning as construction of the $56 million Mattamy Velodrome in Milton ON is underway and there are also plans to replace the current outdoor velodrome in Edmonton with an indoor facility. There is also a group pushing for a velodrome in Ottawa, ON and there's talk of rebuilding one in Montreal, QC.
Ironically, many other countries with smaller populations and warmer winter weather have more velodromes than Canada: Australia has 52 velodromes while Belgium has 13 and New Zealand has 14 tracks according to Wikipedia.
Simcoe Reformer article here.
Pedal report on the Win-Del Velodrome here.