February 24, 2016 (Toronto, ON) – Two exhibitors at the Toronto International Bicycle Show are announcing their partnership, with a chance to win a cycling holiday in Italy. Bici Amore Mio, a network of bike hotels offering cycling services in 5 distinct and unique areas of Italy and Pinarello bicycles with the support of Uno Imports, will be announcing their new partnership at the show.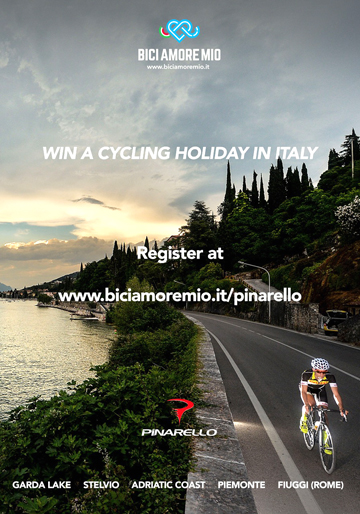 All the hotels in the Bici Amore Mio cycling group offer Pinarello bikes, including the famous Dogma F8 for use as part of a cycling holiday package. To promote our new partnership, the two companies are sponsoring a contest to win a free cycling holiday at one of the famous bike friendly hotels of your choice.
Nicola Verdolin of Bici Amore Mio group ; "We are pleased to be associated with The Toronto International Bicycle Show, Uno Imports and Pinarello in Canada. This is the perfect venue to showcase our new partnership and share and the opportunities and joy of cycling in my home country – Italy".
To win a one-week cycling holiday for two people and the use of a Pinarello bicycle at one of Bici Amore Mio cycling group hotels, enter the contest here and or visit the Pinarello booth at the show in Toronto on March 4-6, 2016.
(** The holiday includes a stay for two people in a double room in one of the Bici Amore Mio bike hotels including bike, meals and guided bike rides. Flights, transportation and transfer are not included.)