February 20, 2017 (Toronto, ON) – Don't miss your chance to win a 2017 Bianchi Torino at the Toronto International Bicycle Show, which runs from March 3-5 at the Better Living Centre, CNE. The show will feature the most up-to-date displays of new bicycles, accessories and apparel from over 175 manufacturers, distributors, retailers and other exhibitors.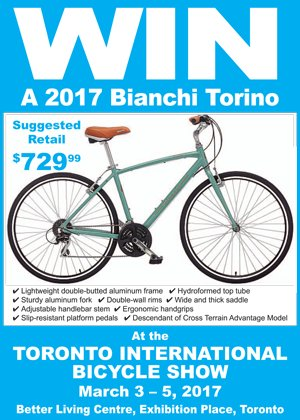 The event is a great way to kick off your season and discover the latest trends for 2017 – plus visitors can also enter to win a Bianchi bicycle.
The show includes a Retail Marketplace area for consumers to buy products and a Manufacturers Showcase area as well where leading manufacturers and distributors will be displaying their latest products. The 2017 edition will also showcase electric bicycle exhibitors, bicycle frame building, bicycle tours and a bicycle club fair. Below is a snapshot look at some of the hightlights at this year's show.
– Retail Marketplace – buy the latest bicycle products from key Toronto and surrounding area bicycle retailers
– Manufacturers Showcase – located at the West side of the building see what's new and hot for 2017.
– Electric Bicycle Exhibitors – will showcase their latest technology and products.
– XJAM 2017 – BMX-JAM and mountain bike freestyle riders competition.
– Street Jam – BMX pro and expert riders battle
– 2,000 Foot Test Track – test out every kind of bike including Pedal Assist Electric bikes
– Mini-Velodrome Competition – test ride and experience the thrill of riding a bicycle on the velodrome track
– Extreme Trials Demonstrations – Watch amazing technical riding skills on extreme ramps and obstacles
– CFO Pro/Am BMX Flatland Freestyle Competition – see the world's top freestylers
– Roller Racing -D'ornellas Bike Shop presents old school roller racing.
– Kid's Action Zone – Enclosed carpeted area for kids to let loose, taking in a number of great activities.
– Trillium Trailblazers Youth Area – Join the Trillium Trailblazers for our Youth Skills area.
– Great Lakes Winter Classic Bike Polo Tournament – first major event of the Bike Polo calendar 2017.
For more information, visit the Toronto International Bicycle Show website here.