June 18, 2012 (London, ON) – Over the years the Forest City Velodrome has produced many talented young athletes who have advanced their cycling careers internationally.  Resources for these young athletes have been extremely tight in recent years, and for this reason the FCV has begun a fundraising drive for local 16 year old racer, Will Simonds.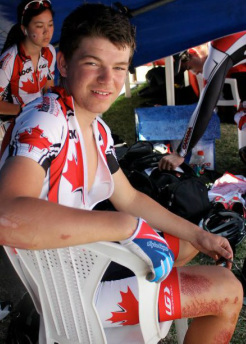 Will needs your help…. He has been nominated for Team Ontario this summer and has earned a spot on the Canadian team for the 2012 Junior World Track Championships in New Zealand in August.  To attend all of the competitions over the next 3 months, costs are estimated to be $8,500.00.  As a Junior, all the projects are self-funded there is no assistance from the CCA (unfortunately).
These are important steps in Will's ultimate dream to represent Canada at the Olympics in Rio de Janeiro in 2016.
Ideally we would like to come up with 50% of the funds needed for Will to pursue his dreams. The FCV is planning a special night of racing (September 29th) for Businesses and Individuals who help raise funds for Will over the coming few months.
Donors will recieve FREE admission to racing at the FCV on Saturday September 29th and each donor will recieve a T-Shirt and a personalized thank you card for "Making Dreams Happen".
Please make donations payable to the Forest City Velodrome who will track donors and collect the funds on behalf of Will.  Cheques can be mailed to Will Simonds, c/o FCV,  65 Karen Walk, Waterloo Ontario . N2L-5X1.
To follow Will Simonds during the 2012 race season click HERE.