December 08, 2011 (Toronto, ON) – On Friday December 2nd the Wheels of Bloor / Graywood Developments cycling team introduced the 2012 roster with an event at the Wheels of Bloor Bike shop on 2007 Bloor Street West in Toronto. Along with all ten riders back from last year's team four new riders have joined the team bringing with them a wealth of experience, speed, strength, positivity and good humour.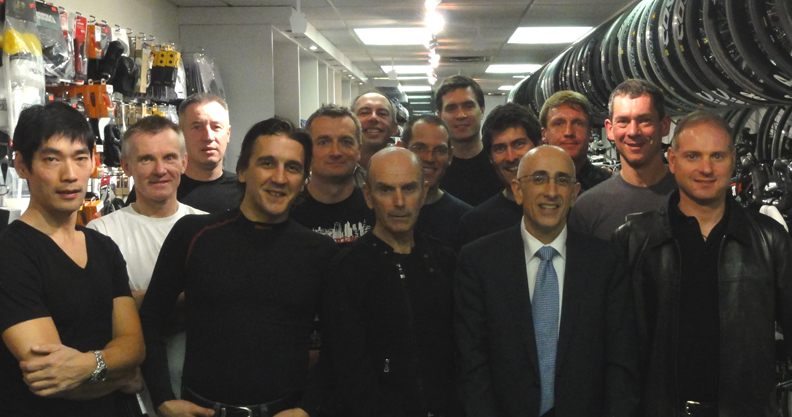 All of the four riders joining the team have years / decades of accomplishments, including the following achieved over the past few years. Rob D'Amico the current Canadian National criterium Champion (Master's B category) joins the team after riding with Z-team over the past few seasons. Paolo Eugeni also comes over from the Z-Team after a 20011 campaign highlighted with a second consecutive victory at the Springbank Road Race and a win at the Ciociara criterium.
Chris Firek joins WOB / Graywood Developments after riding for Gears in 2011 where he quick moved up to the top level of Masters racing including a second place finish at the KW Classic Road Race, after having taken several years away from racing. The fourth rider joining the team is Matthias Schmidt from Darkhorse Flyers. In 2011 Schmidt won the Ontario Provincial Road Race (Masters A Category) and finished third in the Canadian National Road Race (Masters A).
Wheels of Bloor 2011 season highlights include putting two men on the podium at Bike the Bruce, Nith River RR and the Tour de Hans. The WOB team won ten separate events including the Canadian National TT (Masters B), Ontario Provincial TT (Masters B,C & D) and the Ontario Provincial Hill Climb (Masters D). The WOB team also dominated the O-Cup series claiming 1st, 3rd and 5th positions at the Masters 1 level. The 2012 roster now features the last three winners of the OCUP M1 points race in Schmidt, Lukasik and Bird.
Returning Riders are; Tony Abramavicius, Bruce Bird, Joel Cash, Radek Lukasik, Wielsaw Matuszczak, Bobby Mrvelj, Mike Peshko, Victor Pwu, Ian Scott, Shawn Staff, Leo St. Germain.
Wheels of Bloor / Graywood Developments is pleased to have Graywood Developments as lead sponsor for 2012 as well as the addition of new sponsors Lattice Engines (www.lattice-engines.com), Skyline Investments (www.skylineinvestments.com), MCOR Security (www.mcorgroup.com), and Andrew Cloutier Designs (www.andrewcloutier.ca), in addition to returning sponsors Firm Capital Corporation (www.firmcapital.com), TR Consulting Inc. (www.trci.ca), The Butcher Shoppe (www.butchershoppe.com), and Lacie (www.lacie.com).
Equipment suppliers for 2012 include, Cervelo, Kallisto Clothing, Kask Helmets, Diadora Shoes, Ryder Glasses, Gore, and Castelli Clothing