December 05, 2011 (Toronto, ON) – On December 2nd Canadian National Team member Jamie Riggs, A senior at McMaster University, was awarded the inaugural $1000 Wheel of Bloor Cycling Bursary to. A second place $200 award was presented to Brendan Spencer, an 18-year-old freshman at Brock University who rides for the Mirek Mazur's Kalisto / Wheels of Bloor team.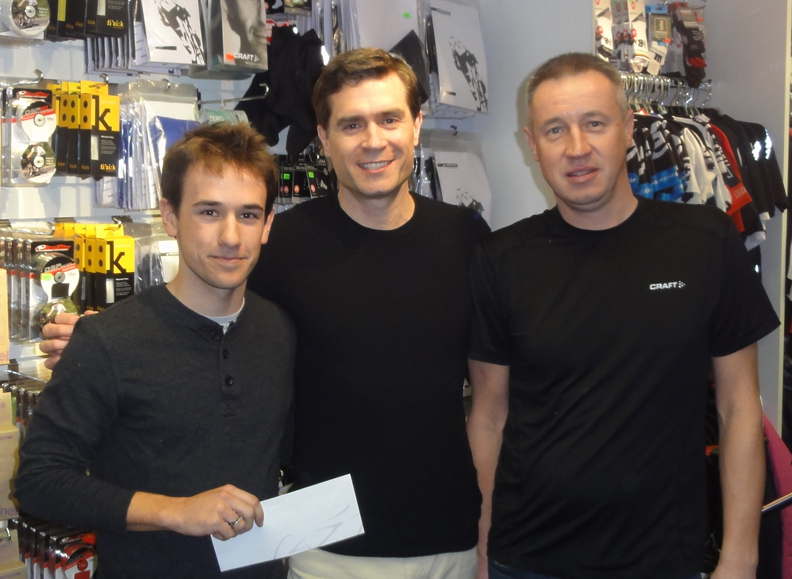 Jamie Riggs had at breakout year in 2011, capped with a second place finish at the Canadian National RR in the under 23 category and participation in the Tour de L'avenir; the world's top stage race for riders under 23. On Friday Nov 26th, Riggs was named the 2011 Road Racer Male Athlete of the year by the Ontario Cycling Association. Wheels of Bloor is happy to provide some support to Jamie as he heads into the 2012 campaign where he will be riding for Jet Fuel under the tutelage of former Canadian National Road Race champion Andrew Randell.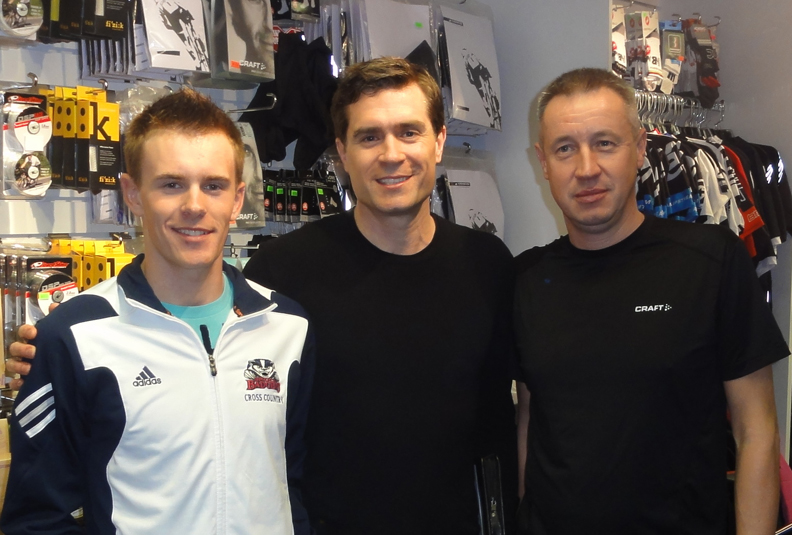 Brandor Spencer is an up an coming Ontario rider who had a busy 2011 campaign competing in over 25 events including stage races in Tucson, Killington, Bennington, the Catskills and the Green Mountains. Spencer, a talented climber, finished second at the Niagara Classic Road Race in 2011. Be on the look-out for Brandon for many podium finishes in 2012 as he gains strength and experience racing once again for Kalisto / Wheels of Bloor.
Wheels of Bloor will be looking to raise more money in 2012 to continue to give back to the cycling community by helping to support local young riders who have demonstrated dedication and promise. A notice will go out next fall to solicit candidates for the 2012 award.
Details regarding the 2011 bursary are as follows:
What is the bursary for?
The award is to provide financial assistance to help a male or female GTA road racing cyclist with the costs they incur as a result of participating in the sport in pursuit of cycling greatness.
Why are we doing this?
The Wheels of Bloor cycling team wants to give back to the cycling community by helping out a young GTA road cyclist. The majority of our team members are GTA-based Masters road racers, who have decided to donate prize money to the sport we love. It is our hope that other Masters racing teams join us in giving back to younger riders.
Who is eligible for the bursary?
The eligibility requirements are as follows:
– Must be a resident of the Greater Toronto Area or Extended Area
– Must be an OCA (Ontario Cycling Association) member
– Provide a reference; such as a coach or team manager
What are the selection criteria?
In making our decision, we will be considering the following information:
The number of road races you took part in during the 2011 season and the results of those races
How much travel was required to participate in those races and how much travel do you anticipate in the 2012 season
Your goals for the 2012 season, including your plans to achieve them
Full-time school attendance during the 2011-2012 school year
Input from your coaches, team managers and mentors
How did I apply?
To apply please send an email, to the address below, demonstrating that you meet the eligibility criteria and your response to the selection criteria. It is not our intention to place an undue burden on the applicants, so please do not feel the need to provide lengthy responses.
Application were sent to: wheelsofbloorbursary@gmail.com
The deadlines?
October 31st, 2011: The Wheels of Bloor cycling team is accepting applications for a $1000 award up to Oct 31st at midnight EDT via email.
November 15th, 2011: The award winner will be notified by Nov 15th and the $1000 check will be handed out at the Wheels of Bloor store at 2007 Bloor Street West as soon as the winner is available to come down to the store and pick it up. At that time photographs may be taken and an announcement made on Canadian websites that cover road cycling.
For more bursary information visit HERE.