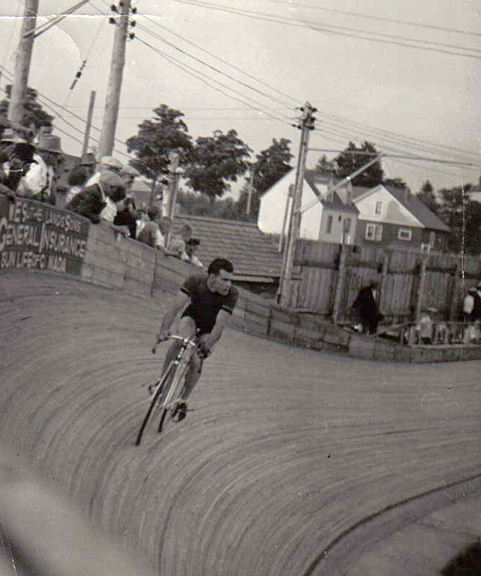 November 13, 2013 (Windham Centre, ON) – The 40-year-old velodrome at Win-Del Park is facing an uncertain future reports the Simcoe Reformer. The outdoor 250m facility (still often referred to by its former name of "the Delhi Velodrome") is becoming a liability suggested Kevin Lichach, Norfolk's general manager of community services, while council recently deliberated its 2014 budget. He spoke of closing and removing the facility as the outdoor velodrome's asphalt surface is not in good condition.
The Win-Del Park Velodrome, near Port Dover, ON, is about 40 years old and has served as host for many track competitions over the years sanctioned by the Ontario Cycling Association. Delhi has a local Belgian association and presumably many local bicycle aficionados, but it is questionable how many current Ontario riders are even aware of the facility which is free to use.

At the meeting, Delhi Councillor Mike Columbus suggested that Win-Del velodrome has been eclipsed in recent years by more modern indoor facilities elsewhere in the province such as London's Forest City Velodrome (FCV).
The new world-class 250m indoor velodrome that is being built in Milton, ON for the 2015 Pan-Am Games in Toronto is another sign that the Delhi track's days may be numbered, but are they? When Milton's velodrome is complete, it promises to be the track destination of choice for serious cyclists across Canada and the USA. While Columbus sees Milton as overwhelming competition for the Win-Del Park Velodrome, another councillor sees things differently.
Windham Councillor Jim Oliver suggests that the 2015 PanAm Games might cause track cycling to catch on in a big way in Ontario and rekindle the province's enthusiasm for the sport. FCV's Rob Good says the Delhi track scene was vibrant and bustling in past, with events hosting over 100 riders, and Oliver thinks that Milton could ultimately prove to be the Win-Del Velodrome's salvation.
Albert Schelstraete-Coulier, renowned Ontario pro track rider who designed and built cycling velodromes across North America, and co-founded London's Forest City Velodrome with Good, built Delhi's first track around 1940 and was involved with the successive tracks that were built there, including the Win-Del Park Velodrome.
Reader comments posted after the Simcoe Reformer article suggest many local cyclists were unaware of the velodrome. They question why the facility is not properly advertised and promoted.
The number of velodromes across Canada has dwindled rather than increased in recent years following the 2007 demolition of a velodrome on the western outskirts of Quebec City. But the tide may be turning as construction of the Milton velodrome is underway and there are also plans to replace the current outdoor velodrome in Edmonton with an indoor facility. There is also a group pushing for a velodrome in Ottawa, ON and talk of rebuilding one in Montreal, Que.
List of existing velodromes in Canada:
– Argyll Velodrome, Edmonton, Alberta (333m outdoor),
– Bromont Velodrome, Bromont, Quebec (250m outdoor)
– Burnaby Velodrome, Burnaby, British Columbia (200m indoor)
– Forest City Velodrome, London, Ontario (138m indoor)
– Glenmore Velodrome, Calgary, Alberta (400m outdoor)
– Juan de Fuca, Colwood, British Columbia (333m outdoor)
– Vélodrome Caisse Populaire de Dieppe, Dieppe, NB (250m outdoor)
– Win-Del Velodrome, Norfolk County (formerly Delhi), Ontario (250m outdoor)
Simcoe Reformer article here.
Ottawa Velodrome Project here.
Montreal Velodrome Facebook Page
Milton Velodrome unveiled and legacy
Edmonton's Velodrome plans
Read more about Albert Schelstraete-Coulier here.
Read more about Joe DeMaeyer here