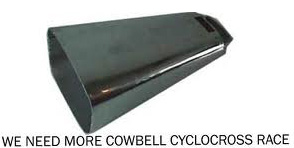 September 10, 2013 (St. Catharines, ON) – The seventh edition of the We Need More Cowbell cyclocross race – Return of da Sunnyvale Playerz will take place Sunday september 22nd at the usual spot of Burgoyne Woods park in St. Catharines. This year's course will combine the best parts of last year's double days and will have more passing lanes opened up – so to speak – to allow for cleaner, faster racing. This year's race is the first O-Cup CX race ever and will adhere to UCI course standards – that is no triple dowhill barriers or random singletrack.
The other major change for this year is that the Team CF kids races will be held at 2:35pm-ish and will be based on age. The use of the full course will be available in this format. It is encouraged that you email the race director if you would like your child to enter the race. It's free and only a bike and helmet are needed.
As usual the will be coffee on site free of charge, and if it's a wet day there will access to a hose in the pits to wash bikes. Also there is a fenced-in dog park on site at the race. It should be a great day of racing and pre-reg is here.
Tech guide and website here.