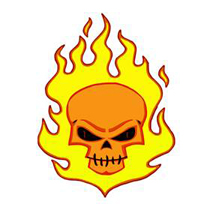 November 19, 2015 (Nanaimo, BC) – This is our second to last newsletter of the year. Before you read and if you raced this year it PLEASE take less than 2 minutes to fill out this survey. It will REALLY help us with our sponsors and planning for 2016. It gives you a chance to fire feedback our way which directly impacts the series and the races. To give you an inventive we will draw for 2 prizes from the submissions on December 10 (We will fire you a few reminders before that).
LINK TO COTR YEAR END SURVEY:  fluidsurveys.com/surveys/normon/cotr-season-10-year-end-survey/
Another rather LARGE newsletter…..so we put a super-bonus at the bottom as an incentive (Don't peek/cheat)
In this COTR Newsletter:

Ronde Von Hogwarts (Aftermath)
Thanks to our sponsors Part I
SSCXWC this weekend in Victoria
Ronde von Howgarts
In 63 events over 10 years we have never had such a polarizing event as last Sunday's.  We have had polarizing features at races such as the BIG jump at Farmer Bills in 2012.  The beach run at Cumberland.  The BMX track at Beban.  We have had courses that people have "not loved".  We have had courses that people do love.  There is no course that EVERYONE loves.  There is no feature that EVERYONE loves.  What we have never seen before is a course that had SO many people express lots of "Un-love" for the course and at the same time SO many people absolutely LOVE the exact same course.
By the numbers it was by no means the hardest we have done.  Out of 63 events the DNF ranking was 27th easiest 36th hardest.  Even of the races this year it was not the hardest ranking 6th between Coal Cross and the Pro City GP
What was also surprising was WHO loved and did not love the same course.  We had vets of COTR series that have raced MANY-MANY events call it "stupid".  We had others that simply did not race.  At the same time we had first year female-intermediate riders with no MTB experience call it the best course of the year after doing all 7 events.  Another female rider in her 2nd race ever that made a point of saying how much she loved the course and the challenge of it.  Others talked about how it pre-rode not well but it raced awesome!  We had compliments about the number of dismounts while others called it a course for mountain runners (they obviously have never seen a mountain run).
Total opposite ends of the spectrum.
We had one major crash on a tough section that required an ambulance which resulted in a few scrapes and bruises only.  At the same time our other major incident of the year happened on a non-descript spot of the Bear X-Ing course which was the most serious injury in probably 3 years.  With 2162 races run this year (racers X number of times they raced).  You can expect injuries.  It is bike racing.  It would not matter if it was a flat straight piece of road, a grand fondo, a DH or a BMX race.  To put blame on the course is misguided.  We all have the same course so if it was the course….we would all be injured.  Injuries in bike racing are a combination of factors as they are in real life.
Back to my point.  It was a TOUGH course.  It was a tricky course.  It was a polarizing course.
It also produced some amazing racing and in the tradition of the series final…..there were some shake ups!
I would like to thank:
Chris Cameron
Andy Pitre
Kevin Calhoon
Scott Mitchell
And a few people that we did not get their names for helping out Simon Webber after his crash on the course.
A quick note from Simon:
Just wanted to let you and everyone else know that I'm fine, no serious injuries thankfully, other than scrapes and bruises and generally being a little banged up. Thank you to everyone who helped out you guys are awesome and I can't thank you enough. That was a great series and I am looking forward to next year.
Cheers Simon
From Race director: Ian Craib

Big THANKS to:
Scott Milnthorp from OBB YYJ helped me out by assembling and distributing the prizes prior to the event.
Scott also coordinated and organized the race course. He took some heat and responded in a professional manner.
Lesley Berkenstock, Richard Barrass, Andrew Barnes, Andrew Russell, David Begg, Derek (LNU) and Ian Brown.
Matthew Ronald Jones who stayed late with me to make sure everything was picked up and the course was cleaned up. In short he worked like a bull.
Rich Martin for his traffic cop control on Sunday.
Bruce "on time" Falk: Timing
Geoff Robson and Mike Zinger for the images (haven't seen anything yet)
Karl Ulrich for supporting this from the beginning and providing the resources.
Dr David Attwell for his "on call" medical and first aid support.
Major contributors for prizes:
Oak Bay Bikes – Karl Ulrich
Oak Bay Bikes Westshore – Chris Dickenson
Live to Play Sports – Steve Pukesh
Cycle Therapy – David Beggs
Shawnigan Lake School
David Robertson (head master of Hogwarts),
Barry Walsh for providing guidance and support throughout
Ronnie Brown who worked with me to get everything ready
Ken Gillam (sports facility manager) for his patience and understanding when crush his grass.
Provided the facility and the Gator at no charge.
Positives:
the schools wants us back
four students (a first) participated
more compliments than negatives
I'm in for one more year
the course was prepared while the Provincial Field Hockey championships was on
If I missed anyone…..my deepest apologies.
And to my club: the Victoria Wheelers who came out to help.
Thanks,
Ian
Thanks to our sponsors (Part I)
We have GREAT sponsors.  We need GREAT sponsors to keep this series going.  We say it several times through the year….we know that you have a choice out there.  We HOPE that you support our sponsors that support Cross on the Rock.  Not only do they all have super cool, super awesome stuff…..they are an amazing group of people and love helping out with our series.
Our new title sponsor: WD-40 Bike (and Cycles Lambert)
How many times have you been to an event where the sponsor slaved away for the entire day washing your dirty stuff?  Peter Crieghton and his son Max helped out HUGE at the muddier events this year: Beban, Pro City GP and Ronde von Hogwarts.  In the end they even had Valet service for the bikes!  Peter has been helping out with prizing for the series since before there was a series.  This year he brought on WD40 Bike to take some of the prize pressure off which helped us a lot.

Mazda
Mazda did a bit of everything this year.  They sponsored Pelle's edit from Coal Cross and Tugboat.  They contributed for prizing.  They sponsored the SSCXWCVic2015 Ticket Noirs for free entries into the event.  Where they were felt the most though was in the introduction of the kids Zoom Zoom Half Track (we should have given them more and called it the "Mazda Zoom Zoom").  We had 67 kids race that event this year.  That is an investment into a healthy future for those kids and for cyclocross.  Plus both Simon and Michael raced their first COTR races this year.  Commitment!

Harbour Air
Harbour Air wanted to support the series….but in a different way.  So they came up with the Harbour Air Hand up Zone concept which added another element to the event.  It was super cool to see the kids out at the events handing out the tickets.  The fly-in at Comox Lake will be one of the lasting memories of COTR for years to come.  Plus they recruited new Harbour Air staff to come out and try racing along with their crew that are regular COTR'ers.

Pro-Pearl Izumi-Shimano
Huge commitment to our series.  Pro-Pearl Izumi-Shimano have been supporting us for years.  Joele Guynup talks the talk as she races almost all of our races (normally on a SS).  Draw prizes for most of our races.  Category prizes for Pro City GP and Bear X-ing.  SHOES!!!! For Ronde von Hogwarts (where else can you win running shoes at a cross race?).  PLUS a wicked wheel set for a series prize.  Course tape.  Man power……….an amazing sponsor and we are lucky to have them along.

Island Cycles (Quadra Island) (55+ Men's Category Sponsors)
We did not see Jack Mar out as much this year as past years but our series felt the support from his little bike shop on Quadra Island.  Jak pushed HARD for a Super Masters category a couple of years back and has kept it going by supplying prizes for that category at EVERY race.  Amazing prizes like nights stays at the Whiskey Point resort….anything that gets you to Quadra Island is amazing!!  We hope to see him racing more in 2016 and his continued support.

Rumble
Great to have Rumble-Paul Underhill-back racing this year.  I get excited every time I see Rumble in a new place as I know he supported COTR from the very start of his company when it is very hard to sponsor events.  The product is amazing.  Having support for our "Last not lapped (I need a RUMBLE)" category at every event is awesome!  Thanks RUMBLE!

Rock City Cycles Nanaimo (formerly Oak Bay Bikes-Nanaimo)
Corey and Sean not only sponsor the series but they also put on the Kona Kup and host a social night in the middle of a double header.  Lots of work.  Another sponsor that has been with our series since the very start of their business.  Now if only we could get them both racing again…….

Phillips Brewery
Delicious Beer and delicious sodas (The root beer is my favorite).  Great community support.  Sponsors of our Single Speed Category.  Growlers and Root beer for the series winners.  Site of one of our very best Pelle video's of all time….the Heist:  https://www.youtube.com/watch?v=vbKmku-mugg
PART II in our Thanks to our Sponsors coming in our last newsletter.
SSXCWC this weekend in Victoria

Just in case you did not know….the WORLD Single Speed Cyclocross Championships are in Victoria this weekend.  This is the FIRST time that this "World Champs" has been held outside of the USA.  More than anything it is a FUN TIME.
Today (Thursday) at 11:00pm is the latest you can register for the event.  If you are not participating in the event you can also come out to some of the social functions or to the "race" part on Sunday at former COTR venue at Western Speedway.
Expert SS racer Parker Bloom from Broad Street Cycles made up a short Q&A for anyone that wanted more information.
What exactly is this alleged Single Speed Cyclocross World Championships that is descending upon my city?
A weekend-long social occasion with a sprinkling of cyclocross racing on bikes with one gear.
This is the ninth iteration of an event that started in Portland OR, and has since been hosted in a number of different cities throughout 'Merica.
SSCXWC is a real tongue-in-cheek countercultural cycling event. This year, we are proud to be bringing it to Victoria, its first international setting.
When is this happening? What does the schedule look like?
THURSDAY November 19th: Registration closes at 11pm.
SATURDAY November 21st: The Feats of Strength group ride begins at about 11am.
Registered riders will be broken into groups of about 15 racers, from all different hometowns, and towed throughout Victoria by a local ride leader. Between intermittent 'hydration' stops, riders will tasked with completing feats of cyclocross-strength at a number of checkpoints. Think hill climbs on single speed bikes, ridiculous sand sections, and some elbow-to-elbow mini races.
That evening Giro is hosting a kickoff party for the event. With roller sprints (Google it!), Hoyne beer, and live music lined up, it should get racers into that festive spirit. As well, the LAST CHANCE QUALIFIER alleycat race goes down. 9pm for one last opportunity to make Sunday's main race.
SUNDAY November 22nd:
11am-4pm. Western Speedway, Langford.
Show up, check out our crazy course, grab some food from the excellent vendors on hand, including Caravan Cuisine and Wanna Wafel. Get ready to race, or cheer/ heckle your favourite SSCX'ers as they duke it out.
12:30pm- Everyone's NOT a Winner. The consolation "Open" race.
1:30pm- Women's championship event
2:30pm- Men's championship event
The entry fee is a hundred bucks. Isn't that expensive?
We think it's great value for a weekend of events. With group rides being arranged for Friday, parties every evening, a killer qualifier in the Feats of Strength ride, and of course the grandiose event on Sunday.
Plus, racers receive a bunch of schwag from our excellent sponsors, including Hoyne brewing, Wolf Tooth components, Nuun, etc. And Hoyne beer tickets. Did we mention the beer tickets?!?
I've got a great cylcocross bike. But it has gears. How hard is it to set up a SSCX for the weekend?
Easy-peasy. Start by bringing the bike down to your LBS. Likely the easiest fix is a single speed cog & spacer kit (Aprx. $65) combined with an inverted shift cable that tensions your derailleur to sit where it needs to be. Adjust the limit screws to keep it all in place, and BAM.
Any secret insights into the 'winning gear' ratio?
Somewhere in the 55-62 gear inch range is cozy.
39×18 is a good starting place.
36×17.
34×16.
Bump down a tooth on your cog size if you are feeling tough as nails.
There are rumours of mandatory costumes. What's the scoop?
Get clever with it. SSCXWC doesn't like to have too many rules. But be warned: the winners will probably be wearing some ridiculous outfit. You really don't want to be the only one ripping around in a silly skinsuit, do you?
Will the race course differ from our usual Cross on the Rock style of racing?
Same kind of idea. But instead of nanaimo-bar hand ups, think Tequila shot shortcuts, and maybe more jumps, berms and whups.
"World Championships" sounds kind of intense. What if I don't want to race against the fast guys?
The Saturday Feats of Strength ride will seed racers into either the Championship event, or the Everyone's NOT a Winner race. If you feel like ripping it up on Sunday, go hard on Saturday. If you want to race the NOT a Winner race, have fun on Saturday, but maybe make a couple of extra tall-can stops.
What if I don't qualify in the Feats of Strength ride? Can I somehow make the Championship race selection?
The LAST CHANCE QUALIFIER! An alleycat race Saturday night. Leaving from the Giro Pre Race Party at 9pm. Super short, super fast. Hit all the checkpoints and get back in the first couple of riders.
The Feats of Strength Qualifier is scheduled for Saturday. I'm working/ busy/ doing super serious interval training that day. Can I still race if I miss this?
Probably. We'd love it if you come out for the whole weekend, but life gets in the way.
Drop us an e-mail at info@sscxwc.com, and we can try to arrange for a starting spot in Sunday's non-championship race.
I'm not foolish enough to want to race. But I want to come spectate. Where do I go and when?
Western Speedway. 12pm-4pm. Bring refreshments, and money for food vendors. Bring a
mega-phone and rubber boots. Maybe bacon-wrapped marshmallows to hand to racers?
Is there an e-mail address that I can send questions/ e-heckles/ kudos/ concerns to? info@sscxwc.com
The BONUS (If you read through this whole e-mail and filled out the survey….if not go back to the start!!—no cutting the course!!):
A Pelle edit from the Waverly Crit.  Bummed that we did not get more Pelle edits this year as the footage with the drone is amazing!!
Enjoy!

Last e-mail coming next week and then silence for 8 months or so.