November 21, 2014 – If you missed the original airing of Subaru Centurion Cycling and Subaru eGames TV shows on Sportsnet One, you can now view them online. Blue Mountain Village and the Town of the Blue Mountains hosted the events the weekend of September 12-14, 2014, which included scenic rides throughout Grey County, the Town of the Blue Mountains, Creemore and Craigleith.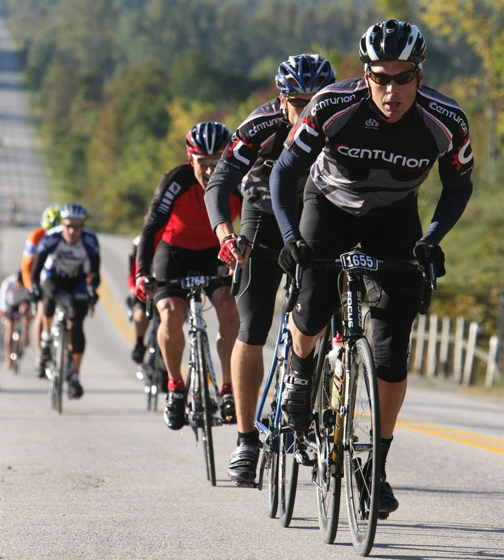 Subaru Centurion in the Blue Mountains, ON appeals to the masses by offering many different levels of competition and fun. In keeping with our motto, "Racers Race and Riders Ride", we kicked off the weekend with the Hill Climb on Friday night followed by the C25 mile road race and Move Canada kids events on Saturday. Our signature events, the C50 and C100 mile road races took place on Sunday. Centurion Cycling not only offers events for the avid cyclist, but also for the casual rider who just wants to get outside and ride to support a great cause.
The second annual Subaru Prospects Challenge was also held during the weekend in Blue Mountains. Born out of an idea to showcase and support Canadian Development Cyclists under the age of 23, this year we hosted over 41 athletes. The Challenge includes the Hill Climb, a 45 minute bell lap criterium and the C50 mile road race.
View the Centurion Cycling TV Program here.
Adding to the excitement, 2014 was the inaugural year for the Subaru eGames. The Subaru eGames featured 14 top male and female development triathletes from across Canada, who competed in a 3 stage event in hopes of being crowned the overall eGames Champion. The first event was a Hill Climb up the beautiful yet gruelling Scenic Caves Road on Friday. Saturday, the Prospects Formula One Duathlon featuring a Run, Bike, Run, Bike, Run took place followed by a 3K Pursuit Run…the females started with a 80 second lead while the males try and pass them for the win. It was truly an exciting weekend for athletes and spectators alike!
To catch all the action of the weekend, click on the link below and enjoy the TV show that aired on Sportsnet One. We look forward to an action-packed event again in 2015. See you at Blue!
View the Subaru eGames TV Program here
STAY TUNED FOR WHAT'S NEW IN 2015!