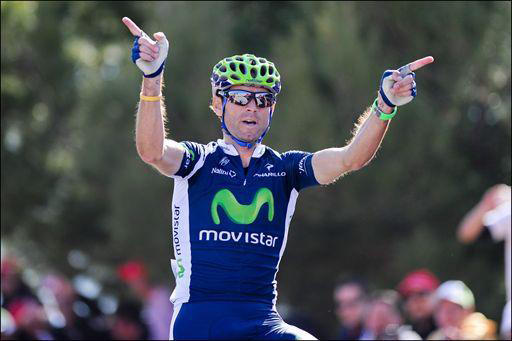 February 21, 2012 (Lucena, Spain) – Stage two of the Vuelta a Andalucia continued today for what was to be a decisive stage for the general classification, and the weather continued to cooperate with low winds, sunshine and warm temperatures.
With climbing as the main feature of this 144km race between Malaga and Lucena, the team was led by newly-hired Directeur sportif Michael Carter, a former professional climber. The stage unfolded as everyone had expected. The peloton was very active with riders from each of the 18 teams wanted a place in the opening break, and as a result the break was difficult to accomplish.
Team SpiderTech protected their two climbers in the race, Caleb Fairly and Lucas Euser, in order to best position them for the climb and put them in the best possible General Classification positioning.
Ultimately, it's Lucas Euser who climbed his way as the top SpiderTech rider, taking the 18th spot of the tough race as he crossed the finish line just 30 seconds after the stage winner and new race leader Alejandrom Valverde of UCI World squad Movistar Team.
Euser was thankful for his teammate cooperation after the completion of the stage: "The team did a great job to position Caleb and I heading into the climb. We started the final climb top 20. The way the wind was today made the lower part of the climb a bit dicey, I didn't like that. The headwind slowed the pace and I'd have preferred if it was a bit more full-throttle from the beginning to the end. I paid attention to Gesink today – he climbs smooth and I thought he'd be a good wheel for me to gauge myself off."
Carter added: "That was a dirty climb today, and was much harder than the race book seemed to indicate. The final pitch was over 15% and the wind on the exposed climb made it really difficult."
The team also had as an objective to protect Will Routley's position  in the Meta Volantes Classification. Routley, who stepped on the podium in yesterday's race, is currently sitting in fourth place of the Meta Volantes classification, with two points.
The stage-races resumes tomorrow for the third stage, a 157 kilometer ride between Montemayor and Las Gabias.
Results
1. Alejandro Valverde Belmonte (Esp) Movistar Team  4:02:37
2. Denis Menchov (Rus) Katusha Team  00:10
3. Rein Taaramae (Est) Cofidis, Le Credit En Ligne
4. Frank Schleck (Lux) RadioShack-Nissan
5. Sergey Lagutin (Uzb) Vacansoleil-DCM Pro Cycling Team  00:13
6. Igor Anton Hernandez (Esp) Euskaltel – Euskadi  00:15
7. Matteo Carrara (Ita) Vacansoleil-DCM Pro Cycling Team  00:21
8. Adrian Palomares Villaplana (Esp) Andalucia
9. Samuel Sanchez Gonzalez (Esp) Euskaltel – Euskadi  00:23
10. Jerome Coppel (Fra) Saur – Sojasun  00:24
11. Bauke Mollema (Ned) Rabobank Cycling Team
12. Eduard Vorganov (Rus) Katusha Team
13. Tom Dumoulin (Ned) Project 1t4i  00:26
14. Robert Gesink (Ned) Rabobank Cycling Team  00:30
15. Mikel Astarloza Chaurreau (Esp) Euskaltel – Euskadi
16. Haimar Zubeldia Agirre (Esp) RadioShack-Nissan
17. Yannick Talabardon (Fra) Saur – Sojasun  00:32
18. Lucas Euser (USA) Spidertech Powered By C10
19. Daniel Moreno Fernandez (Esp) Katusha Team
20. Jelle Vanendert (Bel) Lotto Belisol Team
21. David Lelay (Fra) Saur – Sojasun
22. Matthias Brandle (Aut) Team NetApp
23. Simon Spilak (Slo) Katusha Team  00:36
24. Javier Moreno Bazan (Esp) Movistar Team
25. Fabrice Jeandesboz (Fra) Saur – Sojasun
26. Leopold Konig (Cze) Team NetApp
27. Fabricio Ferrari (Uru) Caja Rural
28. Maxime Monfort (Bel) RadioShack-Nissan
29. Steven Kruijswijk (Ned) Rabobank Cycling Team
30. Wilco Kelderman (Ned) Rabobank Cycling Team
31. Benat Intxausti Elorriaga (Esp) Movistar Team
32. David De La Fuente Rasilla (Esp) Caja Rural  00:41
33. Andreas Dietziker (Sui) Team NetApp  00:43
34. Juan Manuel Garate (Esp) Rabobank Cycling Team
35. Marco Marcato (Ita) Vacansoleil-DCM Pro Cycling Team  00:50
36. Johannes Fröhlinger (Ger) Project 1t4i  00:51
37. Jens Voigt (Ger) RadioShack-Nissan
38. Yury Trofimov (Rus) Katusha Team
39. Antonio Piedra Perez (Esp) Caja Rural  00:58
40. Brian Bulgac (Ned) Lotto Belisol Team  00:59
41. Simon Geschke (Ger) Project 1t4i  01:00
42. Vasili Kiryienka (Blr) Movistar Team
43. Gorka Izaguirre Insausti (Esp) Euskaltel – Euskadi
44. Tristan Valentin (Fra) Cofidis, Le Credit En Ligne
45. Luis Angel Mate Mardones (Esp) Cofidis, Le Credit En Ligne  01:05
46. Bartosz Huzarski (Pol) Team NetApp
47. Reto Hollenstein (Sui) Team NetApp  01:16
48. Egoi Martinez De Esteban (Esp) Euskaltel – Euskadi  01:20
49. Juan Jose Oroz Ugalde (Esp) Euskaltel – Euskadi
50. Jean Marc Marino (Fra) Saur – Sojasun  01:22
51. Thomas Degand (Bel) Accent Jobs – Willems Veranda's
52. Alexandre Geniez (Fra) Project 1t4i  01:23
53. Rob Ruijgh (Ned) Vacansoleil-DCM Pro Cycling Team  01:25
54. Francis De Greef (Bel) Lotto Belisol Team  01:36
55. Yukihiro Doi (Jpn) Project 1t4i  01:38
56. Samuel Dumoulin (Fra) Cofidis, Le Credit En Ligne  01:46
57. Oleg Chuzhda (Ukr) Accent Jobs – Willems Veranda's  01:51
58. Linus Gerdemann (Ger) RadioShack-Nissan
59. Javier Ramirez Abeja (Esp) Andalucia  01:55
60. Flavio De Luna (Mex) Spidertech Powered By C10  01:57
61. Nicolas Vogondy (Fra) Cofidis, Le Credit En Ligne  02:00
62. Pim Ligthart (Ned) Vacansoleil-DCM Pro Cycling Team
63. Caleb Fairly (USA) Spidertech Powered By C10  02:02
64. Raymond Kunzli (Sui) Spidertech Powered By C10  02:05
65. Daniel Dominguez Barragan (Esp) Team NSP – Ghost  02:11
66. Gregory Habeaux (Bel) Accent Jobs – Willems Veranda's
67. Kevin Van Melsen (Bel) Accent Jobs – Willems Veranda's
68. René Hooghiemster (Ned) Team NSP – Ghost  02:14
69. Aitor Galdos Alonso (Esp) Caja Rural  02:24
70. Gert Dockx (Bel) Lotto Belisol Team  02:30
71. Jorge Azanza Soto (Esp) Euskaltel – Euskadi  02:36
72. Oscar Freire Gomez (Esp) Katusha Team  02:45
73. Dennis Vanendert (Bel) Lotto Belisol Team
74. Markel Irizar Aranburu (Esp) RadioShack-Nissan
75. Yann Huguet (Fra) Project 1t4i  02:51
76. Javier Francisco Aramendia Lorente (Esp) Caja Rural
77. Gustavo Cesar Veloso (Esp) Andalucia  02:57
78. Sergej Fuchs (Ger) Team NSP – Ghost  03:19
79. Igor Romero Etxebarria (Esp) Caja Rural  03:32
80. Imanol Erviti (Esp) Movistar Team  04:33
81. José Ivan Gutierrez Palacios (Esp) Movistar Team
82. Jesus Rosendo Prado (Esp) Andalucia
83. Ryan Roth (Can) Spidertech Powered By C10  04:39
84. Mickaël Buffaz (Fra) Cofidis, Le Credit En Ligne
85. Ignatas Konovalovas (Ltu) Movistar Team  04:43
86. Juan Jose Lobato Del Valle (Esp) Andalucia  04:45
87. Michael Matthews (Aus) Rabobank Cycling Team
88. Markus Fothen (Ger) Team NSP – Ghost  04:57
89. Daniel Schorn (Aut) Team NetApp  05:23
90. Daniele Bennati (Ita) RadioShack-Nissan
91. Ryan Anderson (Can) Spidertech Powered By C10
92. Jan Barta (Cze) Team NetApp  05:26
93. Joost Van Leijen (Ned) Lotto Belisol Team  05:35
94. Grischa Niermann (Ger) Rabobank Cycling Team  05:53
95. Gaetan Bille (Bel) Lotto Belisol Team
96. Stefan Van Dijk (Ned) Accent Jobs – Willems Veranda's
97. Kenny Robert Van Hummel (Ned) Vacansoleil-DCM Pro Cycling Team
98. Steven Caethoven (Bel) Accent Jobs – Willems Veranda's
99. Will Routley (Can) Spidertech Powered By C10
100. Luca Paolini (Ita) Katusha Team  06:05
101. Patrick Gretsch (Ger) Project 1t4i
102. Antonio Cabello Baena (Esp) Andalucia  06:29
103. Jurgen Van Goolen (Bel) Accent Jobs – Willems Veranda's  07:12
104. Léo Menville (Fra) Team NSP – Ghost  07:14
105. Jimmy Engoulvent (Fra) Saur – Sojasun  07:19
106. Stéphane Poulhies (Fra) Saur – Sojasun
107. Leonardo Fabio Duque (Col) Cofidis, Le Credit En Ligne  08:02
108. Manuel Antonio Leal Cardoso (Por) Caja Rural
109. Jacob Fiedler (Ger) Team NSP – Ghost  08:06
110. Steffen Radochla (Ger) Team NSP – Ghost  09:29
111. Pablo Lechuga Rodriguez (Esp) Andalucia  09:49
112. Nikita Novikov (Rus) Vacansoleil-DCM Pro Cycling Team  10:17
GC after Stage 2
1. Alejandro Valverde Belmonte (Esp) Movistar Team  9:11:58
2. Rein Taaramae (Est) Cofidis, Le Credit En Ligne  00:03
3. Jerome Coppel (Fra) Saur – Sojasun  00:08
4. Denis Menchov (Rus) Katusha Team  00:14
5. Sergey Lagutin (Uzb) Vacansoleil-DCM Pro Cycling Team  00:15
6. Tom Dumoulin (Ned) Project 1t4i  00:18
7. Samuel Sanchez Gonzalez (Esp) Euskaltel – Euskadi  00:21
8. Frank Schleck (Lux) RadioShack-Nissan  00:22
9. Matthias Brandle (Aut) Team NetApp  00:23
10. Haimar Zubeldia Agirre (Esp) RadioShack-Nissan  00:26
11. Mikel Astarloza Chaurreau (Esp) Euskaltel – Euskadi  00:27
12. Maxime Monfort (Bel) RadioShack-Nissan
13. Wilco Kelderman (Ned) Rabobank Cycling Team  00:28
14. Robert Gesink (Ned) Rabobank Cycling Team
15. Matteo Carrara (Ita) Vacansoleil-DCM Pro Cycling Team  00:29
16. Bauke Mollema (Ned) Rabobank Cycling Team
17. Adrian Palomares Villaplana (Esp) Andalucia  00:31
18. Eduard Vorganov (Rus) Katusha Team  00:34
19. Igor Anton Hernandez (Esp) Euskaltel – Euskadi  00:35
20. Steven Kruijswijk (Ned) Rabobank Cycling Team  00:36
21. Jelle Vanendert (Bel) Lotto Belisol Team  00:37
22. David Lelay (Fra) Saur – Sojasun  00:38
23. Simon Spilak (Slo) Katusha Team
24. Javier Moreno Bazan (Esp) Movistar Team  00:40
25. Benat Intxausti Elorriaga (Esp) Movistar Team  00:41
26. Juan Manuel Garate (Esp) Rabobank Cycling Team  00:42
27. Leopold Konig (Cze) Team NetApp
28. Jens Voigt (Ger) RadioShack-Nissan  00:44
29. Yannick Talabardon (Fra) Saur – Sojasun  00:46
30. Daniel Moreno Fernandez (Esp) Katusha Team  00:47
31. Lucas Euser (USA) Spidertech Powered By C10  00:48
32. Andreas Dietziker (Sui) Team NetApp  00:50
33. Fabrice Jeandesboz (Fra) Saur – Sojasun  00:54
34. Vasili Kiryienka (Blr) Movistar Team  00:56
35. Marco Marcato (Ita) Vacansoleil-DCM Pro Cycling Team  01:00
36. Brian Bulgac (Ned) Lotto Belisol Team  01:04
37. Gorka Izaguirre Insausti (Esp) Euskaltel – Euskadi
38. Yury Trofimov (Rus) Katusha Team  01:06
39. Simon Geschke (Ger) Project 1t4i  01:08
40. Antonio Piedra Perez (Esp) Caja Rural  01:11
41. Reto Hollenstein (Sui) Team NetApp  01:13
42. Johannes Fröhlinger (Ger) Project 1t4i
43. Luis Angel Mate Mardones (Esp) Cofidis, Le Credit En Ligne  01:18
44. Bartosz Huzarski (Pol) Team NetApp  01:19
45. Fabricio Ferrari (Uru) Caja Rural  01:21
46. Tristan Valentin (Fra) Cofidis, Le Credit En Ligne  01:22
47. Juan Jose Oroz Ugalde (Esp) Euskaltel – Euskadi  01:29
48. Alexandre Geniez (Fra) Project 1t4i  01:31
49. Rob Ruijgh (Ned) Vacansoleil-DCM Pro Cycling Team  01:37
50. Thomas Degand (Bel) Accent Jobs – Willems Veranda's  01:40
51. Egoi Martinez De Esteban (Esp) Euskaltel – Euskadi  01:41
52. Francis De Greef (Bel) Lotto Belisol Team  01:43
53. David De La Fuente Rasilla (Esp) Caja Rural  01:47
54. Linus Gerdemann (Ger) RadioShack-Nissan  01:50
55. Samuel Dumoulin (Fra) Cofidis, Le Credit En Ligne  01:57
56. Pim Ligthart (Ned) Vacansoleil-DCM Pro Cycling Team  02:00
57. Yukihiro Doi (Jpn) Project 1t4i  02:03
58. Caleb Fairly (USA) Spidertech Powered By C10  02:04
59. Oleg Chuzhda (Ukr) Accent Jobs – Willems Veranda's  02:08
60. Nicolas Vogondy (Fra) Cofidis, Le Credit En Ligne  02:16
61. Jean Marc Marino (Fra) Saur – Sojasun  02:17
62. Javier Ramirez Abeja (Esp) Andalucia  02:18
63. Flavio De Luna (Mex) Spidertech Powered By C10  02:19
64. Raymond Kunzli (Sui) Spidertech Powered By C10  02:20
65. René Hooghiemster (Ned) Team NSP – Ghost  02:27
66. Markel Irizar Aranburu (Esp) RadioShack-Nissan  02:28
67. Kevin Van Melsen (Bel) Accent Jobs – Willems Veranda's  02:33
68. Gert Dockx (Bel) Lotto Belisol Team  02:50
69. Jorge Azanza Soto (Esp) Euskaltel – Euskadi  02:58
70. Yann Huguet (Fra) Project 1t4i  03:00
71. Gustavo Cesar Veloso (Esp) Andalucia
72. Oscar Freire Gomez (Esp) Katusha Team  03:03
73. Dennis Vanendert (Bel) Lotto Belisol Team  03:05
74. Aitor Galdos Alonso (Esp) Caja Rural  03:18
75. Javier Francisco Aramendia Lorente (Esp) Caja Rural  03:20
76. Gregory Habeaux (Bel) Accent Jobs – Willems Veranda's
77. Daniel Dominguez Barragan (Esp) Team NSP – Ghost  03:24
78. Sergej Fuchs (Ger) Team NSP – Ghost  04:08
79. José Ivan Gutierrez Palacios (Esp) Movistar Team  04:26
80. Michael Matthews (Aus) Rabobank Cycling Team  04:32
81. Ryan Roth (Can) Spidertech Powered By C10  04:36
82. Imanol Erviti (Esp) Movistar Team  04:39
83. Ignatas Konovalovas (Ltu) Movistar Team  04:44
84. Markus Fothen (Ger) Team NSP – Ghost  05:02
85. Juan Jose Lobato Del Valle (Esp) Andalucia  05:06
86. Mickaël Buffaz (Fra) Cofidis, Le Credit En Ligne  05:08
87. Daniele Bennati (Ita) RadioShack-Nissan  05:16
88. Jesus Rosendo Prado (Esp) Andalucia  05:17
89. Igor Romero Etxebarria (Esp) Caja Rural  05:20
90. Daniel Schorn (Aut) Team NetApp  05:26
91. Ryan Anderson (Can) Spidertech Powered By C10  05:27
92. Jan Barta (Cze) Team NetApp  05:40
93. Gaetan Bille (Bel) Lotto Belisol Team  05:42
94. Joost Van Leijen (Ned) Lotto Belisol Team  05:46
95. Patrick Gretsch (Ger) Project 1t4i
96. Grischa Niermann (Ger) Rabobank Cycling Team  05:52
97. Stefan Van Dijk (Ned) Accent Jobs – Willems Veranda's  06:06
98. Will Routley (Can) Spidertech Powered By C10
99. Kenny Robert Van Hummel (Ned) Vacansoleil-DCM Pro Cycling Team  06:07
100. Steven Caethoven (Bel) Accent Jobs – Willems Veranda's  06:10
101. Antonio Cabello Baena (Esp) Andalucia  06:59
102. Jimmy Engoulvent (Fra) Saur – Sojasun  07:28
103. Jurgen Van Goolen (Bel) Accent Jobs – Willems Veranda's  07:41
104. Luca Paolini (Ita) Katusha Team  08:00
105. Léo Menville (Fra) Team NSP – Ghost  08:14
106. Stéphane Poulhies (Fra) Saur – Sojasun  08:22
107. Jacob Fiedler (Ger) Team NSP – Ghost  08:23
108. Manuel Antonio Leal Cardoso (Por) Caja Rural  08:26
109. Leonardo Fabio Duque (Col) Cofidis, Le Credit En Ligne  08:57
110. Steffen Radochla (Ger) Team NSP – Ghost  09:58
111. Pablo Lechuga Rodriguez (Esp) Andalucia  10:00
112. Nikita Novikov (Rus) Vacansoleil-DCM Pro Cycling Team  10:50