July 15, 2016 (Aurora, ON) – Saturday, July 9, 2016, saw the inaugural 24 Hours of Ride for Christian charity ride in Vaughn, Ontario. Over a period of 24 hours, the peloton covered 561.9km without any incidents or injuries. Lead rider, Vito Barbera, was joined by a cumulative total of some 50 riders for the 24 hours on a 43km circuit on local roads.
"This event was founded by my friend Roger Barrett in honor of his son Christian, who has Williams Syndrome," says Vito Barbera. "I'm an avid cyclist; deeply passionate about the sport and also about supporting a chartable cause. This year, I decided to give back by undertaking the first-ever cycling event of its kind to support SickKids (Toronto's Hospital for Sick Children)."
William's Syndrome is "a genetic condition that is present at birth and can affect anyone. It is characterized by medical problems, including cardiovascular disease, developmental delays, and learning disabilities. These often occur side-by-side with striking verbal abilities, highly social personalities and an affinity for music." William's Syndrome afflicts some 30,000 children across Canada. The July 9 ride raised $7,852 for research with hopefully more donations to come.
Christian, aged 7, joined in for the last 1km the 561km total, riding in a Chariot kid's trailer as Vito transferred to a bicycle that already had the trailer attached to it while Barret's other son, Liam, aged 5, also joined the peloton there on his fixed gear 2-wheel bike.
"I try to stay in good shape and am on bike six days a week," explained Barbera, who used to ride in Europe in the 1980s and has raced against such cyclists as Steve Bauer, Greg LeMond, and Francesco Moser. In 2013, he won the Miami Gran Fondo alongside legendary rider Mario Cipollini, averaging in the upper 48-49 kph for most of their ride to victory. The July 9th charity ride saw average speeds of only 26kph.
"I felt pretty good during the whole 561km, but my feet did start to hurt with about 5 hours to go. I also spent a lot of time thinking about peanut butter and jelly sandwiches," explained Vito who did not take the day off on Monday from his job running a cycling studio. Instead, he went to work and did just an easy ride of about 30km.
Apart from running B1 Performance Training Studio in Aurora, he also owns B1 Gruppo Inc, the exclusive Canadian distributor of Bormoio Road Race Bikes. Barbera is also the president and CEO of B1 Evo Cycling Club. Apart from that, he's the CEO and Race Director of upcoming inaugural Gran Fondo Toronto (GFTO).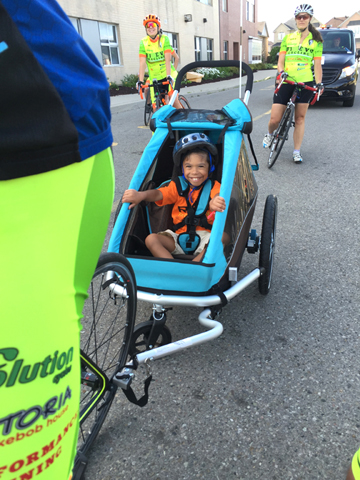 The GFTO takes place this year on August 7 and is open to cyclists of all abilities. Barbera mentions that the GFTO has "the biggest purse in Ontario for such an event. I designed the course based on my racing in Europe and the circuit even includes a switchback – finding a switchback was not easy in Ontario." See more information at the website listed below.
"There were a lot of people without whose support this thing would not have been possible," explained Barbera referring to inaugural 24 Hours of Ride for Christian. "That list begins with my wife, Angelica, who was extremely understanding during the training period. There are so many to thank including Ray of Markham Mercedes, Dr. David Barrett for Medical Support, David Bellisario at Citizen Tea, Fausto at Belemonte Homes, All corporate sponsors from their breakfast, Ivan at  Tim Hortons Donation, Domenic at Forest Paving, Alessio, Stephano, and Jennifer." Eric Kan was the ride's biggest benefactor.
"We will be back in 2017 bigger and better than ever," promised Barbera. Apart from the 24 Hours of Ride for Christian, there is a separate Ride for Christian event that will happen July 30 in 2016, benefitting the same cause.
Ride for Christian July 30 event info here.
Gran Fondo Toronto (GFTO) event info here.