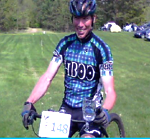 August 17, 2012 (Toronto, ON) – Today is your last chance to pre-register and save on Canada's 100 miler. More single track than almost any 100 miler means that you will never get bored on this fast and fun course. The climbs are short and the trails are primed for a record setting pace at this years Victoria's 100.
And remember to bring your change for the Toonie Race Saturday at 5 pm just after the 10k and 20k races. The World Adult Run Bike Championships will be contested on a short 500m lap. At $2 per lap you can keep going for the record. Cash payout to first, second and third and all the rest goes directly to Nellie's Shelter for Women. Come have fun, cheer, mock and give to a great cause!
See you on the trail!
Visit www.victorias100.com