July 14, 2011 (Victoria, BC) – The Juan de Fuca Velodrome provincial training camp is aimed at Junior and Senior riders who have a passion for track cycling and want to reach the podium on the world stage. Previous track experience is required, as well as a willingness to have fun and suffer!
When: August 24th – 28th
Where: Victoria, BC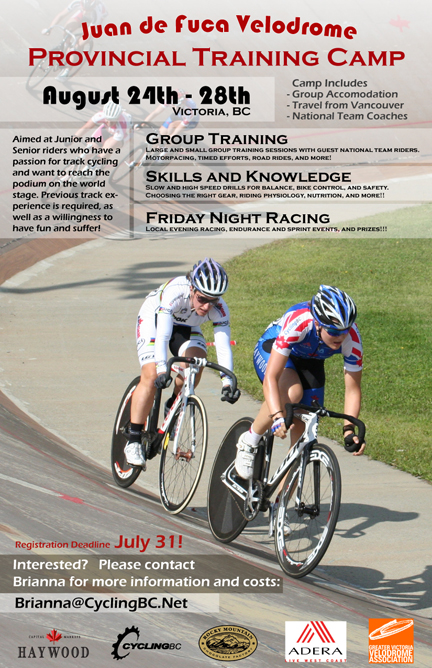 Includes:
– Group Accommodation
– Travel from Vancouver
– National Team Coaches
Group Training
Large and small group training sessions with guest National Team Riders.
Motorpacing, timed efforts, road rides, and more!
Skills and Knowledge
Slow and high speed drills for balance, bike control, and safety.
Choosing the right gear, riding physiology, nutrition, and more!!
Friday Night Racing
Local evening racing, endurance and sprint events, and prizes!!!
Registration Deadline July 31
Interested? Please contact Brianna for more information and costs:
Brianna@CyclingBC.Net