May 07, 2014 (Mont-Tremblant, QC) – Both on-mountain and in Tremblant's pedestrian village, is hosting the 20th edition of the Canada | Québec Cup cross-country and downhill mountain bike events May 16, 17 and 18. In a spirit of inclusivity and sharing, the organization is also proposing activities for the whole family, such as beginner cycling for little ones at Centre équilibre, Toufou's Odyssey and guided mountain tours.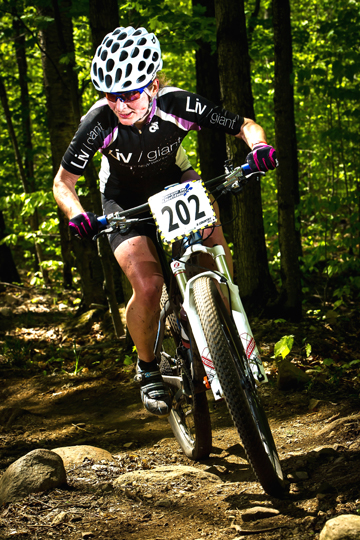 Québec Cup | Canada Cup Cross-Country Olympic and Individual Downhill Series
Olympic cross-country events take place Saturday, May 17 at 8am on the Canada Cup trail. This series is a hotly contested mass endurance event held on a 6 km rocky forest trail featuring climbs, downhill pitches and berms. Staggered departures by age category take place throughout the day. Sunday, May 18 at 1pm on the 2.4 km World Cup course, the downhill event allows athletes to accumulate points towards their Québec and Canada Cup provincial and national rankings – expect high-calibre competition in a race against the clock. Race results will be posted on the event's Facebook page.
What's New with Activities for the Whole Family
All weekend long, Centre équilibre located at the base of the gondola is offering Pump Track type obstacle courses for the whole family. At 7pm on Saturday, May 17, spectators are invited to attend a new Double Trouble event where cross-country and downhill athletes face off on a timed loop course. The fun continues on Place des Voyageurs Sunday, May 18 at 9am with Toufou's Odyssey, a treasure hunt for the whole family. Later in the day, road cycling club V2V is offering guided group rides to discover the region's attractions. Also on the menu is a chance to experience a mountain bike course from a whole new perspective, on guided tours that include a gondola ride to the summit, at 10am.
Up to 50% off at Pedestrian Village Merchants
May 17, 18 and 19, pedestrian village merchants displaying a blue dot will be offering up to 50% off the price of a second purchase. And vacationers who book a one night+ stay before June 18 2014 at participating lodging establishments receive at least 25% off – with free unlimited access to the scenic gondola.