April 14, 2015 (Chateauguay, QC) – The Velo Select road racing team, based just southwest of Montreal, has signed a deal to ride De Rosa bikes for 2015 – and the team has high hopes for the current season. "It's a great bike that fits very well with our uniforms," Czeslaw Lukaszewicz, the team directeur sportif, told Pedal.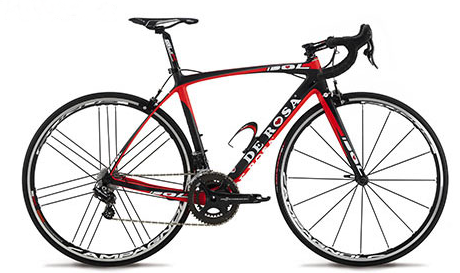 "We wanted to announce the news at a team launch, but it's complicated because our uniforms were delayed. And now we're starting this weekend with our first race at the GP Contrecoeur on April 19. This will be followed by the GP Beauharnois Crit on April 26 and the GP Sainte-Martine RR on April 27." The team calendar extends through late September and takes in such races as the Mardis Cyclistes de Lachine, the Preston Street Crit, and the Quebec Road Championships.
"We are also going to the GP Saguenay. Actually we have received invites from four UCI races in 2015 including Saguenay, the Tour de Beauce, the Philadelphia International Cycling Classic, and the Redding 120 in Pennsylvania in Sept. But we are still working out all the logistics," Lukaszewicz continued. The team website also promises "a wide variety of road , track and cyclocross races" on the 2015 calendar.
Founded in 1947, De Rosa has a long pedigree in the history of bike racing and is closely associated with Eddy Merckx. De Rosa bikes were winning nearly every major European race in the early 1970s according to Wikipedia. The Italian-made De Rosa bikes are distributed in Canada through Logica Sport.
Polish-born Lukaszewicz is a four-time Canadian road champion (1994, 1997, 1999 and 2000). He also competed for Canada at the 2000 Games in Sydney, Australia.
Velo Select Racing Team 2015
– William Blackburn Lasalle (QC)
– Nicolas Barriault Longueuil (QC)
– Logan Cornel Kingston (ON)
– Nicolas Ducharme Lanoraie (QC)
– Jules Cusson-Fradet Longueuil (QC)
– Matthieu Jeannes (FRANCE)
– Ugo Lapierre Montreal (QC )
– Benjamin Martel Valleyfield (QC)
– Laurent Levasseur Lac Beauport (QC)
– Cameron McPhaden Kingston (ON)
– Etienne Moreau Collingwood (ON)
Other team members include:
– David Brazeau (Cadet)
– Wil Etherington
– Jasmin Houle
– Matthieu Roy
– Fabien Parent
– Rico Morneau
Directeur sportif: Czeslaw Lukaszewicz
Directeur Général: Lyall Beattie
President: Andre Charlebois
Velo Select website: here