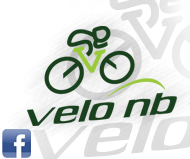 May 27, 2013 – Velo NB is pleased to announce the names of the seven cyclists selected to represent NB at the Canada Summer Games in Sherbrooke, Quebec in August. The team is a mix of experienced international calibre riders and young up and coming talent.
The women's team is composed of Julia Cormier of Hanwell and Natalie Cormier of Memramcook. While not related both Julia and Natalie are studying nursing in university – Julia in her third year at Memorial and Natalie in her third year at University de Moncton. Julia has been racing for six years and was a member of the NB team at the 2009 Games team in PEI. Natalie is newer to the sport of cycling but brings a strong competitive spirit honed through years of high level hockey.
The men's team will be composed of Devin Doiron of Rogersville, Marc Evers of Dieppe, Julien Roussel of Dieppe, Neil Symington of Sussex and Stuart Wight of Riverview. Alternates for the men's team are Justin Mallet of Dieppe and Alex Cormier of Dieppe. Stuart, Julien and Neil have Canadian National Team experience. Stuart is also a veteran of the 2009 Games in PEI and brings a huge depth of racing experience to the team having raced for two years in France and currently racing with both the Canadian U23 National Team and with Hagen's Berman, a top ranked US domestic team.
He recently finished the Tour of Ireland and will be representing Canada again in early June in the U23 Nation's Cup event in Saguenay, Quebec. Julien recently returned from Junior National Team competitions in Belgium and France and is racing the remainder of the year with the Rocky Mountain Cycling team based in Quebec. Neil is also a strong contender for the mountain bike team for NB – which will be named following the final selection event on June 2. Neil recently represented Canada at the World Junior Cyclocross Championships and most recently had a fourth place finish at the Canada Cup mountain bike race in Baie-Saint-Paul. It is no easy feat to compete at a high level in both cycling disciplines but Neil is up for the challenge and spends a lot of time on the road to Quebec to catch top level racing in both sides of the sport.
Marc is working hard to recover from an injury which occurred during the 2012 Tour de l'Abitibi, an international junior stage race in northern Quebec and will be spending time in Quebec regaining his race form and adjusting to the transition from Junior to U23.
Devin is the least experienced rider on the team and along with Neil and Julien is still a Junior, but Devin is making up for lost time by being a powerhouse on the road as well as on the velodrome. He is a Bronze medalist, along with Julien and Justin, at the 2012 Canadian Track National Championships.
Team staff for the road include coach Jean-Guy Cormier of Hanwell, manager Sheila Colbourne of Riverview and mechanic Shawn Marshall of Salisbury. All three staff are veterans of many national and international events with Shawn serving as team mechanic for the Canadian team at numerous events in North America and Europe.