May 04, 2013 (Walterboro, South Carolina) – There are seven races in the US Crits Speedweek series and most of the crits are held in the same area year after year. This is my 3rd year doing this series and it has been very cool coming back and racing the same circuits. It all comes back to you as soon as you look at the course. What worked, what didn't work, where you advanced on the course and where you struggled. The added experience from racing in years past on the same course is huge.
Our 3rd stop in the series was called The Tybee Island criterium and it was new to the series this year. Being a first time event at Speedweek everyone was in the same boat having to race the course for the first time. There were some interesting things to navigate around. One off-camber corner and a very large speed bump/hump made things fun. The narrow straightaway made it tough to advance on one full side of the course. It was fast right from the gun like they all are. I have been starting pretty close to last each race as I feel like I can get up into the top 10 on the first lap with ease. No need to rush to the line anymore. The group gets strung out and I just hammer up the side of the group and go where I want to slip in.
I'm feeling pretty confident now after a few of these races under my belt. I'm cool and calm and really feel like I have never been at a better place on my bike. I'm enjoying the moment and soaking up the surroundings. I think I have now earned the respect of the riders around me. I don't hear any chirping or get any flack when I take a wheel or chop a corner like I did in the past. Feels good to mix it up on the front and know you belong. I was aggressive off the start but really did a bit too much early on. I was vulnerable on one counter move and missed the break that I had pretty much set up. I sat for a lap and then tried to bridge across. I was making ground but I didn't get there as there were six guys up the road.
I was swallowed up by the group and never had the confidence to try again as that 2-3 lap effort really had me screwed. The group didn't just roll up, they went by me and it was everything I had to not get spit out the back. UHC and Smartstop both had guys in the break so things were pretty controlled until the Smartstop rider was dropped from the group. That's when their entire team went to the front to pull back the break. They tried but they could only hold the move at 45 seconds. The entire time I was thinking I should help them and get into the rotation. I was feeling amazing again after sitting in a few laps.
I really didn't know what to do. I knew their train wasn't going to pull them back. It just wasn't going fast enough. I decided to stay up front and save something for the sprint for 6th. With the Smartstop team taking all the lead spots and then the UHC team in a line behind them it was very hard to be in the top 10. This is where I messed up. I made a choice to follow their trains and not be in the mix. A little too much respect cost me a better result. I chose to stay behind the train and that meant I chose to get 18th when I could have finished between 6th and 10th – I was feeling that good. Let's just say I didn't go back to the hotel very happy with myself. There is nothing worse than your mind letting you down. I vowed to make sure that the next day in Walterbourough didn't go the same way.
More info/Results HERE.
Downtown Walterboro
The 4th stop on the circuit this race is fun. It is one of my favourites. I like it because it is wide open and is just plain fast! I also like that it gets so dark and you have to ride on pure instinct. The last few laps are in pure darkness. They have a few portable construction lights in the corners but they do very little. You just ride to the light and trust. This is when riding with all the best riders in the country is a blast and not so painful. The entire group corners so well. Almost everyone is looking after each other and trying to get through the race without a crash.
Even in the dark I felt safe from start to finish. This race started off very fast again but I made sure to warm up really well and was prepared to attack right away and that is what I did. I knew my family was watching the live stream back home and every chance I got I sprinted away from the group to attack the primes. I thought about them hearing my name and cheering in front on the computer. I dive bombed the last two corners and came out on to the last straight with a monster gap every time. The bigger teams tried to control the front keeping the pace high but they couldn't control these blasts off the front. This was how I was going to make up for missing the move last night.
I took four preems for cash and then was in the mix for three field sprints for points (10, 7 and 2). Being aggressive and attacking off the front was paying off in a big way and I was having the race of my life. With every sprint I would keep the legs turning and get into TT mode off the front. I was in a few moves but they all were pulled in by the other teams. The final few laps everything was back together. I got the last sprint with 5-to-go. It hurt so good to blow by the group and cross the line first. It wasn't long before the group came by doing 5-km faster than me. I fought to get into the train maybe 20 back. I needed to sprint again to get up to speed. With 4-to-go I was pretty winded.
The pace picked up as Smartstop was doing their lead out. With 3-to-go I was right up in the train fighting. I got pushed into gutter down the back stretch and came very close to going down. It was black as night and I was in the right hand curb side with nowhere to go. I pushed my way back in and made sure everyone knew that wasn't how things were going to go down. Anton was right there in the mix with me and said for me to get on his wheel. He blasted up the right side and got me very close to the front. I fought for his wheel through the corners and he kept on it as we went through 1.5km-to-go. That is when United Health Care took over. The pace went up quite a bit.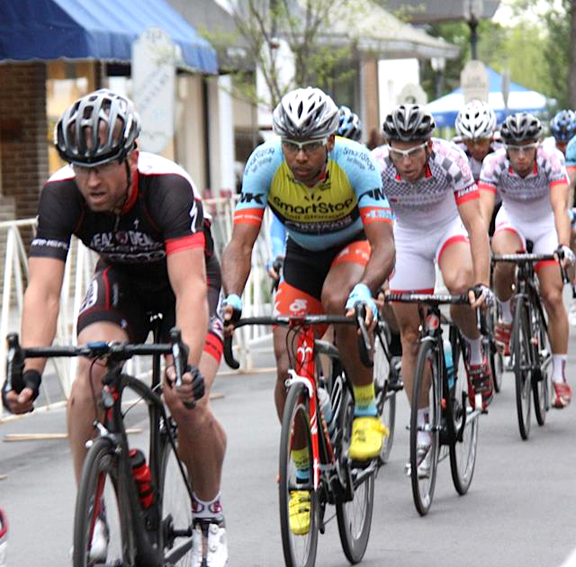 These guys don't mess around. I thanked him for looking after me as I passed him on the inside and did my best to hold on. It was amazing to have him there and to sacrifice like that for me. I got on to the straightaway and lit things up. The group was strung out as we went through the start finish on the bell lap. I was sitting in the top 15 going as hard as I could. I was doing my best seated sprint effort to hold my spot. We were lined right out down the back straight and we were doing 60+km an hour. I was in my 11 and going as fast as I could go. I didn't advance one spot.
My heart was coming out of my chest and I couldn't do anything but hold the wheel. The UHC lead out was mind blowing. I was in complete shock that they could hold this pace. I was on a wheel and was tapped out. They had done very little up until then and when they turned up the heat it was something to witness and be a part of. I was in awe afterwards. I was feeling as strong as ever and really thought I would get into the top 10 on that back stretch.
This was once again a different kind of sprint. They go so hard the entire field just quits. Guys just blow. They let the wheel go and every one comes across the line as singles. This style of racing is something I could get good at. It is something I will get good at. What other option is there? I love this style of racing more than anything. I went back to the hotel happy as hell as I have really found what I'm meant to be.
More info/Results HERE.
Three more to go. The best is yet to come.
Thanks for reading.
Ed Veal