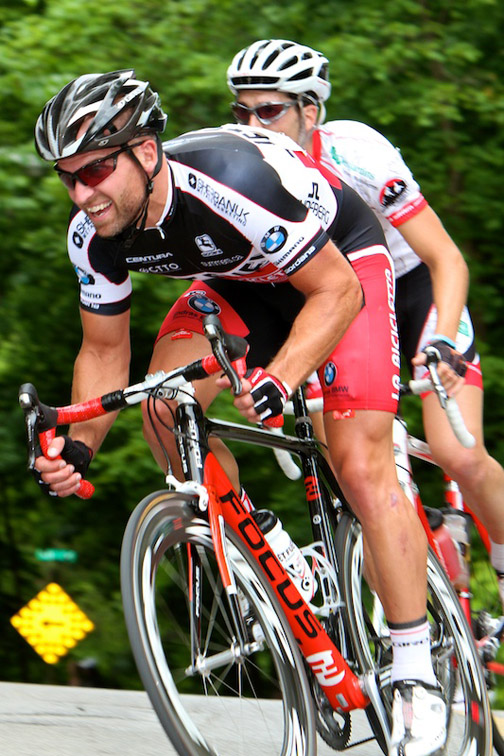 August 02, 2011 (Terra Cotta, ON) – I decided to take a much needed rest week this past week and part of the rest week included going to The Tour De Terra Cotta. I know it sounds silly to go race when you're on a down week but with the success we had last year (Jamie Smith taking the win with Colin Reinholt 3rd), and the fact that they organize such a great event, it was one I just didn't want to miss. The funny thing was I really didn't feel like going when I woke up on race day, Monday, Aug. 1.
I hadn't pre-registered and I really contemplated just enjoying another rest day and avoiding the race. For me a rest week is not having any structure or stress and that's how I wanted this race to be.  I got myself there and then I asked the guys if they were cool with us just racing hard without any tactics or strategy.  I told them I just wanted to do what I felt like and race without any pressure.
We were still going to look out for each other and split the prize money but we could ride with reckless abandon if we wanted. Everyone seemed to want the same thing and we started the race for the first time this year without a plan.  I lined up on the start line and looked around to see a very large field.  I didn't know at the start line but found out after around 190 riders started with us.
It was a neutral start and right away I was leading the field following directly behind the Ferrari leading the race. We followed closely and I held the front position the entire time. I could see Don Zuck (Z-team) to my left and a few others closely to my right.  As we came to the first turn the car accelerated on to the hill and so did I with my teammate Kevin Hazzard blowing right by me to take the lead up the first climb. I got on his wheel and he hit the gas.  Over the top I looked back to see a nice 100-meter gap and that's when I pulled through to keep things away.
It didn't take long before a few others jumped across the gap to us and one of them in tow was Pete Morse.  We had seven with us and I thought I would drive things to make sure it was a good break. I did my yelling routine to get everyone working and made sure everyone knew that they needed to do their share.  I also made sure everyone knew I was going to do more than my fair share too.
I pulled and pulled and then pulled through again just to make sure this thing got away. We battled knowing we had gone from the gun and worked really well together for the most part.  When you're racing a field full of masters you have to know that they will be on the front pulling for no apparent reason at all times.  That means that the peloton will be travelling 40km an hour the entire race with many independents and random team members taking a pull on the front for well….just cause..ummm….its what they do??
So keeping a break off the front is tough and there can never be a let up because they are coming, so there's no slowing or attacking – just pull the group along at a high pace. We had a few guys not doing there fair share (like always) and I started to make them understand that we were going to lose them on the next climb if they didn't want to help. I tried to explain this wasn't just the "early break" it was the "winning break". I knew two riders in the break were in over there heads and really shouldn't have tried to go in the early move… and one was just a veteran who knows how to suck wheel better than most.
At lap 6 or 7 I new it was time and so did Pete so he hit the climb hard and only Anton Varabei (Cycle Solutions) could stay with me and him over the top.  That left Kevin on the other side of the split and I was a little worried that was the last we might have seen of him.  I hit the top of the climb pretty hard after Pete got us the gap and when I looked back I saw Ryan Du Toit (HCC) chasing us down with Kevin on his wheel.  I didn't let up and made that kid work like a dog to get back on.
When they rolled up it was just him and Kevin and now our group was only five. That pumped us up and the five us really started to jam. That 7th lap was fast and we got back the time we had lost pulling the dead weight around.  We worked hard and got inside one to go with a little more than a minute gap on a chase group that included Darko [Ficko]. I asked Pete what he wanted to do and he wanted to go 1-2-3 if possible and I was game. I was to TT away for the win and they would follow the chase and sprint for the 2nd and 3rd spots.
I was waiting for a good time to go when I started talking with Pete again and we decided that we were all more comfortable going to the line and leading me out for the sprint finish.  The win was the most important thing and I agreed. We felt that setting me up for the sprint was the safest bet and what I would rather (of course).
So Kevin and Pete traded off leading into the top of the last descent and I sat on with the two other riders following my wheel. I knew the sprint was into a good head wind and I didn't want to go too early and pull either one of them to the line.  I was ready for an early attack from behind and I knew that was Ryan and Anton's only chance.
I heard one of them go on my left side and as I jumped to react I could see Anton come unclipped and jam his chain as he tried to jump me.  I screamed at Kevin to GO! and I got a few more meters on his wheel before I jumped out from behind him at around 200-250 meters.  I went as hard as I could and got a pretty got gap right away taking my second win of the season!
I will tell you this… it was a long day in the saddle doing a team time trial and when I stood to sprint my legs were not happy.  Having Anton mess up his move made things a little easier on me and I gotta thank him for the very nice birthday gift!  Turning 35 and winning the race on my birthday was pretty special.  Having my parents there to see me win was amazing and we shared an emotional hug and celebrated near the finish line.
The best part of the entire day was going to battle and laying it all on the line with my two team mates.  Going 104km in an early move is tough and I know they had to really kill it to make it stick.  Both did a shit-load of work and I know having the three of us accountable to each other is what made it mean so much…we couldn't let each other down.
When we talked about how it should go down during the race I gotta tell you there's no better feeling than when your teammates believe in you.  When Pete wanted to go for the "sure thing" and lead me out and then Kev just hammered himself after such a tough day to deliver me to the line I gotta say words can't describe the feeling. This is such a rewarding sport and such a team sport!
There is no way I could have won without both of them giving the move 100% and enjoying the win with them with all the hand shakes and hugs and sharing the win with them is worth more to me than anything else. Thanks to the organizers for once again putting on an incredible event and thank you to my Jet Fuel Coffee/LaBicicletta boys for making my birthday extra special.
Next weekend is The Tour De Elk Grove in Chicago… stay tuned.
Ed Veal
www.realdealracing.ca
All categories HERE.
Results
1. Ed Veal (Men 30-39) 2:33:25.6
2. Ryan Du Toit (Men 19&-) 00:00.9
3. Anton Varabei (Men 20-29) 00:01.2
4. Peter Morse (Men 40-49) 00:01.2
5. Kevin Hazzard (Men 20-29) 00:05.4
6. Brandon Spencer (Men 19&-) 00:55.2
7. Bruce Bird (Men 40-49) 00:55.3
8. Ian Robertson (Men 30-39) 00:56.1
9. Ed Makarchuk (Men 40-49) 01:07.2
10. Andrew Bradbury (Men 20-29) 01:07.6
11. Darko Ficko (Men 40-49) 01:10.0
12. Chris Firek (Men 40-49) 03:32.8
13. Gaelen Merritt (Men 20-29) 03:34.5
14. Chris Wood (Men 40-49) 04:01.3
15. Justin Rogers (Men 30-39) 04:02.1
16. Benjamin Perry (Men 19&-) 04:02.2
17. Jason Massicotte (Men 19&-) 04:02.4
18. Ian Scott (Men 40-49) 04:02.4
19. Geoff Power (Men 20-29) 04:02.6
20. Robert Damico (Men 40-49) 04:02.7
21. Steve Mckee (Men 40-49) 04:02.9
22. Blazek Stanislav (Men 40-49) 04:03.0
23. Greg Cavanagh (Men 40-49) 04:03.1
24. Lachlan Holmes (Men 30-39) 04:03.2
25. Charles Squires (Men 50+) 04:03.2
26. Kevin Massicotte (Men 20-29) 04:03.3
27. Don Zuck (Men 50+) 04:03.5
28. David Grose (Men 20-29) 04:03.8
29. Paul Greene (Men 40-49) 04:03.9
30. Ilija Petrovski (Men 40-49) 04:04.1
31. Kenneth Ng (Men 30-39) 04:04.1
32. Sean Boileau (Men 30-39) 04:04.2
33. Patrick Shea (Men 40-49) 04:04.7
34. Susan Palmer-Komar (Women 40-49 37:30.6 04:05.0
35. Phillip Hodgkinson (Men 40-49) 04:09.4
36. Bryan King (Men 40-49) 04:09.8
37. Lionel Sanders (Men 20-29) 04:10.4
38. Nathan Chown (Men 30-39) 04:37.9
39. Erik Box (Men 20-29) 04:59.8
40. Brandon Lindow (Men 19&-) 06:42.3
41. Nicholas Di Cristofaro (Men 40:09.7 06:44.1
42. Reece-Emerson Van Beek (Men 40:11.2 06:45.6
43. James Stout (Men 20-29) 10:07.0
44. Brian Kelly (Men 40-49) 10:07.2
45. Bruno Grossi (Men 50+) 10:07.2
46. Mark Rutledge (Men 40-49) 12:45.4
47. Matt Thomas (Men 30-39) 13:13.6
48. Bob Tomsic (Men 30-39) 13:23.1
49. Shawn Cranwell (Men 40-49) 13:31.5
50. Justen Winster (Men 30-39) 13:31.6
51. Marc Booth (Men 40-49) 13:31.8
52. Marco Salvati (Men 40-49) 13:32.8
53. Suzie Brown (Women 20-29 47:00.9 13:35.3
54. Christopher Komar (Men 40-49) 13:35.5
55. Victor Pwu (Men 40-49) 13:35.5
56. Joe Giuliano (Men 30-39)
57. Niles Vaivars (Men 20-29)
58. Randall Akins (Men 50+)
59. Kevin Intini (Men 20-29)
60. Dennis James (Men 40-49)
61. Merrill Collins (Women 40-49)
62. Stephanie Skoreyko (Women 20-29)
63. Graeme Sperber (Men 40-49)
64. Brendan Cubello (Men 19&-)
65. Justin Kowal (Men 30-39)
66. Jason Connelly (Men 30-39)
67. Jeffrey Crompton (Men 30-39)
68. Kevin Gosselin (Men 40-49)
69. Patrick Kings (Men 30-39)
70. Joe Narciso (Men 50+)
71. Fulvio Mark Cubello (Men
72. Bryan Tencic (Men 30-39)
73. Andy D`Angelo (Men 40-49)
74. Jason May (Men 30-39)
75. Sung-Bae Chae (Men 40-49)
76. Hon-Yan Chu (Men 30-39)
77. Jeff Murphy (Men 40-49)
78. Heather Shearer (Women 30-39)
79. David Chong (Men 50+)
80. Scott Milligan (Men 30-39)
81. Matthew Farquharson (Men 20-29)
82. Sergio Cuneo (Men 30-39)
83. Walter Spoja (Men 40-49)
84. Smith Stuart (Men 30-39)
85. Derek Harnden (Men 20-29)
86. Tom Nesbitt (Men 40-49)
87. Stephen Chester (Men 40-49)
88. Robert Steenkamer (Men 30-39)
89. Mark Buckaway (Men 40-49)
90. Conrad Mrowiec (Men 40-49)
91. Jordan Broad (Men 20-29)
92. Dave Britnell (Men 50+)
93. Julie Marceau (Women 40-49)
94. Sara Byers (Women 30-39)
95. Laura Haapamaki (Women 30-39)
96. Hans Porten (Men 50+)
97. Trevor Rickwood (Men 40-49)
98. Shelly Mckee (Women 30-39)
99. Elgar Vaivars (Men 50+)
100. Jeff Dicks (Men 20-29)
101. Richard Bartolo (Men 40-49)
102. Brian Rogers (Men 40-49)
103. Travis Samuel (Men 19&-)
104. Jesus Correa (Men 30-39)
105. Alan Stewart (Men 40-49)
106. Roderick Olliver (Men 30-39)
107. Andrew Filarski (Men 40-49)
108. Jason Valenti (Men 30-39)
109. Mike Neilly (Men 20-29)
110. Bob Haufler (Men 50+)
111. Scott Edgington (Men 50+)
112. Andrea Elliott (Women 30-39)
113. Lisa Carr (Women 40-49)
114. Valina Sintal (Women 19&-)
115. Michael Bandurchin (Men 30-39)
116. Jeff Hannah (Men 30-39)
117. Joseph Miller (Men 30-39)
118. Sandra Deegan (Women 40-49)
119. Don Macphail (Men 40-49)
120. Steve Piper (Men 30-39)
121. Chantal Thompson (Women 20-29)
122. Arlene Marchildon (Women 30-39)
123. Brad Usherwood (Men 40-49)
124. Arthur Adams (Men 50+)
125. Peter Carson (Men 40-49)
126. Michael Longfield (Men 30-39)
127. Paul Simmons (Men 30-39)
128. Hamish Gordon (Men 50+)
129. David Fry (Men 40-49)
130. Ryan Desroches (Men 20-29)
131. Harrison Wood (Men 19&-)
132. Mike Leblanc (Men 40-49)
133. Chris Gray (Men 19&-)
134. Julie Toole (Women 30-39)
135. John Francis Domik (Men
136. Don Wilson (Men 50+)
137. Erik Dickenson (Men 20-29)
138. Marc Polsinelli (Men 50+)
139. Robert Chiocca (Men 40-49)
140. Patrick Elliott (Men 40-49)
141. Joe Torchia (Men 50+)
142. Miguel Novo (Men 40-49)
143. Camilo Mondaca (Men 30-39)
144. Jim Schaefer (Men 40-49)
145. Dino Berno (Men 40-49)
146. Hylton Scheepers (Men 30-39)
147. Brian Mcwilliams (Men 50+)
148. Massimo Pascazi (Men 40-49)
149. Carmine Caravaggio (Men 40-49)
150. Isaac Smith (Men 30-39)
151. Garnett Abbey (Men 40-49)
152. Roderick Smit (Men 30-39)
153. Adam Poll (Men 20-29)
154. Myles Cullen (Men 40-49)
155. David Jack (Men 40-49)
156. Jeff Weber (Men 30-39)
157. George Vandikas (Men 50+)
158. Andrew Macphail (Men 20-29)
159. Roy Zucchetto (Men 40-49)
160. Bruce Krip (Men 40-49)
161. Steven Smith (Men 40-49)
162. Mark Carli (Men 40-49)
163. Thomas Dowd (Men 20-29)
164. Lou Montana (Men 50+)
165. Glenn Gundermann (Men 50+)
166. Don Coats (Men 50+)
167. Kristan Robinson (Women 30-39)
168. John Michael Domik (Men
169. Gregory Archi (Men 20-29)
170. Stacy Wall (Men 40-49)
171. John Fekete (Men 40-49)
172. Michael Jaffray (Men 20-29)
173. Steven Dagenais (Men 20-29)
174. Trevor Jordan (Men 30-39)
175. David Byer (Men 30-39)
176. Lance Donnelly (Men 40-49)
177. Anthony Simpson (Men 40-49)
178. Vito Barbera (Men 40-49)
179. Paul Bradbury (Men 50+)
180. Rick Clavir (Men 50+)
181. Bob Nicholson (Men 50+)
182. Adam Rosenfield (Men 19&-)
183. Jaime Saavedra (Men 40-49)
184. Ray Lee (Men 30-39)
185. Larry Bradley (Men 30-39)
186. Jamie Banks (Men 19&-)
187. Travis Connelly (Men 40-49)
188. Carlos Robles (Men 30-39)
189. Jaret Gracey (Men 30-39)
190. Don Jetter (Men 40-49)
191. James Lucas Bent (Men
192. Tara Kabatoff (Women 30-39)
193. James Ramsay (Men 40-49)
194. Sebastian Porten (Men 20-29)
195. Brent Arthurs (Men 30-39)
196. Julio Pascoa (Men 40-49)
197. Gary Weinstein (Men 40-49)