November 27, 2011 (Guadalajara, Mexico) – My first report was all about getting ready to compete and then I did a re-cap on our big win at our first event the 20km TT – winning a bronze medal. I didn't get a chance to follow up after the next three events so I'm going to try and get it all down on paper now. I thought I would have a ton of extra time to get on the computer and do a report everyday but with all of the travel, competing, plus being sick the entire trip I just couldn't do the reports like I wanted too. Oh ya, forgot that the tanning sessions took a bit of my time as well. This one's a little longer than most of my reports… I hope you enjoy!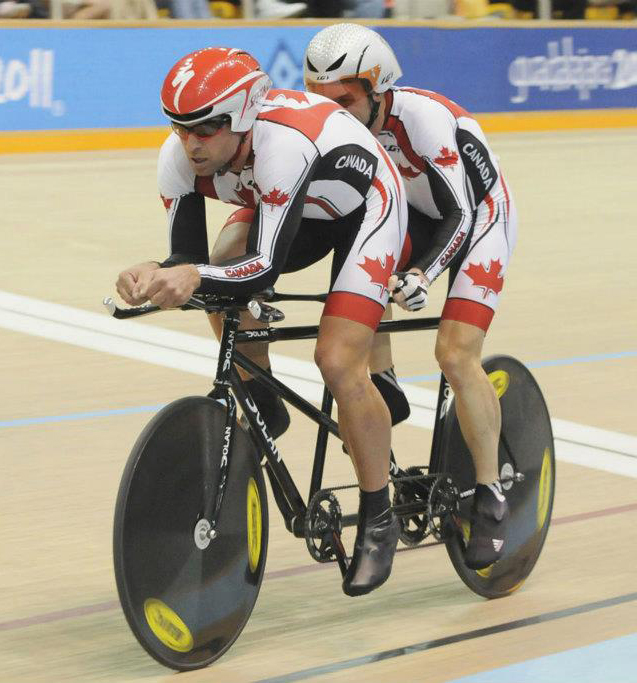 4km Pursuit
Our second event was the 4km pursuit on the track. Daniel [Chalifour] and I had a few solid days to train the week before the event and the training went amazing, but getting together only a week before and then only having a few days together on the track meant we really were still just getting used to each other and didn't really know what we could accomplish in competition.
The 4km pursuit is a terrific race. A balancing act between pacing and power, it's as painful an event as there is taking in 16 laps of the track after a standing start. One team starts on one side and the other on the opposite side of the track. It's a complete showdown and an amazing show to watch. The Argentina team went first and then the two Colombian teams went head to head as we waited to battle the American tandem in the qualifier. The op two times go for gold and silver.
Daniel and I sat and watched the two Colombian teams set up to go knowing we had about five mins before it was our turn on the track. Both of these teams started off fast but one team kept it up. They rocketed off the gun and their laps were consistently around 15 seconds for the first 5-7 laps.
We were going to try and hold 16s laps. They were on pace for a crazy time, world record pace even. Then it all started to fall apart. The early pace was a little much and their lap times started to take longer and longer with every passing lap BUT they were almost done and even with the melt down with three to go they finished with a smokin' time of 4:25.
Brian Cowie and I had won gold in Bromont, QC, this year with a 4:43 just to put that into perspective. Bromont  is outdoor old track vs Mexico's indoor new track, but the point is they set the bar HIGH! Eric told us we needed to have the ride of our lives to make it to the gold medal round and that the Americans were the favourites. He gave us a chance but explained we would need to give it our all. The Americans started off fast and built a good lead but by the half way point we had closed the gap. We hit out target each and every lap and had the ride of our lives. By the end we had pulled away from them.
We won a close one and in doing so set a new Canadian record of 4:24 flat in the qualifier. Now it was on to the Colombians who had the second fastest time of 4:25. We had two hours in between races but it went fast. It is wild how much a four-min effort takes out of you. Doing one pursuit is hard but doing two is just nasty.
Two hours later and we are getting ready for the fast start of the Colombians. Eric explained that if we weren't fast enough off the start we could get caught because they started so fast. He wanted us to stick to our plan and ride our race holding consistent lap times but if they came to close to us in the beginning we would have to abort the plan and pick up the pace because if you get lapped it's over.
The gold medal round began and my heart was racing. We start off faster than our previous round and settled into our 16s pace. Eric yelled out the lap times as we went by – 15.9, 15.8, 15.9, 15.8. We had start off smooth and were right on target. The problem was that the Colombians had started off as fast as ever and were coming fast on our tail. The crowd was going crazy getting louder each lap.
Every lap I came around watching and waiting for Eric's instructions and every lap he just yelled out the time – 16, 15.9, 16, 16.1. We continued to ride the pace perfectly and stuck with our plan all the while the Colombians were now on the same stretch as us, closing in and getting closer every lap. The trust I had in my coach was at an all time high – 16.1 he yelled!
Then with about six to go it was a new response. ALLEZ!!! Then 16.2. FASTER!! 16  GO!! 16.1  and with each passing lap we were getting screamed at to speed up. The fast start had now caught up with the Colombian boys in white and we were making back all the time they had gained on us. The people who had stopped watching because they thought is was over were now on their feet.
Every lap we stayed at the 16s mark and now they were doing 17+. At three to go they were still ahead, and then with two to go they crossed the line just before us. With were neck and neck to start the final lap.
Everyone was screaming and Daniel and I dug deep to pull off our fastest lap of the day. As we crossed the line I saw Eric jump about two feet off the ground and I knew we had come from behind to win!! I couldn't contain myself as I let out a roar. Over and over I screamed to the heavens. Daniel got the hint but I told him we won as I tapped his hand. It was quite the moment. We had won the gold and set an even better Canadian record beating the qualifier with a 4:23.933.
The cool down was incredible as the crowd screamed and chanted CANADA!  The emotions were out in full force as we rolled back to see the team in the infield. Dan and I hugged as we were surrounded with everyone, let's just say the feeling doesn't get any better.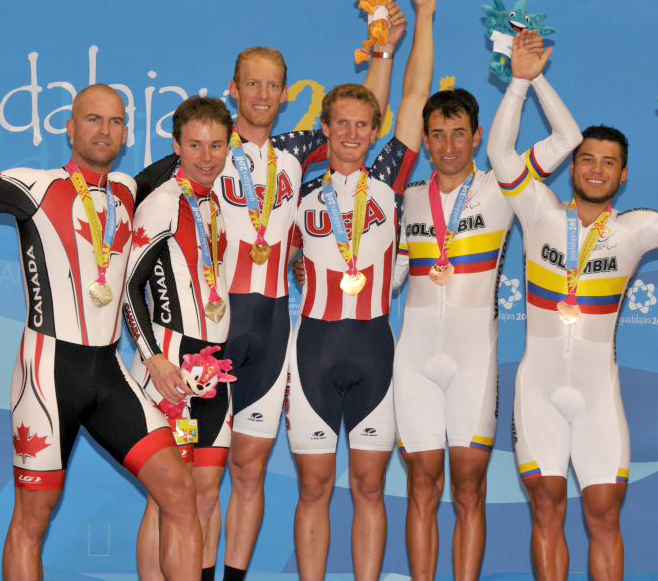 Kilo
1km of pain, go as fast as you can from a standing start and hold the highest pace possible for four laps. I like this one because it's over before it begins. And I hate this one because the speed makes cornering hard as hell. I like to think I can corner with the best of them. Do 65km/hour on a tandem and with the G-force, good luck staying on the black. Being a new team we were not expected to do much in this event. We were to give it our all of course but I don't think there were very high expectations. The order was the same but this time only one team on the track at a time. We were fourth to go with the American team behind us.
All the times were impressive and once again Eric explained only our fastest ride ever was going to be good enough to medal. Both Colombian teams set the bar very high. We were off and had the best start Dan and I have had, we hit the first turn fast and I was a little high in between the black and red lines. Second corner was crazy fast as we had now got up to full speed. That's when I was challenged and had a tough time with the bike. I was all over the track. The speed, with even a micro adjustment, felt magnified 10X.
We hammered as hard as we could and I did my best to keep it under control but I could have done so much better. As we crossed the line I was pretty upset with myself. I tried to keep calm but my emotions got the best of me. With every cool down lap I was crying a little more than the last. I felt I had screwed up our chances of a medal because I couldn't keep the damn bike down low and take the shortest line. As we rolled back to the team I had my head down feeling like garbage but they were all cheering and saying good job.
I was appreciative but didn't want their sympathy encouragement. I wanted to know the truth and the truth to me meant there was nothing to cheer about. Eric hugged me and said "good job" and that's when I looked up at the screen. Eric doesn't just say "good job" without a reason – he tells it like it is.
As I looked up I saw our time was now the fastest of the day and we were the leaders with only the American tandem to go. It made no sense to me… I really thought I had ruined our chances with my poor driving but as it turned out we had the fastest kilo on a tandem to date… we had set another new Canadian record.
I watched the Americans take off and man did they go fast, it was incredible to watch but all I did was hope they were slower. Nope! They beat us by a tenth of a second to claim gold and bump us to silver. It was still the best silver I had ever won and with little to no expectations in this event Dan and I were extremely happy. My other thought now is that we can only get better.
Road Race
With only five male tandems they paired us up with the women and we all started together. The only way to describe it is like racing a break away for 86km. You have to be "on" and aware at all times and pretty much cover everything. The short story is there were two Colombian teams and trying to mark them was next to impossible. They did the shake an bake all day and ended up 1-2 with us getting 3rd in the sprint to claim bronze. We rode a great race, they just rode it a little better.
This entire trip was such a learning experience for me. I think I grew as a person and for sure had my eyes opened quite a bit.  On top of getting a medal in each event and doing the team proud with our results I left feeling that this program was meant for me in many different ways.
I got so much enjoyment from helping. There sure are a lot of people with needs in this program but what they give back in love and huge smiles makes it all worth while. I loved that Dan and I bonded so well and that we enjoyed everything as a team. Your not an individual when racing a tandem, it's just not possible. It' harder but it is so much more rewarding to go through everything together.
I want to thank Daniel Chalifour for taking a chance with me. Going to the Para Pan Ams just might be the highlight of my cycling career. It was an incredible experience and I feel very lucky to have been giving the chance to be apart of it.  Let the off-season begin!!