July 26, 2011   (Heidelberg Ontario) – The Ontario Provincial Road Race Championships were held this past Sunday in Waterloo and I headed down with my Jet Fuel Coffee/La Bicicletta team to win a provincial title.  Things have been rolling pretty good lately and (I'm getting sick of saying it) and I have never been in better fitness in my life. The problem is that in this sport great fitness doesn't mean very much, there are a lot of strong dudes and they're all there to win the same title.
We have a strong team and one of our best is a young guy named Matteo Del Cin.  Matteo was looking to win the provincial U23 championship and I would do pretty much anything to help him win that title.  We came out with a game plan but I had a feeling it was kinda weak. After hearing the guys talk I really thought there were some nervous vibes.
I was to be aggressive early and then my team mates were going to come out and attack in the second half.  Darko was in love with this plan, that his style 100%.  With the distance being 145km I always worry a bit about lasting until the end.  This big body never lets me down in a 90-min crit but I have been known to battle some serious leg stopping cramps when we get into the bigger distances.
I really felt like there were only a handful of guys that could win this race.  I kinda figured it would be a break with all the heavy hitters or it would be a complete shut down of each other and then a group of second tier guys could get away.
The latter is what happened.  My list of heavy hitters was Arron Fillion and Derrick St. John (Ride with Rendell), Jeff Schiller (Garneau), Derrek Ivey (Mazur) and of course SpiderTech's Ryan Roth.  My intention the entire race was to be away with any combo of these riders.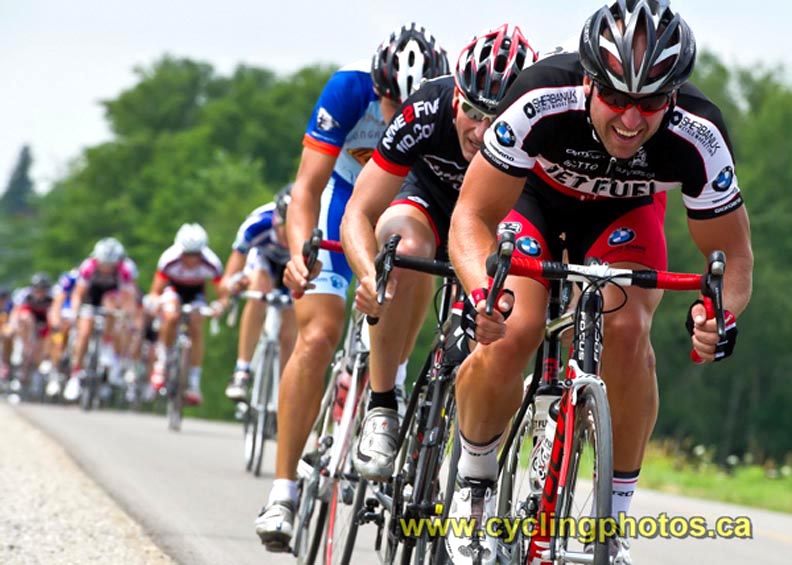 I really didn't worry about anyone else.  I wanted to attack and hope that another team leader would come with me so I could get away with some big horsepower.  Plus when I saw an attack that had any two from this group in it I made it my job to get in there and get in there quick.
These five were the most aggressive riders and just like myself were doing some serious damage to the group with constant attacks and counter attacks.  The original break was away for quite a bit but we got it back quite easily by just attacking each other constantly.  The problem was that the many riders not involved on the front could sit in and hold the wheel as we went from 60 riders all together, to 60 riders stretched out for an entire kilometre, doing about 60km and hour.
The course didn't really have enough to really separate the cream from the crop and believe me I tried to make things separate.  We missed this first break but did enough work to bring it back and avoid a total melt down.  The problem was it wasn't long after that another break formed and three riders slowly pulled away.
We not only missed the first move but now had no one in the second move.  The group came to a stand still a few times as we coasted and stared at each other.  Then a heavy hitter (see above) would launch and the entire group would be strung out doing 60km again.
It was negative racing at its best and I gotta say I played a big part of it. Darko tried his late race launch and had a few moves in the works.  I even got away with him and St. John at one point and thought it would go until Derrick decided he just wanted to sit on even before we even got established.  With two to go I left a little too much out there on an attack through the start/finish and I was caught before the right hand turn. I almost got popped off the back with a very fast counter attack and the group moving double my speed.
I hung on and as the group swelled I launched again off the front trying a last ditch attempt.  When I got reeled in for the 25th+ time I thought we should switch gears and drive the pace and pull back the group. I spoke with Pete Morse and asked him to organize the guys as I went to the front to drive the pace. We were around a minute or more and with no one up there and six guys in the race I figured it was now up to us to go get the break.  At the very least I wanted to lead out Matteo for the U23 victory.
Kevin Hazzard came up to the front with me and we traded off pull for pull.  I was wondering what the other guys were doing but I just kept doing my thing hoping they might join us soon.  I could see the break in the distance and I knew we were making ground on them. I also knew we weren't making up enough ground.
My frustration was now at an all-time high as I had just one teammate helping me go get the win. I figured Pete was protecting Matteo and afterwards I found out that was the case.  I pulled right until a kilometre to go when Fillon went to the front and took one final pull to the last corner.  Down into the valley I sat second wheel, and before I could jump out from behind him, Pete went flying by on my left with Matteo in tow.
I jumped out from behind and quickly made up the lost ground going by both of them right away.  It was way longer than it looked and they had jumped a little early which also caused me to jump a little early.  I was leading into the wind now and the wheels were falling off.  To my right I saw a rider closing in and inching up beside me.  There was nothing in the tank to fight him off and I was beat to the line to get second in the uphill group sprint by none other than Garneau's Jeff Schiller (see heavy hitter above).
I found out after that Mundy was up the road and won the under 23.  I thought I was doing the right thing and driving the group protecting our boy but in reality I had just lead out Matteo for nothing. Matteo got second but I was so disappointed that I just couldn't hide my frustration.
After a tense after race de-brief with the team I found out that the winner was actually an old teammate and good friend Andrew Bradbury (Dark Horse flyers).  That made me feel a bit better knowing a friend had taken the title.
Another tough day in bike racing land. All I can say is I loved every minute.  There is truly no better sport in the world and I'm completely hooked.  Even after this brutally hard mess of a race, where we did very little right, I can't wait to do it all over again and try to learn from my mistakes and give it another shot!!
Rest week for me to get freshened up for my first Tour De Elk Grove on August 5-7th
Stay tuned…
Full results HERE.
Photos HERE.
Ed Veal
www.realdealracing.ca