September 27, 2011 (Collingwood, ON) – This past Sunday was the Centurion Canada event in Collingwood but initial planning meant I wasn't going to be there this year. I had decided that I wanted to head down with the team to compete at Univest instead. While defending the title from last year at Centurion would be great, racing against the best of the best at Univest was the right thing to do.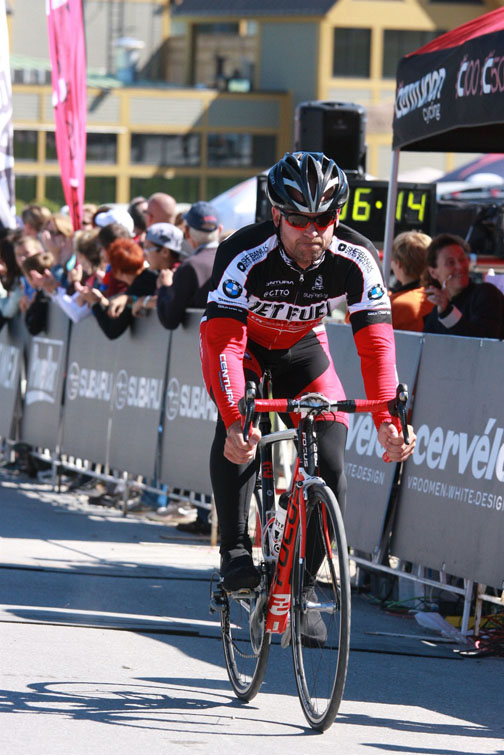 Our team was a bit disorganized and a last minute injury to one of our riders meant we didn't have the four racers needed to enter the event. I was sad to miss it but I was pumped to see that SpiderTech's Ryan Roth took the win! Not making the trip south meant I was making the trip north and that meant I was a "day of" registrant at the Centurion and there to defend last year's win.
My game plan was simple. Relax and enjoy a solid Saturday night with the guys who race for Rideallday.ca P/B Real Deal Racing and try to rip things apart early on Sunday morning. Last year the helicopter filming the race got me doing something I would have never done on the first climb. As soon as I saw it in the air above us filming I went to the front and pulled the entire field up the climb. By doing that last year I had the confidence to try it again.
The idea was to hold and follow wheels for as long as the pace was high and then ramp things up and make the group split up a bit 20-mins in. It's a hard thing to do knowing there is still 160km to go and I knew that would make things hard on everyone having to burn a match so early in the race to come with me.
It also meant when I came over the top I would be surrounded by the strongest riders entered in the race. I was hoping for a dozen or so but when we got over the top there was only a half dozen. The six riders were…Bruce Bird, Steven Baker, Andrew Watson, Jason Maclaren, Jasper Blake and myself.
I told the group out loud, "I hope you're ready for one hard-ass day in the saddle." I had an idea what was in store for us and eventhough I had hoped a few more riders could have made the cut I knew I had some serious horsepower here with me. We worked really well together and established our gap quite nicely.
The six of us rolled along evenly and I was feeling really good about the pace and how even everything was running between us. Not too long into things Watson got unhitched. I never did find out what happened but it came on fast and we never saw him again. Could have been a flat or mechanical or maybe after winning $3,000 the night before for 14 minutes of work in the Hill Climb he decided to pull the plug knowing what was to come.
The problem was now our break was down to only five riders with 150km to go. We really worked hard holding a solid pace and got a nice gap on the field. I had worked pretty hard but the way I was starting to feel this early in the race didn't make sense. My legs were starting to twitch and I could feel the cramps beginning. I wasn't that worried and kept doing my thing. I have ridden through cramps before and this wasn't going to be any different. With only five of us we needed all riders pulling their weight if this break was going to stay right until the end.
I can't recall when we lost Jasper but once we were down to four the workload increased big time and I was really starting to fade. I ate and drank and followed my regular routine but my legs were twitching and I had light cramps in both my hamstrings (inside thigh) this was the first time all year I my legs felt this way. I continued to ride through them but as the grade went up my legs started fighting themselves and if I stopped even for a second they were going into total lock down.
I saw the C60 mark and I knew there was a ton of racing left. Up until this point I hadn't said a word to the other guys about what I was going through and tried my best to do my share. I was hoping to ride through the pain and ride through the cramps. It was almost impossible for me to hold their pace, I sat on and started missing turns but everything was now in complete lock down and I was ripping everything.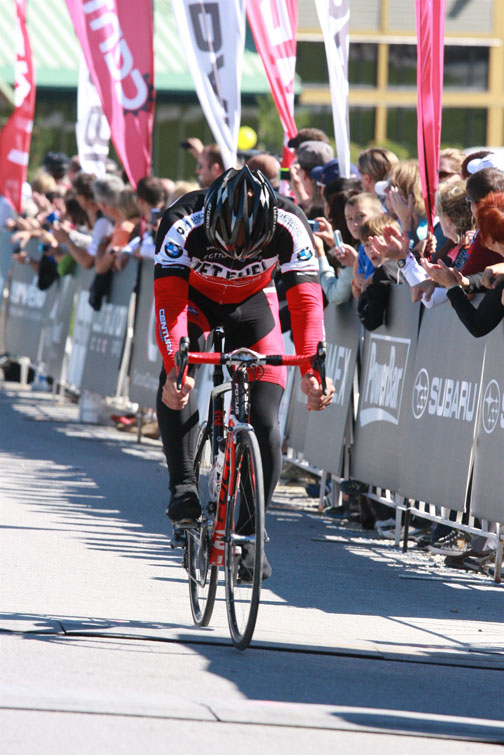 I finally spoke up and told the other three what I was going through and pretty much said good luck! Bruce offered me his Gatorade and the other two said they had gels for me. It felt great that they wanted to help but I was beyond help.  Just before the KOM Bruce and Steven held a pace I just couldn't match and they slowly inched away. I stood, I sat and I stood again but the cramps were now in the front of my legs too. I laughed and cried at the same time as I tried to keep my legs moving. The race was now going up the road and my lower half was in complete lock down.
It was a tough moment. The race had gone to plan and I was right where I wanted to be except I was now being dropped and had to fight to even stay rolling. Jason was with me for a bit on the KOM but I couldn't hold his wheel either. The pain was nuts and no lie I was ripping shit with every pedal stroke.
I had a few emails later asking if I had a mechanical or flat when they saw my KOM time. Considering that I won it last year and now was 3+ mins back on a 9-min climb I see why they thought that – if only if it were true. Nope! I rode it alright; I rode it with everything I had.
The group of 70 riders caught me as I went over the top of the climb and I did my best to hold on. I had to deal with a few guys enjoying that fact I came unhitched and being told I had been "Birded". I was birded big time and was in danger of losing these guys too. I was put into some distress a few times right away but the pace slowed a bit and I got to the back doing my best at staying unnoticed and hidden.
The cramps came and went but with the reduced pace I was able to stick it out right until the end. I knew the field was close to being as torched as I was and had a feeling no one really wanted the last podium spot. There really wasn't anyone that looked strong or did anything to make me think they wanted it more than I did.
I was ready to make the best of an awful situation. I had to be aware of two guys known for their big finishes – Kevin Davis (Nacsworld) and Rob D'Amico (Z-team) were in the group and both of them can give me a run for my money in a sprint. Rob was second here last year and I'm sure he wanted to even things up and beat me in 2011.
I hit the descent at the top of Scenic Caves hard and got right to the front. As it leveled of I tried to keep my gap but I had nothing in my legs. My gap disappeared quick as a group came by me and Hamish Gordon (Team RACE) hit the gas and tried to reach the next grade first. I got his wheel and right away the draft had me out and around him with only Stacy Wall (Z-Team) to go around.
I went by him right away and was now gaining ground on the group easily doing 90km an hour. I hit the bottom corner going way too fast and as I went left through the corner I needed to jump the curb and go over the meridian. I landed on the right side of the pylons and made my way back over to the left side of the road.
It was right then that a rider from Nacsworld launched and sprinted up the right side and tried to TT away. I looked him up and down and did not recognize this him at all. I then looked behind me to see where the rest of the group was. I thought the lead out train and all the guys looking to sprint it out would be right there behind me but they were 100 meters back. I looked forward at the rider gaining time on me and decided to chase.
I was inside 2km to go and put my head down to try and reel in this rider off the front.  My mind said yes but my body said NO!  It was horrible knowing I wasn't going to repeat and now a podium spot was getting away because I was running out of real estate and had nothing left to chase. I stood one last time to make up some ground but the legs were locked once again.
I crossed the finish line and immediately went up to the Nacsworld rider and congratulated him. I found out later it was Steve McKee – hats off to Steve. He had the courage to take a flyer right at the base of the descent and it was quite the move. That took guts and it left me hesitating for just a few seconds and that's all he needed. That is what biking racing is all about and I couldn't have been more impressed!
The flip side is that move from Steve knocked me off the podium. I only went there to win and 4th is one of the worst places to end up in. It took me a little longer to write this report because I wanted to have a bit more time to reflect on the race. I hate that my body failed so miserably so early and I have to think my diet or pre-race routine could have been better. It can always be better right?  But I also feel proud that I stuck it out and dealt with the embarrassment and the physical pain and fought to get some sort of decent placement.
This sport is all about perseverance. You have to deal with so much failure over the course of a season and you have to try and come back stronger every time you go through it. It starts with training during the off-season and then once the season starts you have to figure out how many risks or chances, flyers, breakaways, moves etc. you'll attempt every race, every weekend all season long.
That's a lot of failure to deal with for only the tiniest amount of glory. But I tell you what…it's worth it! I will persevere AND I will have the entire off-season to think about how this one slipped away! Watch out!
A big congrats goes out to Bruce Bird and Steve Baker who finished 1-2 and to Steve McKee who made the move of the day to take that last step on the podium.  Eventhough I was "Birded" this time, I look forward to the next show down…."Real Deal" vs "The Bird Man".
Full results HERE.
Ed Veal
www.realdealracing.ca