September 20, 2013 (Collingwood, ON) – The village at Blue Mountain is the perfect venue for holding a cycling event. The area has some of Ontario's best climbs and the village is fully equipped with anything you could possibly want to enjoy after your epic day in the saddle. The atmosphere is amazing as you walk around the cobbled streets. I love the design of the buildings and the beautiful view of the ski hills in the background.
With all of the restaurants and great shopping in the area you can bring your family and know they will enjoy themselves thoroughly. My 9-year-old son really enjoyed watching the U23 Crit and so did everyone standing around us. I like the fact that you can really make an entire weekend out of it and not feel like you are dragging everyone to just another race.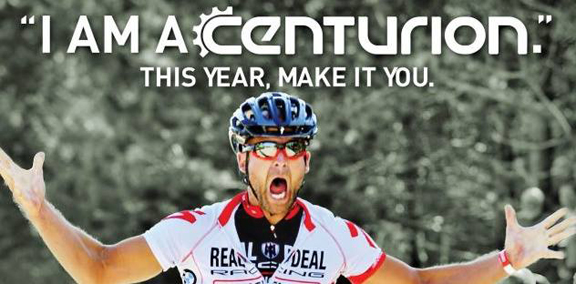 I was lucky enough to be at the first Centurion held at Blue Mountain in 2010 and it is wild that I have now done four. It seems like only yesterday I was saying "what the hell is a Centurion?"  and today it seems like everyone who bikes knows the brand. I had a great day in 2010 and came away with the win. I sure that had a lot to do with me really enjoying the event.
In 2011 I went back to repeat and attacked the race right from the gun. I rode it like a 90-min crit and was humbled when I got dropped at the KOM climb. I had nothing left. After fighting horrible cramps for 20-30 mins before that I pulled over and walked a bit pushing my bike. The cramps were that bad. As Bruce Bird and Steve Baker rode away I crept up the climb getting swallowed up by the group as we crested the top. Luckily I held on the back and with the way the course is designed I was able to sit in and get back to the finish.
With only two riders off the front we were sprinting for the last podium spot. We descended Scenic Caves and I was able to get a massive gap on the group. But as things flatted out, Steve McKee, our 2013 master National champion, came blasting by me  to take the last podium spot. I was actually pretty happy with fourth considering I had my ass handed to me at the KOM and wasn't sure if I would even finish.
That was 2011 and when I went back in 2012 I wanted my title back and pretty much told anyone who would listen that the Centurion was a top priority. I went into it very different than the two previous years. My goal was to do as little as needed and then hunt things down at the KOM climb. The race went perfectly as planned and a small group of four took it all the way to the line and I came across the line first in the sprint.
This year our squad knew the Centurion was a big deal for our team and our sponsors. Winning this race was as important as winning all of the others combined. It was that important and we were going there to win – and only to win. The goal was to score back-to-back Centurion victories. The game plan was simple – be aggressive on that first climb on Grey Rd 19 and make sure one of us was in any breaks that formed over the top.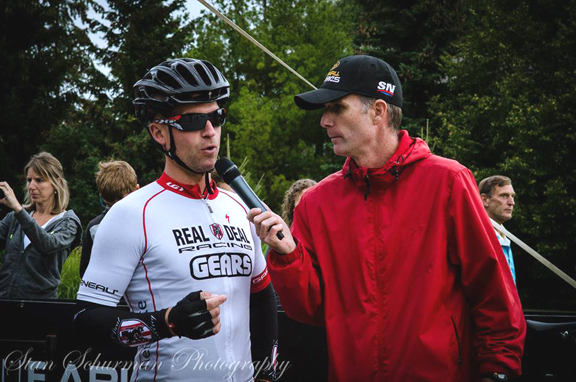 None of us wanted to be in a break 20 minutes into the race but we needed to make sure we were represented if someone else did play that card. After the neutral start the car pulled away and then so did Derrek Ivey of Tower/Cipollini.  He went right from the gun and I got on his wheel. I couldn't have asked for a better place in the bunch. I needed a big body to draft off of and Ivey was the next biggest guy in the group. His pace was amazing. He had the field strung out and the tempo was hard but steady. A big group came over the top together and we all kinda settled in. The pace had everyone breathing hard but no one launched any attacks that had to be covered. I was breathing like a fat kid but I was happy.
The first part of the plan was unfolded as planned. The next part of the strategy was to do as little as possible. My teammate Sean Boileau was going to shadow me and keep me out of the wind. The game-plan was to sit tight and try to keep the group together. I wanted to be deep enough in the group that people would forget I was even in the race but not too far back that I could get caught beside someone riding in their aero bars in the middle of the group.
A break got up the road very early and my old teammate Darko Ficko was actually out on his TT bike driving things.  I was blown away that this was even allowed. As shocked as I was the truth is that I was happy to see him back in shape and up to his old tricks again. I still look up to this guy and it was awesome to have him in the group "racing" and not just sitting in.  You gotta love the guys that makes things fun and Darko makes things fun. I was still very happy sitting 30-40 wheels back. I'm not a distance guy so I was really trying to coast as much as possible and lag climb when I could. After a monster effort on that first climb to start the day my goal was to try and get my average power down as low as I possibly could. I needed every ounce of energy for the KOM climb.
Another group got off the front and this time there were some of the pre-race favorites in it. Derrek Ivey, Jeff Schiller and Andrew Randell to name a few. It was still early in my eyes. It was a stacked break but with so many riders willing to pull on the front I really felt it wasn't the right move. This was a gamble and there were a few moments where I thought about taking off and bridging across. The plan was to wait till the KOM and even though I had my doubts I decided to stick to the plan.
Now things were in the hands of the group. Would they keep the break in sight? Would random riders continue to keep the pace high and pull on the front?  The pace was not as fast as last year and all I could hope for was that the break was not that organized or rolling that well. I knew they would collect Darko and Co. and that that could be good or bad. You never know what number of riders is the best number to have. Too many and the break just doesn't work. The break had close to three minutes on us so I was told. That was bigger than I had hoped. It wasn't from a trusted source so I didn't know what to think. We stuck to the plan. It wasn't until the last feed zone when one of our feeders yelled out 2:20 to the group.  That wasn't great news but it could have been worse. We were running out of pavement if we were going to close the gap.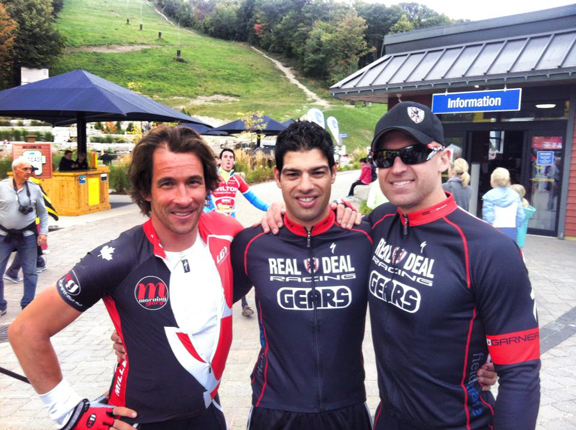 As we got close to the KOM climb Sean and I talked about how this was going to go down. He said he would pull me up the climb and I thought it was better if I did most of the work. We needed to get across to them and I needed to find out what kind of day it was going to be. Did I have the legs to make this happen? Was there going to be a strong enough group of guys to hunt them down? I rolled to the front and began to hunt my prey. This was a do-or-die moment and I think the group could feel what was about to go down.  The pace was hard and steady.  I needed to come over the top with some help. No sense riding away as there was no way I was catching this breakaway alone.
One rider helped a ton as we traded off back and forth over the top. I wish I knew his name because he definitely deserves a mention. As we crested the top there was a pretty big split and the entire field was all over the road. About 9-10 of us got organized and quickly started work together. I knew Gaelen Merrit, Andrew Bradbury and P.J Kings were all strong enough to make this happen. Add to the fact that Sean was there right beside me and I had this feeling like it was meant to be. Sean immediately started to drive the chase. The best riders left in the group had crested the top of the KOM with a gap, everything was still going to plan. I was confident we had enough fire power in this group to get things done. The key was they needed to believe.  I believed and I needed them all to know it was going to happen if they put everything into the chase.
It was intense. I was positive and encouraging and man did these guys hit things HARD!  It was everything I love about the sport. We were tucked low in the drops hitting speeds none of us could hold alone. It really was something to be a part of.  I didn't mind taking extra turns or staying on the front a little longer than I should.  I needed to get across and this was my last card to play. This was do or die.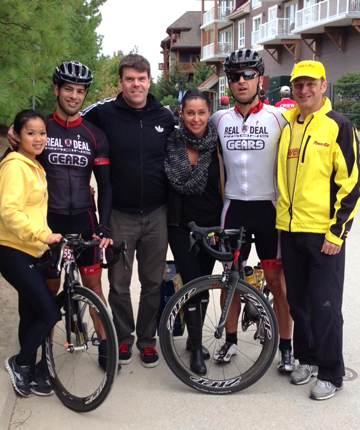 As we rolled up to the leaders I became overwhelmed with emotion. I got goose bumps and felt extremely relieved. I was happy but needed to fight the feelings of being too happy. I didn't want to settle. I yelled out to Jeff Schiller "do you know what that took to catch you guys?" and he yelled back "Darko is up the road, you're still going to lose"  It was exactly what I needed from him. I wasn't worried about one guy alone off the front, now I had to make sure I got to the line before Jeff. The break was steady to start as all of us were tired but it didn't take long before the surges and counter moves started to happen. We were getting inside 15-20km to go and it was pretty clear no one wanted to take it to the line for a sprint with Jeff and I.  I had cramps coming on in a bad way and now had to be extra cautious.
I was spit out the back on a few moves and was so relieved that Sean was strong enough to cover. Ivey made a move on one slow-down and in seconds Gaelen and and Ivey got big gap. It was dangerous and we had very little left to chase. A few of us did what we could to track them down and once again was saved having a teammate to work with. The bottom of the decent on Grey Rd 19 was where we finally rolled up to them. Being the heaviest guy in the group paid off for once and it was all back together.
We were coming back into town with 3-4 km to go. I was right where I wanted to be. Everything was going to plan. Ivey stayed on the front and held tempo. He tried to get off the front but I yelled at him to stay put. He held pace and brought us back into town. Sean pulled up beside me and took Ivey's wheel and got positioned to lead me out. My legs were locked up pretty good but I kept telling myself I wanted this more than anyone else left in this group. Ivey started to pick up the pace as we got closer and closer and right before the round-about Galen Merrit launched a massive attack.
He went by us going 10km faster and was 50 meters up the road as we made the left around the bend. Sean hit things hard and started to close on Gaelen. We were inside 500 meters to go. Just as I jumped to go around Sean, Jeff was coming around me.  This was going to be long and painful. He got half a bike length on me and then we held the same speed for what seemed like forever.
I wasn't gaining anything and he was half a bike ahead. We came up to Gaelen and Jeff went around him on the left and I went around him on the right. I was twisting the bike apart trying to find something to come around him. As I passed Gaelen I could see I was gaining on him. My entire body was shutting down but I needed this win. I tried everything I possibly could to inch ahead and get my front wheel out before his. I was gaining. As I crossed the line I gave my bike the tiniest little throw and Jeff threw up his arms.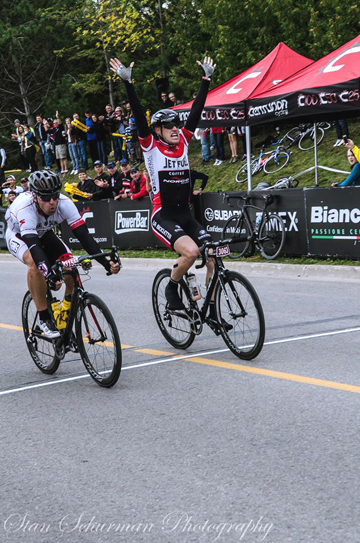 It was the craziest feeling to describe. I was hurt and confused.  I was in a bit of a panic trying to catch my breath but I was also having a tough time dealing with how close it was. I saw him throw up his arms and felt this awful feeling but I really didn't think I had lost. I hugged Sean right away and said sorry. I told him the race was perfect. The lead out was perfect. Everything he did for me was perfect. The finish, that final showdown was perfect. We hugged hard and had a moment. I told him how crazy close it was and that I wanted to see the photo. That's when I could hear them announcing that I had won!  I started to cry. I knew it. I felt it. The perfect race had the perfect ending.
As we started to head towards the finish we bumped into Jeff.  It was tough. We both are fierce competitors and have had a solid rivalry for many years. I didn't know what to say other than great race and let's go see what they say. I went to the finish and was greeted by Centurion's Graham Fraser. He explained how insanely close it was and how they were really struggling to make a call. I was pretty upset but I could feel the pressure he was under. I looked over to race announcer Steve Fleck and the others around the finish line and knew how hard this was on everyone.
There were people with video, people with their phones, there were people yelling their opinions and saying who they thought won it. It was stressful to say the least. He mentioned to me the idea of a tie and I was stunned. I hadn't even thought it was an option. I had to ride away to collect my thoughts. It was at that moment I remembered a quote… "You can't win an argument. Even if you win it you lose it"… or something of that nature. I didn't want the perfect day to end this way but in all fairness it actually ended better than I imagined.
I agreed to the tie and shared a win and the top podium step with Jeff Schiller. It was different and it is something most don't ever get to experience. I finished in a dead heat with my arch rival.  This finish was unique and something that will be talked about and debated for years to come. I'm glad I was a part of it.
Big kudos to everyone at Centurion for making the best out of a tough situation. I enjoyed the race more than you can imagine and I'm still buzzing about it today (a few days after)  Huge thanks to our RealDeal/Gears p/b Fieldgate support crew and Wille Popp from Powerbar for making sure we were fueled to win.
The biggest thank you goes out to Sean Boileau. You did everything for me on Sunday and gave up your chance of winning to set me up. The ultimate sacrifice and something I will remember forever – thank you!
Results
Men
1. Ed Veal (M35-39) 4:25:03.5
1. Jeffery Schiller (M30-34) 4:25:03.5
3. Gaelen Merritt (M25-29) 4:25:04.5
4. Nick Friesen (M30-34) 4:25:05.5
5. Sean Boileau (M30-34) 4:25:05.6
6. Alan Kriss (M40-44) 4:25:12.4
7. Derrek Ivey (M25-29) 4:25:16.1
8. Andrew Bradbury (M25-29) 4:25:41.3
9. Adam Morka (M25-29) 4:25:41.3
10. Kevin Davis (M50-54) 4:25:41.5
Women
1. Suzie Brown (F25-29) 4:32:29.5
2. Laura Gazzola (F35-39) 4:41:26.9
3. Merrill Collins (F45-49) 4:41:28.8
4. Allan Paolina (F40-44) 4:48:57.5
5. Georgia Walton (F30-34) 4:52:33.6
6. Noelle Wansbrough (F45-49) 4:52:34.5
7. Lori Kofman (F55-59) 4:59:29.8
8. Tatjana Zakarova (F25-29) 5:00:44.5
9. Tracey Sullivan (F50-54) 5:03:19.3
10. Natascha Piciga (F30-34) 5:03:45.0
Full results here.