July 13, 2011 (Windsor, ON) – After Saturday's close call in the Criterium Detroit we headed back to Windsor for the 6th Ontario cup race of the year.  The Ciociaro club was the venue and Dylan Lanspeary was the race organizer.  Let's just say…This place was meant for bike racing.  The course was a closed, wide open loop and flat except for one slight rise. Let's just say it was built for….well…me!!    I was sad to see such a low turnout but man did I like what I saw and had a good idea what was in store for us.
With only 20 starters I thought we were in for a lot of attacks and a lot of me, Schiller (Garneau) and Ivey (Kallisto Wheels of Bloor) marking each other. I figured with five guys racing in Jet Fuel/La Bicicletta kits we would have the upper hand most of the day and it turned out to be true. Right from the start we attacked and did the old shake and bake. We had guys in everything and when we didn't we had someone sprinting off the front. I rode right on the front for the opening laps making sure to be seen and jumping whenever my two rival team leaders decided they wanted in on something.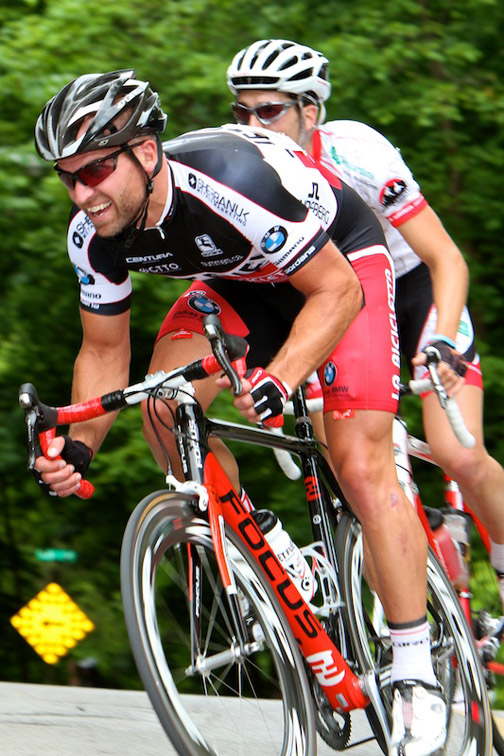 After about 15 mins of this cat and mouse attacking and counter attacking a group of four got off the front and rode away. Each team had a guy in the move. Our guy was Kevin Hazzard and he was away with Anton Vabrai (Cycle Solutions), Brandon Spencer (Kallisto Wheels of Bloor), and Chris Balistrini (Garneau).
After these guys got up the road it my was job to shut things down and I took the role pretty serious. I love nothing more than being second wheel and staring down a dude who wants you to pull through for no reason. When the next guy jumps I jump and do it all over again. Doing this frustrates the other riders and it especially frustrated Schiller and Ivey. They both had guys up the road but they both knew they had to get across to them.
The three of us attacked and chased each other for a full hour getting into multiple moves and stand offs, if doing nothing but coasting. As we were about to get lapped Schiller and Ivey launched and I got there in a hurry. The three of us started rotating and got a good gap on the guys who just got lapped. I thought this could be good as we could get up to the leaders and help out but the guys on the sidelines made the call for me to shut things down and sit on.
Out little break blew up a lap later when I stop rolling through. As we got lapped the groups integrated and we were now one big happy family with four guys one lap up. We communicated to each other that we are going to protect Kevin and take him right to the line and set him up to win the sprint.
With roughly 10-15mins to go Pete and Anthony get to the front and held a steady tempo and I sat 3rd wheel protecting Kevin. Then Schiller took off alone to chase 5th place but I yelled to the guys just let him go and keep our eye on the prize of delivering our teammate for the win.
In the final laps there were a few guys who jumped and tried to get off the front but we slowly reeled them back in making sure the four leaders got their chance for glory. We all knew how the sprint would go down. Danielle explained how fast the finish was and how you needed to attack it hard before the last two bends and then hold it to the line.
Anthony took his last pull and lined out the group, Pete pulled through with some good force and took us to the back stretch and down the hill and then I had the home stretch including the two final bends in the road. I ramped things up and peeked to make sure Kevin was there.
As we came through to the finish I tucked low and to the right side of the road as Kevin poured it on and went around me on the left. My heart stopped and I watched them go by me as Kevin cranked it up and held it to the line. It was a huge win for us and I couldn't contain myself. I yelled like it was me crossing the line first. It was an incredible feeling and one I will remember for ever!
Our boys worked like a true team on Sunday and we soaked up the win and enjoyed the rest of the day hanging out and relaxing. Pizza, beer and a great group of guys! Sunday might have just be one of my best cycling experiences of my career.
But it isn't over folks….lots more racing this week and more great stories to come…..
Results
Cadet – 32.5km – Average Speed 37km/h
1. Charles Finnegan (Independent – RMU17) 52:43
2. Sean Mackinnon (Racer Sportif/Mattamy Homes Cc – RMU17)
3. Simon Fothergill (Team Chch – RMU17) 0:05
4. Eric Macdonald (Cycles London Racing Team – RMU17) 0:42
5. James Orton (Team Chch – RMU17) 0:42
6. Roger Bush (St. Catharines Cycling Club – RMU17) 0:42
7. Biran Falk-Dotan (St. Catharines Cycling Club – RMU17) 0:42
8. Conner Rapus (Esteemtraining.Com – RMU17) 02:14
Elite 4 & Master 3 Men – 33.8km – Average Speed 39.7km/h
1. Thomas Flannery (Independent – RME.4) 51:03
2. Christopher Kupi (Brant Cycle – RME.4)
3. Paul Rea (Rideallday.Ca Cc P/B Real Deal – RMMA.3)
4. Jaime Saavedra (Vitess Racing Club – RMMB.3)
5. Jeff Murphy (Team Bike-Fit – RMMB.3)
6. John Krmencik (Racer Sportif/Mattamy Homes Cc – RME.4)
7. Eric Vandenbrink (Ciclo Sport Racing – RME.4)
8. Phillip Hodgkinson (Kurzawinski Coach/ Six S Erp C – RMMB.3)
9. Giordano Piccolotto (Lapdogs Cycling Club – RME.4)
10. Martin Davis (Kurzawinski Coach/ Six S Erp C – RMMB.3)
11. David Zorko (Team Chch – RMU23.4)
12. William Aldridge (Independent – RMMB.3)
13. Marc Marentette (Ciclo Sport Racing – RMMB.3)
14. Karim Marrouch (Wheels Of Bloor – RMMB.3)
15. Marshall Eidinger (Lapdogs Cycling Club – RME.4)
16. David Pluck (Tower International – RMMA.3)
17. Conrad Mrowiec (Forest City Velodrome – RMMB.3)
18. Zbigniew Lukasik (Maple Leaf Cycling Club – RMMC.3)
19. Ryan Power (Independent – RME.4) 0:06
20. Jordan Broad (Team Chch – RME.4)
21. James Gouin (Tower International Cycling Team – RMMC.3)
22. David Howson (Independent – RMMB.3)
23. Steven Gardon (Independent – RMMB.3)
24. Christopher Gray (Team Chch – RMU23.4) 0:12
25. Manuel Gaudario (Tower International Cycling Team – RMMB.3) 0:15
26. Fred Zottl (Arrow Racing – RMMC.3)
27. Ken Ashcroft (Waterloo C.C. /The Flying Dogs – RMMC.3) 06:32
DNF Christopher Hull (Vitess Racing Club – RMMA.3)
DNF George Mason P. (Independent – RMMB.3)
DNF Pietro Diponio (Ciclo Sport Racing – RMMC.3)
DNF Dan Scott (Tower International Cycling – RMM.3)
NP Arthur Adams (Vitess Racing Club – RMMC.3)
NP Paul Choquette (Team T1C/London Honda/Village – RMMB.3)
NP Richard Ugalde (Racer Sportif/Mattamy Homes Cc – RMMB.3)
Elite 4 Men – 33.8km – Average Speed 39.7km/h
1. Thomas Flannery (Independent – RME.4) 51:03
2. Christopher Kupi (Brant Cycle – RME.4)
3. John Krmencik (Racer Sportif/Mattamy Homes Cc – RME.4)
4. Eric Vandenbrink (Ciclo Sport Racing – RME.4)
5. Giordano Piccolotto (Lapdogs Cycling Club – RME.4)
6. David Zorko (Team Chch – RMU23.4)
7. Marshall Eidinger (Lapdogs Cycling Club – RME.4)
8. Ryan Power (Independent – RME.4) 0:06
9. Jordan Broad (Team Chch – RME.4)
10. Christopher Gray (Team Chch – RMU23.4) 0:12
Master 3 Men – 33.8km – Average Speed 39.7km/h
1. Paul Rea (Rideallday.Ca Cc P/B Real Deal – RMMA.3) 51:03
2. Jaime Saavedra (Vitess Racing Club – RMMB.3)
3. Jeff Murphy (Team Bike-Fit – RMMB.3)
4. Phillip Hodgkinson (Kurzawinski Coach/ Six S Erp C – RMMB.3)
5. Martin Davis (Kurzawinski Coach/ Six S Erp C – RMMB.3)
6. William Aldridge (Independent – RMMB.3)
7. Marc Marentette (Ciclo Sport Racing – RMMB.3)
8. Karim Marrouch (Wheels Of Bloor – RMMB.3)
9. David Pluck (Tower International – RMMA.3)
10. Conrad Mrowiec (Forest City Velodrome – RMMB.3)
11. Zbigniew Lukasik (Maple Leaf Cycling Club – RMMC.3)
12. James Gouin (Tower International Cycling Team – RMMC.3) 0:06
13. David Howson (Independent – RMMB.3)
14. Steven Gardon (Independent – RMMB.3)
15. Manuel Gaudario (Tower International Cycling Team – RMMB.3) 0:15
16. Fred Zottl (Arrow Racing – RMMC.3)
17. Ken Ashcroft (Waterloo C.C. /The Flying Dogs – RMMC.3) 06:32
DNF Christopher Hull (Vitess Racing Club – RMMA.3)
DNF George Mason P. (Independent – RMMB.3)
DNF Pietro Diponio (Ciclo Sport Racing – RMMC.3)
DNF Dan Scott (Tower International Cycling – RMM.3)
NP Paul Choquette (Team T1C/London Honda/Village – RMMB.3)
NP Richard Ugalde (Racer Sportif/Mattamy Homes Cc – RMMB.3)
NP Arthur Adams (Vitess Racing Club – RMMC.3)
Cadet & Junior Women – 31.2km – Average Speed 34.8km/h
1. Sarah Mason (Forest City Velodrome – RWU17) 53:48
DNS Saskia Kowalchuk (Team Chch – RWJ)
Cadet Women – 31.2km – Average Speed 34.8km/h
1. Sarah Mason (Forest City Velodrome – RWU17) 53:48
Elite 3 Women – 31.2km – Average Speed 34.8km/h
1. Sarah Mckenzie-Picot (Coachchris.Ca/Multisport-Zone – RWE.3) 53:48
2. Cassandra Humphrey (Peterborough Cycling Club – RWE.3)
Master A Women – 31.2km – Average Speed 35.9km/h
1. Danielle Mckibbon (Ciclo Sport Racing – RWMA) 52:08
DNF Natalie Jackson (Ciclo Sport Racing – RWMA)
Master B Women – 31.2km – Average Speed 35.9km/h
1. Julie Marceau (Lapdogs Cycling Club – RWMB) 52:08
2. Sandra Deegan (Ontario Masters Cycling Associ – RWMB) 01:40
3. Hedvig Salamon (Forest City Velodrome – RWMB) 05:51
Elite 3 & Junior Men – 46.8km – Average Speed 42.2km/h
1. Van Every Russell (Tower International Cycling Team – RME.3) 1:06:31
2. Matt Gervais (Tower International Cycling Team – RME.3)
3. Reece-Emerson Van Beek (Northcote Cycling – RME.3)
4. Nicholas di Cristofaro (Rideallday.Ca Cc P/B Real Deal – RME.3)
5. Andrew Scollard (Reynold Cycle – RMU23.3)
6. Brad Hilton (Whisper/Jade – RME.3)
7. Alexander Beristain (Beaches Cycling Club (Bcc – – RME.3)
8. Dan Doddy (Soigneur Race Services Race Team – RME.3)
9. Eric Reinert (Planet Energy Powered By Spide – RMJ) 01:03
10. Justin Zottl (Planet Energy Powered By Spide – RMJ) 01:07
11. Brandon Etzl (Planet Energy Powered By Spide – RMJ)
12. Kevin Collins (Independent – RME.3)
13. Michael Aston (Adrenalineracer/Towheels – RME.3)
14. Kristofer Ovsenek (Invita – Fcv – RMJ)
15. Matt Thomas (Soigneur Race Services Race Team – RME.3)
16. Kyle Rupay (Jet Fuel Coffee/ La Bicicletta – RMJ)
17. Gregory Archi (Team Chch – RMU23.3)
18. Charlie Philbrook (Soigneur Race Services Race Team – RME.3)
19. Kevin Intini (Mbrc.Org – Gears – RME.3)
20. Adrian George (Invita – Fcv – RMJ)
21. Jeff Moote (The Hub Race Teamam – RME.3) 01:16
22. Max Gabaldo (Team Chch – RMJ)
23. Drew Welsh (Invita – Fcv – RMJ) 01:36
DNF Woody Marrouch (Wheels Of Bloor – RMJ)
DNS Brandon Lindow (Team Chch – RMJ)
Elite 3 & Master Women – 31.2km – Average Speed 35.9km/h
1. Julie Marceau (Lapdogs Cycling Club – RWMB) 52:08
2. Danielle Mckibbon (Ciclo Sport Racing – RWMA)
3. Sarah Mckenzie-Picot (Coachchris.Ca/Multisport-Zone – RWE.3) 01:40
4. Sandra Deegan (Ontario Masters Cycling Associ – RWMB)
5. Cassandra Humphrey (Peterborough Cycling Club – RWE.3)
6. Hedvig Salamon (Forest City Velodrome – RWMB) 05:51
DNF Natalie Jackson (Ciclo Sport Racing – RWMA)
Junior Men – 46.8km – Average Speed 41.6km/h
1. Eric Reinert (Planet Energy Powered By Spide – RMJ) 1:07:34
2. Justin Zottl (Planet Energy Powered By Spide – RMJ) 0:04
3. Brandon Etzl (Planet Energy Powered By Spide – RMJ)
4. Kristofer Ovsenek (Invita – Fcv – RMJ)
5. Kyle Rupay (Jet Fuel Coffee/ La Bicicletta – RMJ)
6. Adrian George (Invita – Fcv – RMJ)
7. Max Gabaldo (Team Chch – RMJ) 0:13
8. Drew Welsh (Invita – Fcv – RMJ) 0:33
DNF Woody Marrouch (Wheels Of Bloor – RMJ)
DNS Brandon Lindow (Team Chch – RMJ)
Elite 3 Men – 46.8km – Average Speed 42.2km/h
1. Russell Van Every (Tower International Cycling Team – RME.3) 1:06:31
2. Matt Gervais (Tower International Cycling Team – RME.3)
3. Reece-Emerson Van Beek Reece-emerson (Northcote Cycling – RME.3)
4. Russell Di Cristofaro Russell (Rideallday.Ca Cc P/B Real Deal – RME.3)
5. Andrew Scollard (Reynold Cycle – RMU23.3)
6. Brad Hilton (Whisper/Jade – RME.3)
7. Alexander Beristain (Beaches Cycling Club (Bcc – – RME.3)
8. Dan Doddy (Soigneur Race Services Race Team – RME.3)
9. Kevin Collins (Independent – RME.3) 01:07
10. Michael Aston (Adrenalineracer/Towheels – RME.3)
11. Matt Thomas (Soigneur Race Services Race Team – RME.3)
12. Gregory Archi (Team Chch – RMU23.3)
13. Charlie Philbrook (Soigneur Race Services Race Team – RME.3)
14. Kevin Intini (Mbrc.Org – Gears – RME.3)
15. Jeff Moote (The Hub Race Teamam – RME.3) 01:16
Master 2 Men – 44.2km – Average Speed 40.1km/h
1. Roy Zucchetto (Independent – RMMC.2) 1:06:05
2. Chris Vlemmix (Team T1C/London Honda/Village – RMMA.2)
3. Mike Brown (Team T1C/London Honda/Village – RMMA.2)
4. Jeffrey Chow (Ciclo Sport Racing – RMMB.2)
5. John Wolf (Ciclosport Racing – RMMA.2)
6. Eric Leene (Ciclo Sport Racing – RMMC.2)
7. Don Macphail (Cycles London Racing Team – RMMB.2)
8. Bruce Camacho (D'Ornellas Cycling Club – RMMD.2)
9. Mauro Rizzardo (Rideallday.Ca Cc P/B Real Deal – RMMA.2)
10. Marco Salvati (Kurzawinski Coach/ Six S Erp C – RMMB.2)
11. Yariv Wolfe (Euro-Sports/ Foodery/Dal-Cin – RMMB.2) 0:08
12. Mark Teves (Ciclo Sport Racing – RMMA.2) 0:17
13. Doug Devine (Reynold Cycle – RMMA.2) 0:33
DNS Jason Woods (Ciclo Sport Racing – RMMA.2)
Elite 1&2 Women – 41.6km – Average Speed 37.7km/h
1. Chloe Black (Trisports Cycling/Eclipse Raci – RWE.1) 1:06:17
2. Rachel O`Reilly (Stevens Racing P/B The Cyclery – RWE.1) 01:31
3. Arlene Marchildon (Total Sports The Bike Shop – RWE.2)
4. Lori Caruso (Coachchris.Ca/Multisport-Zone – RWE.2)
5. Stephanie Bester (Coachchris.Ca/Multisport-Zone – RWE.2)
6. Aimee Allen (Maple Leaf Cycling Club – RWE.1)
DNF Emily Mckenzie-Picot (Coachchris.Ca/Multisport-Zone – RWE.2)
Master 1 Men – 44.2km – Average Speed 40.4km/h
1. Paolo Eugeni (Z-Team Wheels Of Oakville – RMMB.1) 1:05:40
2. David Bogue (Team London – RMMB.1)
3. Chris Kirk (Independent – RMMB.1) 0:52
4. Steve Mckee (Nacsworld.Com – RMMB.1)
5. Stanislav Blazek (Kurzawinski Coach/ Six S Erp C – RMMB.1)
6. Nicholas Dwyer (Ciclo Sport Racing – RMMB.1)
7. Gerard Yeates (Canhear Uganda – RMMB.1)
8. Michael Renneboog (Team T1C/London Honda/Village – RMMC.1) 01:01
9. Patrick Shea (Team London – RMMB.1)
10. Gregory Cushing T. (Z-Team Wheels Of Oakville – RMMB.1) 01:07
DNS Wieslaw Matuszczak (Wheels Of Bloor – RMMB.1)
Elite 1&2 Men – 65km – Average Speed 40.7km/h
1. Kevin Hazzard (Jet Fuel Coffee/ La Bicicletta – RME.1) 1:35:50
2. Anton Varabei (Cycle Solutions/Angry Johnny'S – RME.1)
3. Brandon Spencer (Kallisto/Wheels Of Bloor – RMU23.2)
4. Chris Balestrini (Garneau-Club Chaussures- Norto – RMU23.2)
5. Jeffery Schiller (Garneau-Club Chaussures- Norto – RME.1) 01:24
6. Dave Byer (Jet Fuel Coffee/ La Bicicletta – RME.1)
7. Bayden Pritchard (Kallisto/Wheels Of Bloor – RME.1)
8. Marco Li (Garneau-Club Chaussures- Norto – RME.1) 01:36
9. Derrek Ivey (Kallisto/Wheels Of Bloor – RME.1) 01:41
10. Jason Valenti (Nine2Fivepro.Com Cycling Teamam – RME.1) 01:58
11. Ed Veal (Jet Fuel Coffee/ La Bicicletta – RME.1)
12. Ken Ng (Rideallday.Ca Cc P/B Real Deal – RME.2) 02:01
13. Timothy Burton (Rideallday.Ca Cc P/B Real Deal – RME.2) 02:04
14. Adam Mcclounie (Tower International Cycling Team – RME.2)
15. Peter Morse (Jet Fuel Coffee/ La Bicicletta – RME.1) 02:18
16. Anthony Walsh (Jet Fuel Coffee/La Bicicletta – RME.1) 03:41
DNF Greg Allen (Maple Leaf Cycling Club – RME.2)
DNF Stu Alp (Khs Bicycles – RME.2)
DNS John Stewart (The Hub Race Teamam – RME.2)