October 28, 2017 (Sherbrooke, QC) – Sunny conditions greeted athletes for the 2017 Canadian Cyclocross Championships in Sherbrooke, Que. as 11 titles were awarded headlined by Christel Ferrier-Bruneau (QC) SAS Macogep Aquisio and Michael van den Ham (AB) Garneau – Easton p/b Transitions Lifecare who each won their first Elite women's and men's national titles.
In the Elite women's 5-lap race Ferrier Bruneau, from France and now a Canadian citizen, battled with defending champ Maghalie Rochette (QC) Clif Pro Team as the two favourites quickly established a gap on the chasing field following the first lap.
It was Rochette who attacked first gaining 10 seconds on her rival but Ferrier-Bruneau never gave up, eventually closing on Rochette in the latter stages of the race. She took the lead with two laps to go and eventually claimed her first Canadian championship jersey after having been French road race champion twice in her career.
"I was losing a bit to Maghalie on every technical section right from the start. But I was feeling very well after three laps and was confident I could catch her," Ferrier-Bruneau told Pedal. "After catching her I attacked hard and spent the last two laps in front. It was a very nice race." Ex-national cyclocross champion, Mical Dyck (BC) Naked Factory Racing, completed the podium after spending most of the race in third.
For Van Den Ham, his victory in the Elite Men's 7-lap competition was a long-awaited journey. The veteran crosser fought hard at both the 2015 and 2016 cyclocross nationals but today was finally his day.
He quickly recovered after a challenging, fast start initiated by Mark McConnell (AB) Hot Sauce Cycling, and made his way to the front where he started to apply pressure in the lead group of five that included Geoff Kabush (BC) Scott Sports – Maxxis, Leandre Bouchard (QC) B:SR Suntour KMC and Raphael Gagne (QC) Cannondale 3Rox Racing.
Bouchard suffered a puncture and then Van Den Ham and McConnell charged to the front forcing Kabush and Gagné to chase as the duo soon made it a 2-horse race. But Van Den Ham was on a mission and dropped McConnell on the fourth lap and would never be caught.
"Mark was pushing the pace and created a gap with Raph [Gagne] and Geoff [Kabush]," explained Van Den Ham. "I sort of had a secret weapon which was riding the run-up. I saw that Mark was starting to hurt a little bit and making some mistakes so I figured that was the best time to apply pressure."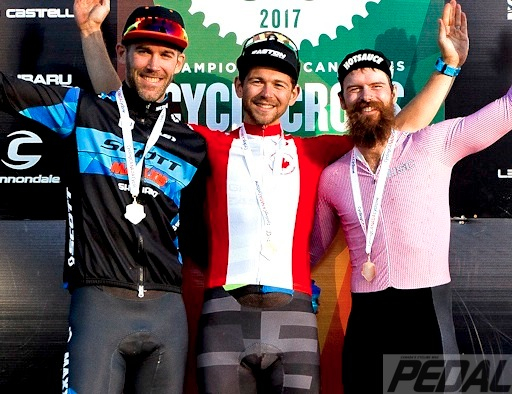 "On lap three I rode the run-up and opened a 5-seconds gap and then tried to ride as smooth and fast as possible. I knew I could never count Kabush out and he was coming up strong in the end. But on the last lap I was pretty confident I could win it."
Kabush eventually caught McConnell and dropped him to take over second as both riders finished taking silver and bronze respectively in the exciting race with Gagne fourth.
Ontario's Ruby West has been on fire and headed into the 4-lap U23 women's race as one of the top favourites. With defending champ, Sidney McGill (Focus CX Canada), the door was open and and West proved she was up to the challenge eventually dominating the event.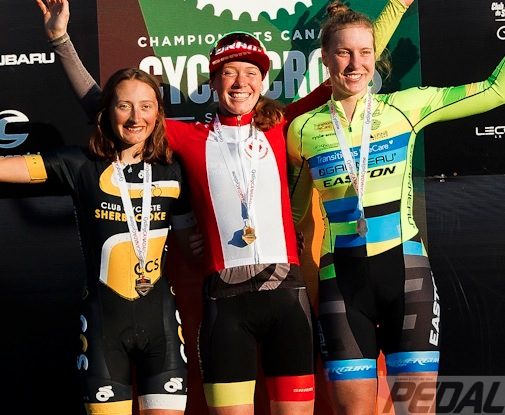 She overcame a rough start to catch local Sherbrooke star Magdeleine Vallières after the first lap and then never looked back. "Some girls started pretty fast and it took me some time to catch up," said West. "When I finally caught Magdeleine I was able to open up a bit a gap. It worked and I kept pushing until the end."
In the U23 men's 6-lap race Quebec's Raphaël Auclair (Pivot Cycles – OTE) powered through with a strong start and an early lead from the get-go. The only one who survived Auclair's blistering pace was Ontario's Brody Sanderson (Centurion Nextwave), who eventually caught the Pivot OTE rider on the second lap.
"I knew Sanderson would come back since he's been riding pretty strong," explained Auclair. "On the second lap I was trying to dial-in my lines and keep calm. Brody got back on my wheel so I started to play a tactical game.
"I watched how he took his lines and figured out where the best place was to attack him. On the last lap I knew that if it came to a sprint he would be hard to beat. So I started putting pressure on. I was fast on the run-up so on the stairs I just went as fast as I could, got a small gap and it held-on until the finish."
In the Junior men's 5-lap Ontario's Tyler Clark (KMS Cycling-Killington Mountain) was unstoppable taking an early lead and forcing everyone to chase. In the end Colton Woods (ON) Trek Store CC followed Clark in second with William Cote (QC) Dalbix Sherbrooke landing third on the final podium.
In the Master races that kicked off the championships Caitlin Callaghan (AB) Hardcore Bikes took the Women 30-39 title while Alana Heise (AB) Terrascape Racing was the Women 40+ winner. Terry Tomlin (NS) Oakley Atlantic Racing took the Men's 50-59 victory with Michel Hamel (QC) Club Cycliste De Sherbrooke earning the Men 60+ jersey. Aroussen Laflamme (QC) Trek-GPL won a close race in the Men's 40-49 category over Frédéric Francoeur (QC) Dalbix Sherbrooke in second and Frederic Auger (QC) Laflammerouge in third. In the Men's 30-39 race Thierry Laliberte (QC) YPC Bolle bested Aaron Schooler (AB) Focus CX Canada by three seconds.
Results here.