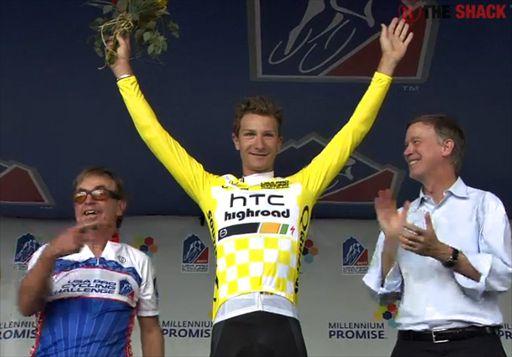 August 22, 2011 (Colorado Springs, CO) – Canada's Ryan Roth (Team Spidertech Powered By C10) scored a top-10 placing as Patrick Gretsch (Ger) gave HTC-Highroad the win at the 8.3km Prologue, as the inaugural USA Pro Cycling Challenge got underway in Colorado Springs, CO. Christian Vande Velde (USA) Team Garmin-Cervelo placed second and Brent Bookwalter (USA) BMC Racing Team was third.
Team SpiderTech powered by C10 Report
The 2011 USA Pro Cycling Challenge started today in Colorado, USA, with the presentation of an 8.3-kilometer prologue, and Team SpiderTech's Ryan Roth kick started this important stage race with a 10th place, just 10 seconds behind the winner's time of 8:27 posted by Patrick Gretsch of HTC Highroad.
Team SpiderTech had a great day in this prologue -a short race against the clock- placing four riders within 30 seconds of the leader's time. Team SpiderTech placed its top Time Trials riders in the front of the start list, playing safe while facing some changing weather conditions. A great strategic move, as the weather deteriorated as the race went on.
Roth, a time trials specialist, placed tenth, only two seconds behind Tour de France winner Cadel Evans of BMC Racing Team.
David Boily, a U23 riders, posted the fourth fastest time amongst the young riders.
Amongst the teams registered for this major race on American soil, there are eight UCI World Tour teams, four pro-continental teams including Team SpiderTech powered by C10, and five continental teams.
The race, disputed over six stages scheduled to end on Sunday, will be broadcasted in over 160 countries from around the world.
Gretsch Wins Prologue at 2011 USA Pro Cycling Challenge
Inaugural Race Kicks Off to Enthusiastic Crowds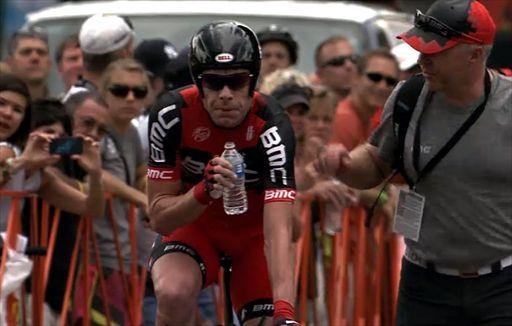 The inaugural USA Pro Cycling Challenge started on a high note in Colorado Springs when Patrick Gretsch (GER) of HTC-Highroad bested a world-class field containing the 2011 Tour de France podium finishers and five World Champions to claim victory on a fast, mainly downhill course lined shoulder-to-shoulder with cheering fans.  The enthusiastic crowd cheered on the cyclists as they made their way from The Garden of the Gods to downtown Colorado Springs where Gretsch became the first rider ever to wear the Quiznos Leader Jersey in the USA Pro Cycling Challenge.
"Winning the Prologue of the USA Pro Cycling Challenge today is a really nice feeling," said Gretsch.  "I put a lot of my focus on the Prologue.  I had really good preparation and I felt really good in training this morning.  It felt great out there and I'm super happy to get the win.  I think all the other teams have to watch out for us."
Gretsch completed one of the fastest time trials ever in a major professional cycling race on American soil, covering the 5.2-mile (8.3 km) course in 8 minutes and 27 seconds.  He will begin day two of the race wearing the yellow Quiznos Leader Jersey when Stage 1 takes the riders from Salida to Mt. Crested Butte, a 99.3-mile (159.8 km) on Tuesday afternoon.
In second place, two seconds behind Gretsch, was Christian Vande Velde (USA) of Team Garmin-Cervelo, followed by Brent Bookwalter (USA) of BMC Racing Team, who came in third, four seconds off the pace.  BMC Racing Team became the general team classification leader after the first day of racing with a total time of 25 minutes and 40 seconds.
Featuring a mostly declining profile, the course had cycling fans lined up five-deep in places to see the race action.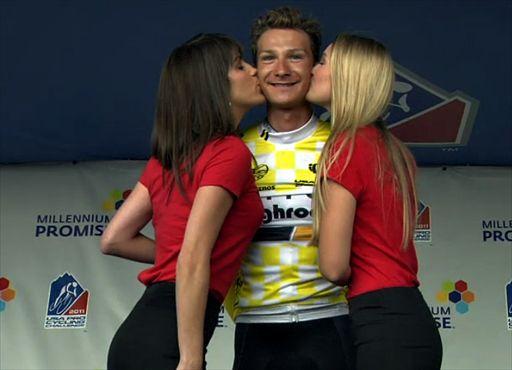 "That was about as fun a day as I've ever had and it was a spectacular moment of truth," said Shawn Hunter, co-founder and CEO, USA Pro Cycling Challenge.  "It was a phenomenal first day with fans along every corner.  I think the riders can feel that enthusiasm and it is only going to build.  Colorado Springs set the bar very high."
Early race favorites finishing in the top-25 included Jens Voigt (GER) of Leopard-Trek, Levi Leipheimer (USA) of Team RadioShack, Cadel Evans (AUS) of BMC Racing Team, Tom Danielson (USA) of Team Garmin-Cervelo, Robert Gesink (NED) of Rabobank, Rory Sutherland (AUS) of UnitedHealthcare Pro Cycling Team, Sergio Luis Henao (COL) of Gobernacion de Antioquia-Indeportes Antiquia and Tejay Van Garderen (USA) of HTC-Highroad.
In a sweep for HTC-Highroad, the team took all the jerseys that were awarded today.  The Quiznos Leader Jersey was awarded to Gretsch. The Sheets Best Young Rider's Jersey was claimed by Van Garderen, who finished at 8 minutes and 35 seconds.  The Exergy Most Aggressive Jersey went to Danny Pate (USA).  The Smashburger Sprint Jersey and Nissan King of the Mountain (KOM) Jersey will be awarded for the first time tomorrow.
Stage 1 – Tomorrow
Tuesday, August 23 – Salida to Mt. Crested Butte (99.3 mi/159.9 km)
Start Time: 11:45 a.m. MT
Estimated Finish Time: 3:40 – 4:30 p.m. MT
Satellite Feed Time: 5:30 – 5:45 p.m. MT
Starting in downtown Salida at F St. and Sackett, the riders will take a circuit through downtown before heading on their way on this nearly 100-mile course to Mt. Crested Butte.  The first climb up 11,315-ft. Monarch Pass forces the riders to gain 3,250 ft. in elevation over 13 miles, and will be their first taste of the oxygen-deprived Colorado high altitude, as well as the first King of the Mountain competition.  After this, the cyclists will have two sprint lines to compete for – one in Gunnison and one near the finish line in Crested Butte.  With a sprint line so close to the finish, competitors will have to decide which line to expend their energy racing for because both will be impossible in a finish like this one.  In this unique finish equation, the competitors in Stage 1 will close out the day on an uphill climb, from the lower area of Crested Butte to the finish line on Mt. Crested Butte – the USA Pro Cycling Challenge's only mountain top finish.
Results
1. Patrick Gretsch (Ger) HTC-Highroad 8:28
2. Christian Vande Velde (USA) Team Garmin-Cervelo 0:02
3. Brent Bookwalter (USA) BMC Racing Team 0:04
4. Robert Förster (Ger) UnitedHealthcare Pro Cycling 0:05
5. Jens Voigt (Ger) Leopard Trek 0:07
6. George Hincapie (USA) BMC Racing Team
7. Levi Leipheimer (USA) Team RadioShack 0:08
8. Tejay Van Garderen (USA) HTC-Highroad
9. Cadel Evans (Aus) BMC Racing Team
10. Ryan Roth (Can) Team Spidertech Powered By C10 0:10
11. Danny Pate (USA) HTC-Highroad 0:11
12. Jeffry Louder (USA) BMC Racing Team
13. Carlos Eduardo Alzate Escobar (Col) Team Exergy 0:13
14. Adrian Hegyvary (USA) UnitedHealthcare Pro Cycling 0:14
15. Rory Sutherland (Aus) UnitedHealthcare Pro Cycling 0:15
16. David Zabriskie (USA) Team Garmin-Cervelo
17. Benjamin King (USA) Team RadioShack 0:16
18. Stef Clement (Ned) Rabobank Cycling Team
19. Francois Parisien (Can) Team Spidertech Powered By C10 0:17
20. Thomas Danielson (USA) Team Garmin-Cervelo
21. Robert Gesink (Ned) Rabobank Cycling Team 0:18
22. Ben Hermans (Bel) Team RadioShack 0:20
23. Scott Zwizanski (USA) UnitedHealthcare Pro Cycling
24. Gustav Larsson (Swe) Saxo Bank Sungard 0:21
25. Daniel Summerhill (USA) Team Garmin-Cervelo
26. Ivan Rovny (Rus) Team RadioShack 0:22
27. Peter Stetina (USA) Team Garmin-Cervelo
28. Jay Robert Thomson (RSA) Bissell Cycling 0:23
29. Ryder Hesjedal (Can) Team Garmin-Cervelo
30. Jonathan Clarke (Aus) UnitedHealthcare Pro Cycling 0:24
31. Frank Kevin Pipp (USA) Bissell Cycling 0:26
32. Daniel Oss (Ita) Liquigas-Cannondale
33. David Boily (Can) Team Spidertech Powered By C10
34. Rob Britton (Can) Bissell Cycling
35. Andrew Randell (Can) Team Spidertech Powered By C10 0:27
36. Carlos Alberto Ospina Hernandes (Col) Gobernacion De Antioquia-Indeportes Antioquia 0:28
37. Lachlan Norris (Aus) HTC-Highroad 0:29
38. Hayden Roulston (Nzl) HTC-Highroad 0:30
39. Michael Mørkøv (Den) Saxo Bank Sungard 0:31
40. Bradley White (USA) UnitedHealthcare Pro Cycling
41. Sander Oostlander (Ned) Skil-Shimano 0:32
42. Oscar Sevilla Ribera (Esp) Gobernacion De Antioquia-Indeportes Antioquia
43. Jeremy Vennell (Nzl) Bissell Cycling
44. Giovanni Manuel Baez Alvarez (Col) EPM-UNE 0:33
45. Stefan Denifl (Aut) Leopard Trek
46. Juan Pablo Suarez Suarez (Col) EPM-UNE
47. Chris Barton (USA) BMC Racing Team
48. Martin Mortensen (Den) Leopard Trek
49. Edward King (USA) Liquigas-Cannondale
50. Vladimir Efimkin (Rus) Team Type 1-Sanofi 0:34
51. Dmitriy Muravyev (Kaz) Team RadioShack
52. William Dickeson (Aus) Jelly Belly p/b Kenda 0:35
53. Nic Hamilton (Can) Jelly Belly p/b Kenda
54. Davide Cimolai (Ita) Liquigas-Cannondale
55. Sylvester Szmyd (Pol) Liquigas-Cannondale 0:36
56. Fred Rodriguez (USA) Team Exergy
57. Andy Schleck (Lux) Leopard Trek
58. Ben Jacques-Maynes (USA) Bissell Cycling 0:37
59. Philip Deignan (Irl) Team RadioShack
60. Fränk Schleck (Lux) Leopard Trek
61. Elia Viviani (Ita) Liquigas-Cannondale
62. Peter Velits (Svk) HTC-Highroad 0:38
63. George Bennett (Nzl) Team RadioShack
64. Bernard Van Ulden (USA) Jelly Belly p/b Kenda
65. Sam Johnson (USA) Team Exergy
66. Timothy Duggan (USA) Liquigas-Cannondale
67. Daniel Lloyd (Gbr) Team Garmin-Cervelo
68. Daniel Navarro Garcia (Esp) Saxo Bank Sungard 0:39
69. Alastair Loutit (Aus) Jelly Belly p/b Kenda
70. Rafael Infantino Abreu (Col) EPM-UNE 0:40
71. Christopher Baldwin (USA) Bissell Cycling 0:41
72. Javier Megias Leal (Esp) Team Type 1-Sanofi
73. Jonathan Patrick McCarty (USA) Team Spidertech Powered By C10
74. Jason McCartney (USA) Team RadioShack
75. Paul Mach (USA) Bissell Cycling 0:42
76. Matt Cooke (USA) Team Exergy
77. Davide Frattini (Ita) UnitedHealthcare Pro Cycling
78. Laurent Didier (Lux) Saxo Bank Sungard 0:43
79. Bruno Langlois (Can) Team Spidertech Powered By C10
80. Thomas Peterson (USA) Team Garmin-Cervelo 0:44
81. Valeriy Kobzarenko (Ukr) Team Type 1-Sanofi
82. Alex Hagman (USA) Jelly Belly p/b Kenda
83. Andrès Miguel Diaz Corrales (Col) Team Exergy 0:45
84. Sergio Luis Henao Montoya (Col) Gobernacion De Antioquia-Indeportes Antioquia
85. Brian Vandborg (Den) Saxo Bank Sungard 0:47
86. Christopher Jones (USA) UnitedHealthcare Pro Cycling
87. Anders Lund (Den) Leopard Trek 0:48
88. Carlos Fernando Piamonte Rodriguez (Col) EPM-UNE 0:49
89. Jeremy Powers (USA) Jelly Belly p/b Kenda
90. Kai Applequist (USA) Team Exergy 0:50
91. Craig Lewis (USA) HTC-Highroad
92. André Steensen (Den) Saxo Bank Sungard 0:51
93. Caleb Fairly (USA) HTC-Highroad
94. Javier Alexis Acevedo Colle (Col) Gobernacion De Antioquia-Indeportes Antioquia
95. Laurens Ten Dam (Ned) Rabobank Cycling Team 0:52
96. Thimothy Roe (Aus) BMC Racing Team
97. Ivan Basso (Ita) Liquigas-Cannondale
98. Juraj Sagan (Svk) Liquigas-Cannondale
99. Lucas Euser (USA) Team Spidertech Powered By C10 0:53
100. Bruno Pires (Por) Leopard Trek 0:54
101. Jaime Alberto Castaneda Ortega (Col) EPM-UNE
102. Alexander Efimkin (Rus) Team Type 1-Sanofi 0:55
103. Chris Butler (USA) BMC Racing Team
104. William Dugan (USA) Team Type 1-Sanofi 0:56
105. Ken Hanson (USA) Jelly Belly p/b Kenda
106. Tobias Ludvigsson (Swe) Skil-Shimano 0:57
107. Eduard Alexander Beltran Suarez (Col) EPM-UNE 0:58
108. Fabio Calabria (Aus) Team Type 1-Sanofi
109. Andrew Dahlheim (USA) Bissell Cycling 0:59
110. Edward Stiver Ortiz Caro (Col) EPM-UNE
111. Flavio De Luna (Mex) Team Spidertech Powered By C10
112. Kenny Robert Van Hummel (Ned) Skil-Shimano 1:01
113. Sergio Hernandez (USA) Jelly Belly p/b Kenda
114. Oscar Alvarez (Col) Gobernacion De Antioquia-Indeportes Antioquia
115. Vladimir Efimkin (Rus) Team Type 1-Sanofi
116. Grischa Niermann (Ger) Rabobank Cycling Team
117. Rafael Montiel (Col) Gobernacion De Antioquia-Indeportes Antioquia 1:02
118. Sebastien Salas (Can) Team Exergy 1:03
119. Chad Beyer (USA) BMC Racing Team 1:04
120. Thierry Hupond (Fra) Skil-Shimano 1:08
121. Pieter Weening (Ned) Rabobank Cycling Team 1:10
122. Philipp Ries (Ger) Skil-Shimano 1:13
123. Erik Slack (USA) Team Exergy 1:14
124. Walter Fernando Pedraza Morales (Col) EPM-UNE 1:15
125. Dennis Van Winden (Ned) Rabobank Cycling Team 1:19
126. Alejandro Ramirez Calderon (Col) Gobernacion De Antioquia-Indeportes Antioquia
127. Daniele Callegarin (Ita) Team Type 1-Sanofi 1:20
128. Cristhian Montoya Giraldo (Col) Gobernacion De Antioquia-Indeportes Antioquia 1:24
129. Martin Reimer (Ger) Skil-Shimano 1:28
130. Thomas Bonnin (Fra) Skil-Shimano 2:04
General classification Result
1. Patrick Gretsch (Ger) HTC-Highroad 8:28
2. Christian Vande Velde (USA) Team Garmin-Cervelo 0:02
3. Brent Bookwalter (USA) BMC Racing Team 0:04
4. Robert Förster (Ger) UnitedHealthcare Pro Cycling 0:05
5. Jens Voigt (Ger) Leopard Trek 0:07
6. George Hincapie (USA) BMC Racing Team
7. Levi Leipheimer (USA) Team RadioShack 0:08
8. Tejay Van Garderen (USA) HTC-Highroad
9. Cadel Evans (Aus) BMC Racing Team
10. Ryan Roth (Can) Team Spidertech Powered By C10 0:10
11. Danny Pate (USA) HTC-Highroad 0:11
12. Jeffry Louder (USA) BMC Racing Team
13. Carlos Eduardo Alzate Escobar (Col) Team Exergy 0:13
14. Adrian Hegyvary (USA) UnitedHealthcare Pro Cycling 0:14
15. Rory Sutherland (Aus) UnitedHealthcare Pro Cycling 0:15
16. David Zabriskie (USA) Team Garmin-Cervelo
17. Benjamin King (USA) Team RadioShack 0:16
18. Stef Clement (Ned) Rabobank Cycling Team
19. Francois Parisien (Can) Team Spidertech Powered By C10 0:17
20. Thomas Danielson (USA) Team Garmin-Cervelo
21. Robert Gesink (Ned) Rabobank Cycling Team 0:18
22. Ben Hermans (Bel) Team RadioShack 0:20
23. Scott Zwizanski (USA) UnitedHealthcare Pro Cycling
24. Gustav Larsson (Swe) Saxo Bank Sungard 0:21
25. Daniel Summerhill (USA) Team Garmin-Cervelo
26. Ivan Rovny (Rus) Team RadioShack 0:22
27. Peter Stetina (USA) Team Garmin-Cervelo
28. Jay Robert Thomson (RSA) Bissell Cycling 0:23
29. Ryder Hesjedal (Can) Team Garmin-Cervelo
30. Jonathan Clarke (Aus) UnitedHealthcare Pro Cycling 0:24
31. Frank Kevin Pipp (USA) Bissell Cycling 0:26
32. Daniel Oss (Ita) Liquigas-Cannondale
33. David Boily (Can) Team Spidertech Powered By C10
34. Rob Britton (Can) Bissell Cycling
35. Andrew Randell (Can) Team Spidertech Powered By C10 0:27
36. Carlos Alberto Ospina Hernandes (Col) Gobernacion De Antioquia-Indeportes Antioquia 0:28
37. Lachlan Norris (Aus) HTC-Highroad 0:29
38. Hayden Roulston (Nzl) HTC-Highroad 0:30
39. Michael Mørkøv (Den) Saxo Bank Sungard 0:31
40. Bradley White (USA) UnitedHealthcare Pro Cycling
41. Sander Oostlander (Ned) Skil-Shimano 0:32
42. Oscar Sevilla Ribera (Esp) Gobernacion De Antioquia-Indeportes Antioquia
43. Jeremy Vennell (Nzl) Bissell Cycling
44. Giovanni Manuel Baez Alvarez (Col) EPM-UNE 0:33
45. Stefan Denifl (Aut) Leopard Trek
46. Juan Pablo Suarez Suarez (Col) EPM-UNE
47. Chris Barton (USA) BMC Racing Team
48. Martin Mortensen (Den) Leopard Trek
49. Edward King (USA) Liquigas-Cannondale
50. Vladimir Efimkin (Rus) Team Type 1-Sanofi 0:34
51. Dmitriy Muravyev (Kaz) Team RadioShack
52. William Dickeson (Aus) Jelly Belly p/b Kenda 0:35
53. Nic Hamilton (Can) Jelly Belly p/b Kenda
54. Davide Cimolai (Ita) Liquigas-Cannondale
55. Sylvester Szmyd (Pol) Liquigas-Cannondale 0:36
56. Fred Rodriguez (USA) Team Exergy
57. Andy Schleck (Lux) Leopard Trek
58. Ben Jacques-Maynes (USA) Bissell Cycling 0:37
59. Philip Deignan (Irl) Team RadioShack
60. Fränk Schleck (Lux) Leopard Trek
61. Elia Viviani (Ita) Liquigas-Cannondale
62. Peter Velits (Svk) HTC-Highroad 0:38
63. George Bennett (Nzl) Team RadioShack
64. Bernard Van Ulden (USA) Jelly Belly p/b Kenda
65. Sam Johnson (USA) Team Exergy
66. Timothy Duggan (USA) Liquigas-Cannondale
67. Daniel Lloyd (Gbr) Team Garmin-Cervelo
68. Daniel Navarro Garcia (Esp) Saxo Bank Sungard 0:39
69. Alastair Loutit (Aus) Jelly Belly p/b Kenda
70. Rafael Infantino Abreu (Col) EPM-UNE 0:40
71. Christopher Baldwin (USA) Bissell Cycling 0:41
72. Javier Megias Leal (Esp) Team Type 1-Sanofi
73. Jonathan Patrick McCarty (USA) Team Spidertech Powered By C10
74. Jason McCartney (USA) Team RadioShack
75. Paul Mach (USA) Bissell Cycling 0:42
76. Matt Cooke (USA) Team Exergy
77. Davide Frattini (Ita) UnitedHealthcare Pro Cycling
78. Laurent Didier (Lux) Saxo Bank Sungard 0:43
79. Bruno Langlois (Can) Team Spidertech Powered By C10
80. Thomas Peterson (USA) Team Garmin-Cervelo 0:44
81. Valeriy Kobzarenko (Ukr) Team Type 1-Sanofi
82. Alex Hagman (USA) Jelly Belly p/b Kenda
83. Andrès Miguel Diaz Corrales (Col) Team Exergy 0:45
84. Sergio Luis Henao Montoya (Col) Gobernacion De Antioquia-Indeportes Antioquia
85. Brian Vandborg (Den) Saxo Bank Sungard 0:47
86. Christopher Jones (USA) UnitedHealthcare Pro Cycling
87. Anders Lund (Den) Leopard Trek 0:48
88. Carlos Fernando Piamonte Rodriguez (Col) EPM-UNE 0:49
89. Jeremy Powers (USA) Jelly Belly p/b Kenda
90. Kai Applequist (USA) Team Exergy 0:50
91. Craig Lewis (USA) HTC-Highroad
92. André Steensen (Den) Saxo Bank Sungard 0:51
93. Caleb Fairly (USA) HTC-Highroad
94. Javier Alexis Acevedo Colle (Col) Gobernacion De Antioquia-Indeportes Antioquia
95. Laurens Ten Dam (Ned) Rabobank Cycling Team 0:52
96. Thimothy Roe (Aus) BMC Racing Team
97. Ivan Basso (Ita) Liquigas-Cannondale
98. Juraj Sagan (Svk) Liquigas-Cannondale
99. Lucas Euser (USA) Team Spidertech Powered By C10 0:53
100. Bruno Pires (Por) Leopard Trek 0:54
101. Jaime Alberto Castaneda Ortega (Col) EPM-UNE
102. Alexander Efimkin (Rus) Team Type 1-Sanofi 0:55
103. Chris Butler (USA) BMC Racing Team
104. William Dugan (USA) Team Type 1-Sanofi 0:56
105. Ken Hanson (USA) Jelly Belly p/b Kenda
106. Tobias Ludvigsson (Swe) Skil-Shimano 0:57
107. Eduard Alexander Beltran Suarez (Col) EPM-UNE 0:58
108. Fabio Calabria (Aus) Team Type 1-Sanofi
109. Andrew Dahlheim (USA) Bissell Cycling 0:59
110. Edward Stiver Ortiz Caro (Col) EPM-UNE
111. Flavio De Luna (Mex) Team Spidertech Powered By C10
112. Kenny Robert Van Hummel (Ned) Skil-Shimano 1:01
113. Sergio Hernandez (USA) Jelly Belly p/b Kenda
114. Oscar Alvarez (Col) Gobernacion De Antioquia-Indeportes Antioquia
115. Vladimir Efimkin (Rus) Team Type 1-Sanofi
116. Grischa Niermann (Ger) Rabobank Cycling Team
117. Rafael Montiel (Col) Gobernacion De Antioquia-Indeportes Antioquia 1:02
118. Sebastien Salas (Can) Team Exergy 1:03
119. Chad Beyer (USA) BMC Racing Team 1:04
120. Thierry Hupond (Fra) Skil-Shimano 1:08
121. Pieter Weening (Ned) Rabobank Cycling Team 1:10
122. Philipp Ries (Ger) Skil-Shimano 1:13
123. Erik Slack (USA) Team Exergy 1:14
124. Walter Fernando Pedraza Morales (Col) EPM-UNE 1:15
125. Dennis Van Winden (Ned) Rabobank Cycling Team 1:19
126. Alejandro Ramirez Calderon (Col) Gobernacion De Antioquia-Indeportes Antioquia
127. Daniele Callegarin (Ita) Team Type 1-Sanofi 1:20
128. Cristhian Montoya Giraldo (Col) Gobernacion De Antioquia-Indeportes Antioquia 1:24
129. Martin Reimer (Ger) Skil-Shimano 1:28
130. Thomas Bonnin (Fra) Skil-Shimano 2:04