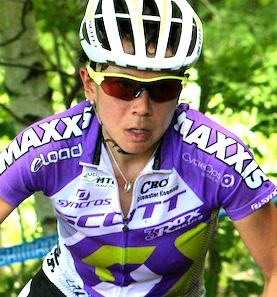 June 30, 2013 (Windham, NY) – Canada's Amanda Sin and Derek Zandstra, both with Scott-3Rox Racing, were on fire landing second on the podium in their respective races at US Pro XCT #7 in Windham, NY on Saturday. Sin has been making steady gains following her strong 6th place in Missoula, MT last weekend and likes the course in Windham. Fellow Canuck Haley Smith (Norco Factory) placed 5th.
"It was great racing in Windham. The course was almost the same as the previous World Cup except for an extra climb near the top," Sin told Pedal. "There was some rain in the days before the race, so the conditions were a little muddy, but great. I enjoyed racing in the slightly muddy and slick conditions. The course was a lot of fun. Off the start, I think I was in 5th position. I moved up to 2nd after a few minutes and remained there for the rest of the race."
Zandstra scored another US Pro XCT podium following his 4th in Texas at round #1 this year and 5th in Missoula at round #6 last weekend.  He nailed his inaugural XCT win last year at round #5 in Wisconsin. Jeremiah Bishop (Team Sho-Air Cannondale) took the win in Windham with Todd Wells (Specialized Factory Racing) in third. Fellow Canuck Antoine Caron (Specialized) finished a strong 5th.
"It was a great race for me there finally as I've always had a hard time in Windham. The course was the same as the World Cup with a couple of small changes for better water drainage," commented Zandstra. "The course was mostly dry with a couple of wet spots, but nothing slick. It was humid and not too hot with some cloud coverage but when you were in the sun it was hot."
Results (brief)
Elite Women
1. Lea Davison (Specialized Factory Racing)
2. Amanda Sin (Scott-3Rox Racing)
3. Crystal Anthony (Riverside)
4. Erica Tingey (Jamis)
5. Haley Smith (Norco Factory)
Elite Men
1. Jeremiah Bishop (Team Sho-Air Cannondale)
2. Derek Zandstra (Scott-3Rox Racing)
3. Todd Wells (Specialized Factory Racing)
4. Stephen Ettinger (BMC Swiss)
5. Antoine Caron (Specialized)