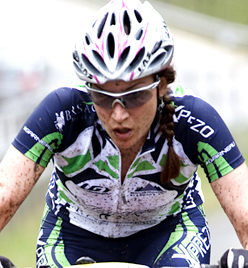 June 24, 2013 (Missoula, MT) – Canada's Jean Ann Berkenpas (Xprezo Factory Team) claimed the win in the Elite Women's Super D race and also took home the Queen of the Mountain jersey for her weekend of racing at the US Pro XCT #6 in Missoula. Teal Stetson-Lee (Team Luna Chix) was second and Elizabeth English (Liv/Giant) was third. Fellow Canuck Cindy Montambault (Equipe du Quebec/CVM 2 VALS) was 7th. Benjamin Forbes (Cyclinic Kenmore Cycles) took the men's Super D win as Mitchell Hoke (Kenda/Felt) in 3rd grabbed the KOM jersey.
"It was a fantastic weekend for me. It felt good to have success with such high caliber competition. I raced one of Xprezo's newest 650b models for all three events, the "Captain Tork", and had so much fun on this nimble and capable steel hartail," Berkenpas told Pedal.
"Great trails and a welcoming community feel made for an awesome three day event. Being able to finish 2nd in a close sprint in the Short Track on Friday was a great start to the weekend. Capping it off with a win in the Super-D was fabulous," she added.
Results
Elite Women
1. Jean Ann Berkenpas (Xprezo Factory Team)     0:14:28     
2. Teal Stetson-Lee (Team Luna Chix)     0:02
3. Elizabeth English (Liv/Giant)     0:22
4. Rose Grant (Sportsman & Ski Haus)     0:28
5. Amanda Carey     0:29
6. Lisa Curry (Gallatin Alpine Sports/Intrinsik Archite)     0:38
7. Cindy Montambault (Equipe du Quebec/CVM 2 VALS)     0:45     
8. Jill Behlen (University of Wyoming)     0:44
9. Anna Beck (Cyclinic Kenmore Cycles)     1:03
10. Judy Freeman (Crankbrothers Race Club)     1:09
11. Evelyn Dong (Oregon XC)     1:13
12. Heidi Rentz     1:27
13. Larissa Fitchett     1:53
DNS Sarah Kaufmann (Stan's NoTubes Womens Elite)
DNF Linnea Dixson (Mafia Racing)
Elite Men
1. Benjamin Forbes (Cyclinic Kenmore Cycles)     13:05
2. Dalle Gian (Monster Systems Racing)     0:11
3. Mitchell Hoke (Kenda/Felt)     0:17
4. Menso de Jong (Team Clif Bar Cycling)     0:25
5. John Curry (Gallatin Alpine Sports/Intrinsik Archite)     0:40
6. Sean Leader     0:47
7. Greg Krieger     0:53
8. Adam Looney     0:59
9. Colin Cares (Kenda/Felt)     1:06
DNS Phil Grove (Team Hammer Nutrition)
Queen of the Mountain (best of 3 events)
1. Jean Ann Berkenpas (Xprezo Factory Team)     29      pts
King of the Mountain
1. Mitchell Hoke (Team Optimum p/b Kelly Benefit Strategies)     17      pts