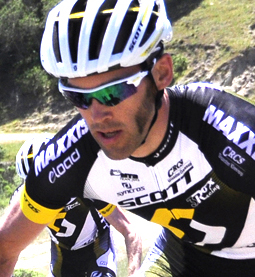 June 23, 2013 (Missoula, MT) – Canada's Geoff Kabush (Scott-3Rox Racing) was back on the top spot of the podium on Friday in the Men's Short Track at round #6 of the US Pro XCT Series in Missoula, Montana with Stephen Ettinger (BMC)
in second and  Todd Wells (Specialized Factory Racing) third. Leandre Bouchard (Equipe du Quebec) finished a strong 6th.
In the women's race B.C.'s Jean Ann Berkenpas (Xprezo Factory) landed on the podium in 2nd behind Chloe Woodruff (CrankBrothers Race Club) with Erica Tingey (Jamis Factory Racing) in third. Fellow Canuck Frederique Trudel (Specialized Racing Canada/Team Quebec) made the top 10 placing 8th.
Results
Women
1. Chloe Woodruff (CrankBrothers Race Club)
2. Jean Ann Berkenpas (Xprezo Factory)
3. Erica Tingey (Jamis Factory Racing)
4. Erin Huck (Tokyo Joes)
5. Christina Gokey-Smith (Colonel's /Sho-Air)
6. Evelyn Dong
7. Judy Freeman (Crankbrothers Race Club)
8. Frederique Trudel (Specialized Racing Canada/Team Quebec)
9. Amy Beisel (Griggs Orthopedics)
10. Rose Grant (Sportsman & Ski Haus)
11. Amanda Carey (Stan's NoTubes Elite Racing)
12. Haley Smith (Norco Factory Team)
13. Shayna Powless
14. Catherine Fleury (Equipe du Quebec/Cyclone d'Alma)
15. Linnea Dixson (Mafia Racing)
16. Sarah Kaufmann (Team Roaring Mouse )
17. Cindy Montambault (Equipe du Quebec/CVM)
18. Kaila Hart (Stan's NoTubes Elite Racing)
19. Jill Behlen (University of Wyoming)
20. Elizabeth English
21. Andreane Lanthier Nadeau (Rocky Mountain Factory Team)
22. Caroline Mani (Raleigh Clement)
Men
1. Geoff Kabush (Scott-3Rox Racing)
2. Stephen Ettinger (BMC)
3. Todd Wells (Specialized Factory Racing)
4. Howard Grotts (Fort Lewis College)
5. Ryan Trebon (Cannondale)
6. Leandre Bouchard (Equipe du Quebec)
7. Mitchell Hoke (Team Optum-Kelly Benefit Strategies)
8. Spencer Paxson (Kona Factory Team)
9. Russell Finsterwald (Trek Factory Racing)
10. Kerry Werner (BMC U23 Development)
11. Gian Dalle Angelini (Monster Systems Racing)
12. Troy Wells (Team Clif Bar Cycling)
13. Menso De Jong (Team Clif Bar Cycling)
14. Colin Cares (Kenda/felt)
15. Jeremy Martin (Rocky Mountain)
16. Joseph Maloney (KS Energy Services)
17. Alexandre Vialle (Equipe du Quebec)
18. Ryan Geiger (Team Winded)
19. Kevin Bradford-Parish (Team NW Sho-Air)
20. Greg Krieger
21. Phil Grove (Team Hammer Nutrition)
22. Adam Looney
23. David Flaten (U.S. Military Cycling Team-FRS)
24. Craig Wohlschlaeger (Giant Bicycle)
25. Sam Chovan (Mafia Racing)