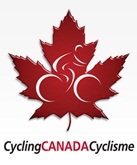 May 30, 2013 (Ottawa, ON) – Following a rule clarification of the rules by the International Cycling Union (UCI), Cycling Canada is modifying the composition of the team selected to the 2013 UCI Junior Pan American Track Championships.
For the past three years, second-year cadet riders have been allowed to compete in the track events at the Junior Pan American Championships. With this precedent, Cycling Canada invited second-year cadets (born in 1997) to participate in the selection camp in Los Angeles. Two of these athletes produced outstanding results at the camp and one of them, Derek Gee, was selected to the team. The other, Connor Byway, was chosen as an alternate. These selections were announced on May 9.
Since then, COPACI announced that both the dates and location of the 2013 Junior Pan American Championships had changed. In that announcement, it was specifically stated that the event was for Junior-age athletes born in 1995 and 1996. Cycling Canada sought clarification on the status of second-year cadet athletes, and the UCI made it clear that, under rule 1.1.036, cadets cannot compete at the Junior Pan American Championships.
As a consequence of this rule, below is the modified composition of the Canadian Team for the 2013 Junior Pan American Track Championships, scheduled for July 7-12 in Aguascalientes, Mexico.
Women, Endurance
– Ariane Bonhomme (18, Gatineau QC)
– Kinley Gibson (18, Edmonton AB)
Note: Kristen Sears (18, Ancaster ON), Madeleine McConnell (17, Ancaster ON) and Sarah Mason (17, London, ON) were unable to attend the trials due to injury and will be given the opportunity to attempt the standard at the Forest City Velodrome in London, ON, on June 12.
Men, Sprint
– Guillaume Roussell (16, Laval QC)
– Jeremie Lacasse (16, Ottawa ON)
Men, Endurance
– Aidan Caves (18, Vancouver BC)
– Eric Johnstone (18, Calgary AB)
– Marc-Antoine Noel (17, Drummondville QC)
– Martin Rupes (17, Toronto ON)
– Simon Fothergill (17, Hamilton ON)
These athletes will meet again in Bromont, QC after the 2013 Canadian Road Championships to prepare for the Pan American Championships, prior to departing for Mexico.
Additionally, all Pan American Trials camp attendees will be invited to the training camp in Bromont in July.