January 10, 2017 (London, UK) – The capital of Great Britain is struggling with a series of one-day strikes this week on its subway ("tube") system, forcing many in this city of 8.7 million people to take to their bicycles. Some photos and videos circulating on social media show huge crowds on bicycles, rivaling perhaps only what Pedal has seen in Beijing (China).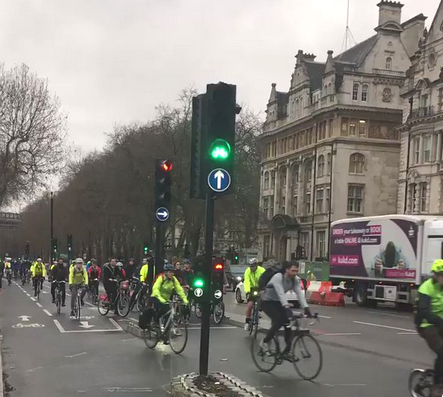 "Yes, the one-day strike caused many to ride and also take the 'Boris Bike' rentals (the London version of a Bixi)," Canadian Alex Stieda emailed us. "My pix don't really show the crowds. Great bike way systems here." Stieda, of course, was the first North American to wear the Tour de France's coveted yellow leader's jersey in 1986.
The strike by staff in the RMT and TSSA unions is over a dispute about staffing levels after the closure of ticket offices in recent years. In addition to the subway not working, no services were offered at mainline stations such as Victoria, Kings Cross and Waterloo. The result was huge line ups for buses, gridlocked streets, and many cyclists.
Stieda's mention of "Boris Bikes" refers to former mayors Boris Johnson and Ken Livingstone who did much to make London a more "bicycle-friendly" city, including bringing in a fleet of many thousand municipal bike rentals. Many of these rentals were made by Bixi Canada. Not to be outdone, Johnson's successor, Sadiq Khan, recently committed to spending £770m ($1.237 billion CDN) over his term in office to improve cycling infrastructure in London up to the level of "bike-friendly" cities such as Amsterdam.
Apparently, the efforts of these three mayors has borne fruit according to Londoner Alec James who tweeted: "Quality cycling infrastructure offers transport resilience during strike action." with a video of smoothly running bike paths with massive numbers of bikes.
A local resident named Robert Wright tweeted: "Central London employers: you know that guy everyone laughs at for cycling to work? Notice how he's not one of the guys missing today?"
Although farther north than most Canadian cities, winters in London are characterized by mild temperatures and overcast skies, not unlike Vancouver, BC.