April 13, 2014 (Pietermaritzburg, South Africa) – The Elite Women's XC race is soon underway for round #1 of the 2014 UCI World Cup XC in Pietermaritzburg, South Africa in warm conditions 29 degrees. Tanja Zakelj (Slo) Unior Tools, the 2013 World Cup series winner is on the start line along with world champ Julie Bresset (Fra) BH-Suntour-KMC), Eva Lechner (Ita) Colnago Sudtirol and Maja Wloszczowska (Pol) Liv Pro XC. For Canada Emily Batty (Can) Trek Factory and Cindy Montambault (Can) are on site as Catharine Pendrel (Luna Pro Team) is out nursing a broken collarbone… the women will do 5 laps with no start loop.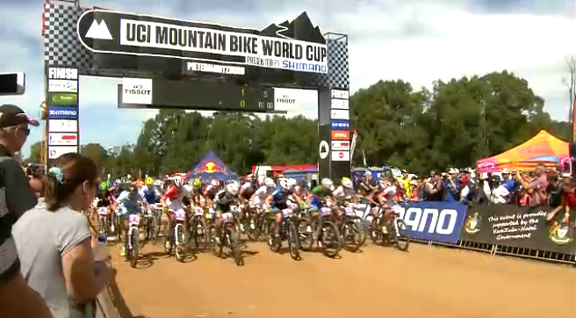 Lap 1
Neff, Zakelj and Lechner are off the front…
Engen takes the lead followed by Leumann, Stirnemann, and Neff… behind are Lechner, Wloszczowska, Bresset and Zakelj
Neff takes over the lead – Batty is 13th
At the half way point it's Neff, Wloszczowska, Bresset, Engen, Leumann, Lechner and Zakelj
Neff has opened up a big gap now with Bresset in second and Wloszczowska third – then it's Lechner in 4th
Neff continues looking strong thru the Treehouse rock garden…
Lap 2
Neff riding for a new team Liv Pro XC comes thru in 18:34 – Bresset is second at 23s with Wloszczowska 3rd at 26s.
In 4th is Langvad with Lechner in 5th – then it's Dahle-Flesjaa in 6th, Engen is 7th,  Zakelj is 8th, Klemencic is 9th
Batty is 14th in a small group
Dahle-Flesjaa has moved up to 4th… she passes Wloszczowska and is closing on Bresset
Neff has increased her lead to 59s at the half way point as Dahle-Flesjaa passes Bresset and is now in 2nd.
Dahle-Flesjaa and Wloszczowska have dropped Bresset and are chasing down Neff – Batty is 12th
Neff has crashed on the Corkscrew… her right side is covered in dirt.
She dismounted briefly to bang her seat back into place…
Through the Treehouse section Dahle-Flesjaa and Wloszczowska are not far behind Neff
Lap 3
Neff is thru at 38:31 – close behind are Dahle-Flesjaa and Wloszczowska at 9s.
Langvad is 4th at 25 with Bresset at 30s… then it's Lechner in 6th at 44s, Klemencic is 7th at 1:02, Morath is 8th
Dahle-Flesjaa is an 8x world champ between xc and marathon…
Neff is riding smooth and continues to lead
Dahle-Flesjaa has broken away from Wloszczowska…
Neff has opened the gap to 14s over Dahle-Flesjaa with Wloszczowska in third at 22s
Langvad is 4th at 39s, Lechner is 5th at 1:05, Bresset is 6th at 1:08, Morath is now 7th at 1:36.
Then it's Spitz 8th, Klemencic in 9th and Batty is now 10th at 1:48.
Dahle-Flesjaa is tied with Julie Furtado for the most World Cup wins and will make history if she can take another win.
Lap 4
Neff's time is 57:58 with Dahle-Flesjaa in 2nd at 22s with Wloszczowska third at 41s.
Langvad continues in 4th at 54s as Bresset takes back 5th at 1:29 with Lechner in 6th at 1:39
Klemencic is 7th, Kalentieva is now 8th
Spitz is 9th and Batty is 10th – Zakelj is struggling and sits around 13th.
Neff extends her lead to 28s at the half way point.
If she and Wloszczowska are on the podium it'll be a great day for their new team Liv Pro XC
Neff is smoothly thru the Treehouse rock garden taking the tougher route through it.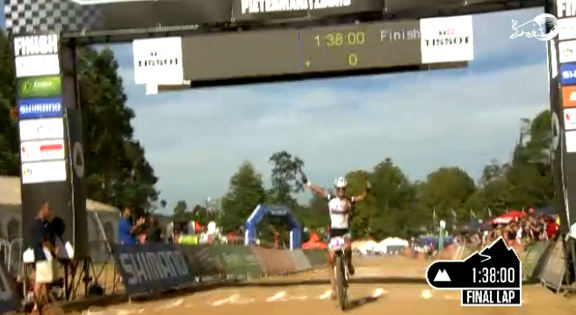 Lap 5 FINAL
Neff looks smooth starting her final lap with a time of 1:17:51 with Dahle-Flesjaa at 25s
Wloszczowska is in 3rd at 1:09 but Langvad is challenging in 4th at 1:15.
Bresset continues in 5th at 2:21 as Spitz takes over 6th with Kalentieva 7th, Engen is 8th, Klemencic is 9th and Batty is 10th.
Neff has extended her lead to 34s and looks good to claim her first WCup victory.
Results
1. Jolanda Neff (Sui) Liv Pro XC Team 1:38:00
2. Gunn-Rita Dahle Flesjaa (Nor) Multivan Merida Biking Team 0:25
3. Maja Wloszczowska (Pol) Liv Pro XC Team 1:00
4. Annika Langvad (Den) Specialized Racing Xc 1:37
5. Alexandra Engen (Swe) Ghost Factory Racing 1:55
6. Sabine Spitz (Ger) Sabine Spitz Haibike Pro Team 2:04
7. Irina Kalentieva (Rus) 2:08
8. Julie Bresset (Fra) BH-Suntour-KMC 2:48
9. Emily Batty (Can) Trek Factory Racing 3:05
10. Tereza Hurikova (Cze) Specialized Racing XC  3:27
30. Cindy Montambault (Can) 17:13
Full results HERE.