August 31, 2013 (Plouay, France) – Despite mathematically having won the 2013 competition before she even started in Plouay, Dutchwoman, Marianne Vos (Ned) Rabo Women, took her fifth World Cup race win of the season to ensure that nobody could be in any doubt – she is the World Cup champion.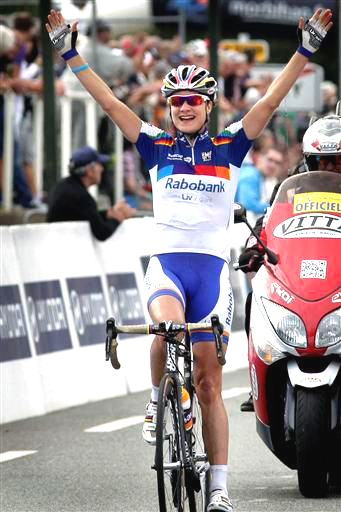 The final round took place, as in previous years, in Plouay, with the competitors racing 5 laps of a 27 kilometre circuit which was only a little different to the one used in 2012. Despite a few attempts to break away in the first four laps, nothing really stayed away. Jasmin Glaesser (Tibco) did manage to get an advantage on the peloton after three and a half laps and she led for the penultimate time up the climb at Minojenn du Calvaire. But she served merely as a springboard for the group which caught her and counterattacked on Cote de Ty-Marrec with just over a lap, 32 kilometres remaining.
The five who got away were undoubtedly the final selection – Vos, Emma Johansson (Swe) Orica-AIS, Anna Van Der Breggen (Ned) Sengers Ladies Cycling Team, Alena Amialiusik (Blr) BePink and Karol-Ann Canuel (Can) Vienne Futuroscope. So it began, the wait for Vos to make her move; the others attacked and tried to get the best of the World and Olympic Champion.
Indeed, Amialiusik tried to go solo, but the Dutchwoman was on superb form and all attempts were swept up by Vos and the group. In the end, she rode away from the others on and raced up the finishing straight alone, surrounded not by competitors but by race motorbikes. Vos didn't let up her effort until she was almost at the line, then she took a long, cherished, victory salute to complete her 2013 world Cup campaign.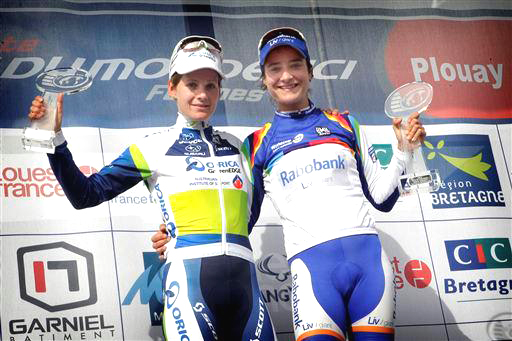 Emma Johansson powered ahead of Anna van der Breggen to take second. Johansson thereby secured her second place overall in the World Cup too, ahead of Ellen van Dijk (Specialized-lululemon), who was not in Plouay. Canada's Canuel finished 5th, at 1:35 behind the winner.
Rabo Women took the team competition in the World Cup.
Marianne Vos was generous in her analysis of the race, particularly Johansson and van der Breggen, "It always had to happen in the last lap. You can never be too confident with strong riders, you don't beat Emma Johansson that easily and you don't drop Anna van der Breggen on the climb, so it was quite tough, but I knew I had good legs," she reflected.
Of her World Cup victories during the season, Vos was able to idenitify one as her favourite, "The best victory was Flanders, because I've never won it before and I wanted that badly, but then she hesitated, "but five times, Fleche Wallone was also incredible." Then she reached a decision, "But to win Flanders for the first time, that was my big aim for the season."
Results (brief)
1. Marianne Vos (Ned) Rabobank-Liv Giant    3:26:18
2. Emma Johansson (Swe) Orica – AIS    0:12
3. Anna Van Der Breggen (Ned) Sengers Ladies Cycling Team    0:17
4. Alena Amialiusik (Blr) BePink    1:27
5. Karol-Ann Canuel (Can) Vienne Futuroscope   1:35
30. Jasmin Glaesser (Can) Team TIBCO – To The Top 4:34
Final Standings
1. Marianne Vos (Ned) Rabobank-Liv Giant
2. Emma Johansson (Swe) Orica – AIS
3. Ellen van Dijk (Ned) Specialized-lululemon