September 19, 2015 (Richmond, VA) – Nearly three decades after Italy's Moreno Argentin and France's Jeannie Longo captured much-coveted rainbow jerseys in Colorado Springs, this September the USA will once again play host to the UCI Road World Championships – in Richmond, Virginia.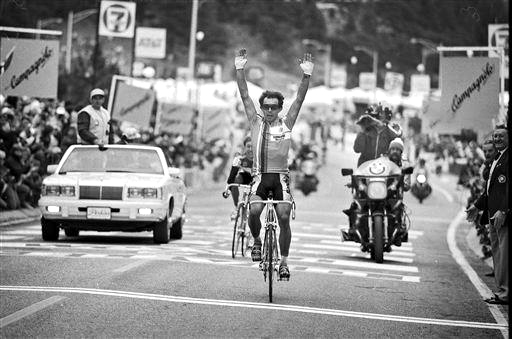 As UCI President Brian Cookson said earlier this year, "What we've got here in Richmond coming up is an absolutely wonderful opportunity for a showcase of what cycling can bring to a region, to a city and to a country."
Twelve Road World Championship races, starting with the Women's 38.6km team time trial on the morning of September 20th and culminating with the Men Elite road race on the afternoon of September 27th, offer multiple opportunities to shine for the hundreds of riders, from juniors to professionals, from more than 75 countries who are set to take part.
As many as half a million fans, too, are expected to line the roadsides of Virginia and streets of Richmond to cheer on their favourite riders in events broadcast across the globe to up to 300 million TV viewers.
For Canada it's a historic Road Worlds having secured the most spots ever including six starters for the elite men and elite women road races, as well as four starters in the U23 men and each junior category.
Technically Challenging Time Trials
The opening block of racing, from Sunday September 20th to Wednesday September 23rd is based exclusively around time trialling. Both the women's and then the mens' team time trials on Sunday September 20th are medium-distance events, 38.8 kilometres in length. After a fast start, the course features a much more technical finale on twisting roads through Richmond National Battlefield Park, culminating with a short but punishing 300m climb and false flat rise to the finish in the city of Richmond itself.
For the women Canada's Karol Anne Canuel is racing with Velocio-SRAM, Jasmin Glaesser and Leah Kirchmann are with Optum-Kelly Benefits Strategies (read about Ewart's broken collarbone here), Laura Brown is racing with Unitedhealthcare's Team, Alizee Brien is with Team TIBCO-SVB and Alison Jackson is on the start line with Twenty16-ShoAir. Racing in the men's TTT are Ryan Anderson and Guillaume Boivin with Optum-Kelly Benefits Strategies, Hugo Houle with AG2R La Mondiale and Svein Tuft is on Orica GreenEdge's squad. Tuft and the team have TTT silver and bronze medals from the Worlds – could this be their year for gold ?
The next five time trial events are all individual challenges, for Elite and Junior Women, and Elite, U-23 and Junior Men. In comparison to Ponferrada's time trial courses last year in Spain, although the distances are very similar – 53km for the Men Elite and 30km for the Women Elite –  the terrain is far flatter and the roads, at least in the initial segments, far longer and straighter.
Specialists such as Australia's Rohan Dennis, Germany's Tony Martin and the Netherlands' Tom Dumoulin, or the USA's Kristin Armstrong in the women's racing, will therefore  be in their element and very fast times can be expected. However, the technically challenging nature of the second part of the Richmond courses, along with a late series of small drags and downhill segments, means riders will have to calculate their strength very carefully.
Houle and Ryan Roth (Silber Pro Cycling) will race the Elite Men's TT while Canuel and Tara Whitten (The Cyclery-Opus) will represent Canada in the Elite Women's TT. The U23 Men's competition will see Silber's Alex Cataford and Team Canada's Sean MacKinnon.
Representing Canada in the Junior women's TT are BC's Gillian Ellsay and Alberta's Liah Harvie while Ontario's Derek Gee and BC's Joel Taylor will compete in the Junior men's race.
Road Races – Strategy will Play a Large Part
Following Thursday's rest day, the competition resumes with the road races, starting with the Junior Women's  event on Friday September 25th. Featuring multiple laps of a 16.2km inner-city road circuit that has been regularly described as challenging and technical, flatter at first, the course's two final narrow cobbled climbs at Libby Hill Park and 23rd Street will force the riders into single file before the last uphill rise up Governor Street, sharp left-hand corner and 680 metre false flat leading to the finish.
Canada's Ellsay and Harvie will be joined on the start line by Ontario's Katherine Maine and Alberta's Gabby Traxler in the Junior Women's road race.
Favourites for what looks to be a technically complicated, strategic 129.6km Elite Women's road race include Lizzie Armitstead, the recent UCI Women Road World Cup winner for the second straight year, reigning World Champion Pauline Ferrand-Prévot (France), 2014 silver medallist Lisa Brennauer (Germany), former double World Champion Giorgia Bronzini (Itlay) and the USA's Shelley Olds, recently the winner of the Madrid Challenge by La Vuelta.
Joëlle Numainville joins fellow Canucks including Canuel, Whitten, Glaesser, Kirchmann, Jackson on the Elite Women's start line.
The 259.2km Men Elite's event is also likely to be a very open event but despite its technical finale, it's also one which suits fast finishers. To name but a few of those taking part, Australian Michael Matthews, Belgium's Philippe Gilbert, Norwegian Alexander Kristoff,  Germany's André Greipel and Slovakian Peter Sagan are all top favourites in what is traditionally one of the most exciting and unpredictable races of the cycling season.
Add to this list Alejandro Valverde – the mathematical winner of the 2015 UCI WorldTour individual classification – and defending champion Michal Kwiatkowski and we can expect a spectacular finale to the 2015 UCI World Road Championships. The Men Elite road race is all but guaranteed to keep viewers and fans on the edge of their seats all the way to the finish.
For Canada look for Houle, Roth, Boivin and Anderson along with Antoine Duchesne (Team Europcar) and Michael Woods (Optum-Kelly Benefits Strategies).
Women's TTT Start List here.
Men's TTT Start List here.
All UCI Road World Championship podiums here.