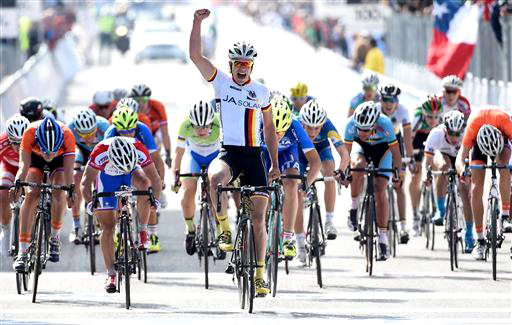 September 27, 2014 (Ponferrada, Spain) – Germany claimed another gold medal in the Junior men's 127.4km road race today as Jonas Bokeloh won the bunch sprint to the line over Alexandr Kulikovskiy (Russia) in second with Peter Lenderink (Netherlands) taking the bronze.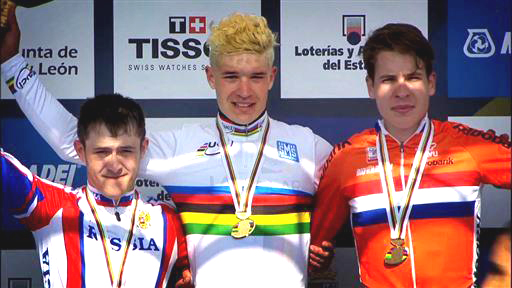 A lead group of seven riders with 25km were caught as the several crashes marred the ending of the race. Three riders broke clear with 6km to go but one went down in a corner on a descent as Bokeloh bridged to the two leaders but they were also caught. The attacks started again with Switzerland's Gino Maeder trying to escape and at the 1km mark he was joined by Russia's Stepan Kurianov who took the lead with 150m to go. But the chasing pack caught them just before the line with Bokeloh taking the win and the title.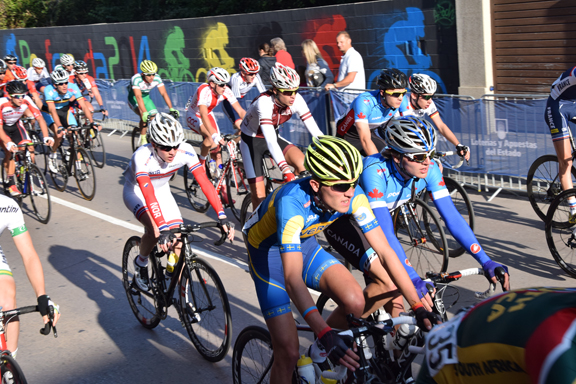 Jean-Simon D'Anjou was the top Canadian in 82nd followed by Derek Gee in 96th as Pier-Andre Cote and reigning Canadian junior champ Edward Walsh DNF'd.
Results
1. Jonas Bokeloh (Germany) 3:07:00
2. Alexandr Kulikovskiy (Russian Federation)
3. Peter Lenderink (Netherlands)
4. Edoardo Affini (Italy)
5. Magnus Klaris (Denmark)
6. Izidor Penko (Slovenia)
7. Lucas Eriksson (Sweden)
8. Lorenzo Fortunato (Italy)
9. LÈo Danes (France)
10. Sjoerd Bax (Netherlands)
11. Jordi Warlop (Belgium)
12. Wilmar Paredes (Colombia)
13. Emiel Planckaert (Belgium)
14. Gino M‰der (Switzerland)
15. Moritz Fu?negger (Germany)
16. James Shaw (Great Britain)
17. Masahiro Ishigami (Japan)
18. Mitchell Cornelisse (Netherlands)
19. Christian Koch (Germany)
20. Martin Sch‰ppi (Switzerland)
21. AurÈlien Paret-Peintre (France)
22. Pascal Eenkhoorn (Netherlands)
23. Jonas Gregaard (Denmark)
24. Jai Hindley (Australia)
25. Senne Leysen (Belgium)
26. Benjamin Brkic (Austria)
27. Michael Storer (Australia)
28. Mark Padun (Ukraine)
29. Ward Jaspers (Belgium)
30. Stepan Kurianov (Russian Federation)
31. Andrej Petrovski (Former Yugoslav Republic of Macedonia)
32. Vincenzo Albanese (Italy)
33. Hampus Anderberg (Sweden) 0:00:08
34. James Thompson (Australia) 0:00:12
35. Tamirlan Tassymov (Kazakhstan) 0:00:16
36. Zeno Caminada (Switzerland) 0:00:20
37. Kevin Geniets (Luxembourg) 0:00:37
38. ÿyvind Skog (Norway) 0:00:38
39. Pavel Sivakov (Russian Federation)
40. Jaime Restrepo (Colombia) 0:01:10
41. Filippo Ganna (Italy)
42. Maxim Satlikov (Kazakhstan) 0:01:33
43. Rayane Bouhanni (France) 0:01:44
44. Michael O'loughlin (Ireland)
45. Alexander FÂglum Karlsson (Sweden)
46. Aleksander Vlasov (Russian Federation)
47. Patrick Haller (Germany)
48. Yuriy Chsherbinin (Kazakhstan)
49. Mario Spengler (Switzerland)
50. Philip O'donnell (United States Of America)
51. Jan Maas (Netherlands)
52. Zeke Mostov (United States Of America)
53. Sasu Halme (Finland)
54. Miguel Angel Ballesteros (Spain)
55. Pierre Idjouadienne (France)
56. Riccardo Verza (Italy) 0:01:48
57. Gotzon MartÌn (Spain) 0:03:36
58. Juraj Bellan (Slovakia)
59. Rocco Fuggiano (Italy) 0:03:38
60. Eddie Dunbar (Ireland) 0:03:51
61. Nicola Conci (Italy) 0:03:57
62.  }an Jerkic (Slovenia) 0:04:23
63. Ivan Venter (South Africa)
64. Erlend Blikra (Norway) 0:04:44
65. Rodrigo Dos Santos Quirino (Brazil) 0:04:46
66. Hartthijs De Vries (Netherlands) 0:04:55
67. Matthew Gibson (Great Britain) 0:05:04
68. Jose Gerardo Ulloa (Mexico) 0:05:41
69. Diego Pablo Sevilla (Spain) 0:05:44
70. Jesper Schultz (Denmark) 0:06:19
71. Pavlo Bondarenko (Ukraine) 0:06:33
72. Anders Hardahl (Denmark) 0:06:36
73. Gustaf Andersson (Sweden) 0:07:05
74. Gustav Basson (South Africa)
75. Marcel Neuhauser (Austria)
76. Javier Montoya (Colombia)
77. Niklas Larsen (Denmark)
78. Tom Wirtgen (Luxembourg)
79. Keigo Kusaba (Japan) 0:08:22
80. David Gaudu (France) 0:08:27
81. Casper Pedersen (Denmark) 0:08:40
82. Jean-Simon D'Anjou (Canada) 0:09:44   
83. Patrick Gamper (Austria) 0:09:48
84. Grigoriy Shtein (Kazakhstan)
85. Peeter Pung (Estonia)
86. Abderrahim Zahiri (Morocco)
87. Petr Rikunov (Russian Federation)
88. Gorazd Per (Slovenia)
89. Matic Veber (Slovenia)
90. Martin Palm (Belgium)
91. Adrien Costa (United States Of America) 0:09:56
92. Stephen Shanahan (Ireland)
93. William Barta (United States Of America) 0:10:14
94. Syver Waersted (Norway) 0:11:35
95. Tobias Foss (Norway)
96. Derek Gee (Canada) 0:12:09   
97. Patryk Solinski (Poland)
98. El Mehdi Chokri (Morocco) 0:12:54
99. Graeme Ockhuis (South Africa) 0:15:01
100. Xavier CaÒellas (Spain) 0:15:22
101. Konstyantyn Ashurov (Ukraine)
102. Torjus Sleen (Norway)
103. Alisher Zhumakan (Kazakhstan)
104. Juan Francisco Villalobos (Mexico) 0:15:24
105. Sven Reutter (Germany)
106. Arturs Belevics (Latvia) 0:16:56
107. Emil Dima (Romania) 0:18:10
108. Jack Maddux (United States Of America) 0:18:23
109. Onur Balkan (Turkey) 0:19:33
110. Stephen Williams (Great Britain) 0:23:45
DNF Jonathan Brown (United States Of America)
DNF Ben Ganon (Israel)
DNF Pier-Andre Cote (Canada)    
DNF Aleksandrs Rublevskis (Latvia)
DNF Valters Cak as (Latvia)
DNF Islam Mansouri (Algeria)
DNF Zoheir Benyoub (Algeria)
DNF Daniel MartÌnez (Colombia)
DNF Jaume Suredia (Spain)
DNF Lennard Kamna (Germany)
DNF Keisuke Nakamura (Japan)
DNF David Zverko (Slovakia)
DNF Orluis Aular (Venezuela)
DNF Dilmurdjon Siddikov (Uzbekistan)
DNF Nathan Draper (Great Britain)
DNF Rui Filipe Alves (Portugal)
DNF Ridion Kopshti (Albania)
DNF Facundo Crisafulli (Argentina)
DNF Gabriel Cullaigh (Great Britain)
DNF Dzmitry Zhyhunou (Belarus)
DNF Roman Lehky (Czech Republic)
DNF Ladislav Kniha (Slovakia)
DNF Huynh Thanh Tung (Vietnam)
DNF Adrien Jaramillo (Ecuador)
DNF Dawid Adamczyk (Poland)
DNF Lucian Buga (Romania)
DNF Marco-Tapio Niemi (Finland)
DNF Damien Touze (France)
DNF Andre Carvalho (Portugal)
DNF Dusan Rajovic (Serbia)
DNF Dylan O'brien (Ireland)
DNF Ismael Cardenas (Venezuela)
DNF Damian Slawek (Poland)
DNF Salvador Martinez (El Salvador)
DNF Kristian Zimany (Slovakia)
DNF Amine Ahmed Galdoune (Morocco)
DNF Nico Selenati (Switzerland)
DNF Yam Poliak (Israel)
DNF Edward Walsh (Canada)    
DNF Brian Carro (Uruguay)
DNF Elgun Alizada (Azerbaijan)
DNF Luka Cotar (Slovenia)
DNF Alexei Piashkun (Belarus)
DNF Itmar Einhorn (Israel)
DNF D·niel Muricz (Hungary)
DNF Tiago Antunes (Portugal)
DNF Bruno Kristic (Croatia)
DNF Daiki Magosaki (Japan)
DNF Mohamed Imam (Egypt)
DNF Akramjon Sunnatov (Uzbekistan)
DNF Andre Eduardo Gohr (Brazil)
DNF Ekke-Kaur Vosman (Estonia)
DNF Norman Vahtra (Estonia)
DNF Kanan Gahramanli (Azerbaijan)
DNF Jose Yustiz (Venezuela)
DNF Ismail Bouricha (Algeria)
DNF Jon Bozic (Slovenia)
DNF Gerg Gnczi (Hungary)
DNF Marius Skjolden (Norway)
DNF Nikolay Ilichev (Russian Federation)
DNF Ilyass Rabihi (Morocco)
DNF Daire Feeley (Ireland)
DNF Niklas Henttala (Finland)
DNF Alihan Demirbag (Turkey)
DNF Francisco Lara (Mexico)
DNF Youssef Helal (Egypt)
DNF Enzo Lujan (Argentina)
DNF Larry Valvasori (Luxembourg)
DNF Gordian Banzer (Liechtenstein)
DNF Alexis Alarcon (Chile)
DNF Mustafa Erikai (Turkey)
DNF Dmitriy Ponkratov (Uzbekistan)
DNF Anton Ivashkin (Belarus)
DNF Lucas Hamilton (Australia)
DNF Realdo Ramaliu (Albania)
DNF Steff Crass (Belgium)
DNF Dusaan Kalaba (Serbia)