September 29, 2013 (Florence, Italy) – On a fateful day in horrendous rainy conditions, Rui Alberto Faria Da Costa, captured Portugal's first Road World cycling title as he out-sprinted Joaquim Rodriguez Oliver (Spain) at the line for the rainbow jersey at the end of the grueling 272.26km Elite Men's road race, the final event of the 2013 UCI Road World Championships.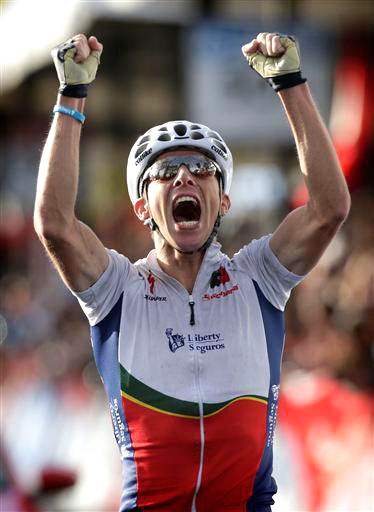 The final selection saw strong contenders including Spain's Joaquim Rodriguez Oliver and Alejandro Valverde Belmonte along with local hero and Giro winner, Vincenzo Nibali from Italy. Despite Nibali's best efforts he could not contain Rodriguez and in the final stretch to the finish it was Costa who came around him to challenge the Spaniard. The two leaders chatted and then Costa  went, out-foxing Rodriguez in the dash to the line for the fabled rainbow jersey, with Valverde claiming the bronze as Italy was shut out on home turf.
None of the main contenders factored in the final although many were in the pack of 40 riders at the start of the final lap. But  defending champ Philippe Gilbert (Belgium) 9th, race favourite Peter Sagan (Slovakia) 6th and Switzerland's super star, Fabian Cancellara 10th today, did not have the legs when it counted on the final time up the steep Fiesole climb where Rodriguez attacked.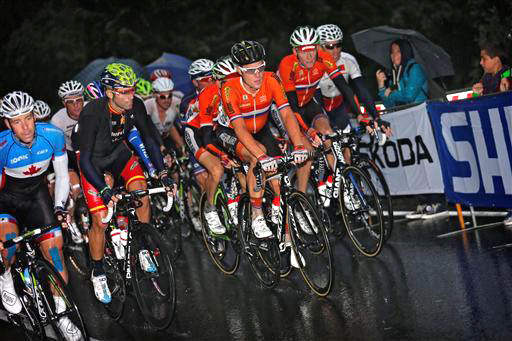 Canada's François Parisien of Bromont, QC (Argos-Shimano) was in the mix until the penultimate lap saying it was the best championships of the six he's raced in while Christian Meier of Langley, BC (Orica-GreenEDGE) had terrible luck crashing twice and then flatted out early – interview with Parisien here.
Da Costa, 10th in the UCI rankings, has had his share of big victories including two stage wins at the Tour de France as well as the overall GC victory at the Tour de Suisse, also winning the 2011 WorldTour in Montreal, but he wasn't one of the key riders to watch today. Perhaps that worked to his advantage as kept himself in contention while eyes were on bigger fish, then positioned himself smartly in the final selection of four riders.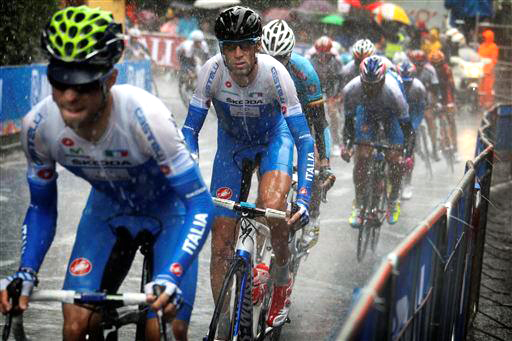 Only 61 riders finished of 207 starters meaning the attrition rate was over 2/3, not surprising as this was a day where it went from ominous dark skies to torrential downpours creating rivers of water on the course. Many crashes and blown tires were the order of the day as 2011 Tour winner Cadel Evans (Australia), who won the title in 2009, crashed out in the 6th lap as did crowd favorite and recent Vuelta champion, 42-year-old American, Chris Horner. Other hopefuls like Alberto Contador (Spain) and Great Britain's stars  Bradley Wiggins, Mark Cavendish, and Christopher Froome all fell like dominos.
Starting in Lucca, the 272.26km race to Florence included 10 laps, each 16.5km from Florence through Fiesole, that was literally night and day from yesterday – as today the wind and rain beat up the peloton compared to yesterday's sunshine. Although the sun did finally bless the peloton for good measure at the end of the day with about 20km to go.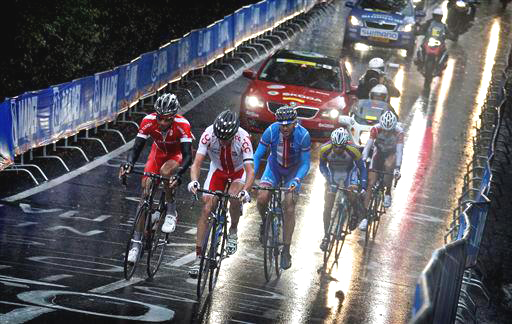 Sensing a lull in the peloton, the first breakaway in Lucca included Jan Barta (CZE), Yonder Godoy (VEN), Matthias Brändle (AUS), Rafaa Chtioui,(TUN), Bartosz Huzarski (POL) who topped out at an 8:10 advantage over the rain-soaked peloton.
One by one the riders in the break cracked with Huzarski, who's iron will and lungs kept him in the lead for almost 220km, finally surrendering the lead. As Barta faded Wilco Kelderman (Netherlands), Georg Preidler (Austria), Giovanni Visconti (Italy) and Cyril Gautier (France) formed a lead chase group behind. Visconti attacked catching Barta and then joined Huzarski as the peloton kept a watchful eye at 1:07 with two to go.
The Italian squadra seemed to have things in control presumedly for Nibali to be set up for the win but conditions and the other teams would upset their plans. A sudden crash took down Nibali and Paolini but Nibali was able to catch back on soon after.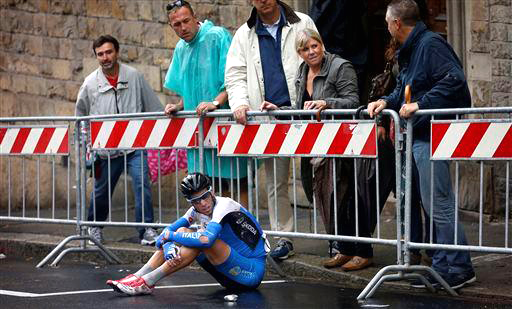 Visconti sparked the gritty home crowd who stayed through the deluge, hoping to see their team win but the Belgians were at the front of the chasing pack eager to defend the rainbow jersey. The gap to Visconti and Huzarski was dropping fast and it all came together for the bell lap with about 40 riders left.
The Italians continued to strike with Scarponi first attacking followed by Nibali but it was Spain's Rodriguez who threw down the gauntlet with a brutal attack that only Nibali could answer as Valverde and Da Costa bridged across on the descent forming the final selection of four as the last fireworks began.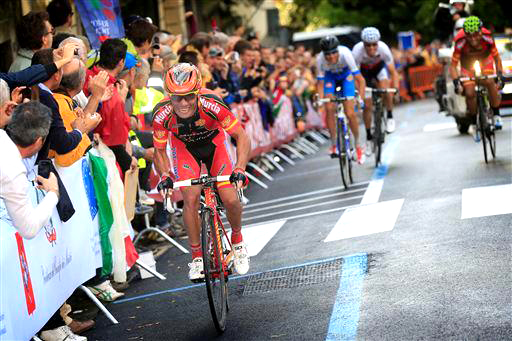 Rodriguez went again but as Nibali faltered Da Costa turned on the jets to catch Rodriguez in the last 500 meters and set up the final cat and mouse sprint to deliver Portugal's first rainbow jersey.
Canada's Meier and Parisien had very different days and were not able to help each other, but despite Meier's bad luck Parisien was able to continue the fight and hoped to finish the race. But with just a lap and a half to go, he realized it just wasn't his day.
"It was actually an incredible day today, I really enjoyed it despite the rain. This is my 6th Worlds and I have to say, it was my favorite. Though, it was tough that Meier got into trouble early and he had no option but to quit I think after the second lap, maybe earlier."
Quotes from the podium
Alberto Rui Costa (POR): "Today was a dream come true. I still can't realize what happened, but I'll have the time to do so. Honestly I didn't think I could win, but when in the end there were only four of us left, I knew I had a chance. I knew Rodriguez was the slowest sprinter, and I expected him to attack before the end. I waited for the right moment to make my move, and then I attacked and caught him. When I reached him, he told me to go first, but I was careful not to do so. I wanted to catch my breath before the final sprint. I'm proud of what I did, for myself and for my country."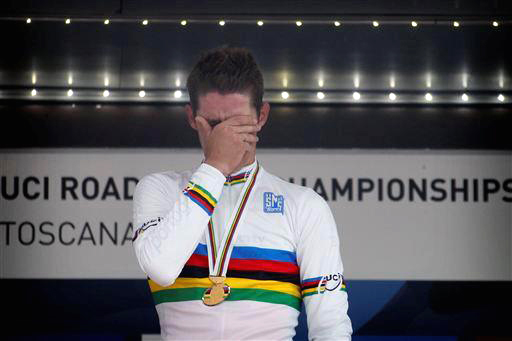 Joaquin Rodriguez (SPA): "I can't be happy for this medal…both Alejandro [Valverde] and I have a great palmarès, but we can't seem to win the rainbow jersey. Today we were really close, but clearly it had to be Rui Costa's day. I thought I could make it in the last kilometre, but when I saw him arriving, I understood I couldn't finish. I tried challenge him, but it just wasn't enough".
Alejandro Valverde (SPA): "After 270km, there's only so much your legs can do. Wrong strategy? I don't think so, we did what we had to. I didn't under-rate Rui Costa, we're on the same team and I know what kind of athlete he is. When he jumped, Nibali tried to stay in his wheel, but he couldn't manage and for me it was impossible to catch up on him."
Full results here.