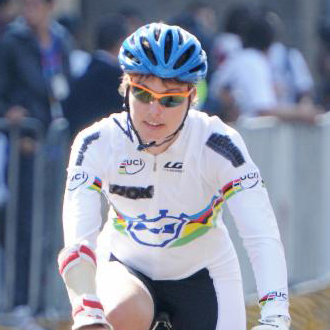 June 16, 2015 (Yverdon-les-bains, SUI) – The Canadian Para-Cycling Team rolled in to Switzerland to compete in the second leg of the UCI Para-Cycling World Cup Tour. The event in Yverdon-les-bains kicked off Sunday with the presentation of the time trial, and Canadian National Team members earned three medals.
Racing in the Women's T1 class, Shelley Gautier earned the silver medal in the time trial for the second straight week, crossing the line behind Yulia Sibagatova of Russia, a newcomer to the UCI World Cup scene.
In the Women's C5 class, Nicole Clermont also climbed on the podium, taking the silver medal. Clermont completed the 14.5 km course with a time of 20:50.
Marie-Claude Molnar rolled to the third place of the Women's C4, earning her third medal in three races this season. Molnar took third today with a time of 21:32 on the 14.5 km course, showing a time deficit of 45seconds on the winning time of American Shawn Morelli.
Of note, Marie-Eve Croteau will not race at this World Cup to better prepare for the upcoming World Championships in Nottwil (SUI) and Parapan-American Games in Toronto. Given that the results last weekend met her short-term objectives, she will now focus on controlled training sessions.
Rico Morneau, a Canadian para-cyclist racing as an Independent in Switzerland, won the bronze medal in the Men's H3 class.
This second leg of the UCI Para-Cycling World Cup Tour continues Monday and Tuesday with the road races.
Day 2
Gautier climbed back to the top of the podium in the road race at the 2015 UCI Para-Cycling World Cup in Yverdon-les-bains in Switzerland.
With her win, Gautier conserves the White Jersey as the World Cup leader in the women's T1 class.
Charles Moreau is continuing on his excellent season, crossing the finishing line in fourth place today in the Men's H3 class. He posted a time of 1:35:12, about 30seconds behind the third place finisher.
The second set of road races will be presented tomorrow to conclude this second World Cup leg of the 2015 season.
Results
Day 1 – Time Trials
WOMEN C4
1. MORELLI, Shawn WC4 USA 20:46.47
2. FISHER, Megan WC4 USA 20:53.28 +0:06.81
3. MOLNAR, Marie-Claude WC4 CANADA 21:32.32 +0:45.85
WOMEN T1
1. SIBAGATOVA, Yulia RUSSIA 32:08.87
2. GAUTIER, Shelley CANADA 32:54.82 +0:45.95
3. PEROVA, Svetlana RUSSIA 33:41.68 +1:32.81
WOMEN C5
1. HARKOWSKA, Anna POLAND 19:22.77
2. CLERMONT, Nicole CANADA 20:50.54 +1:27.77
3. BRACHTENDORF, Kerstin GERMANY 21:19.76 +1:56.99
MEN C3
1. CLIFFORD, Eoghan MC3 IRELAND 19:04 37:21.23
2. FUJITA, Masaki MC3 JAPAN 18:57 38:00.00 +0:38.77
3. SCHELFHOUT, Diederick MC3 BELGIUM 19:01 38:21.11 +0:59.88
5. SAMETZ, Michael MC3 CANADA 19:14 38:30.67 +1:09.44
MEN H3
1. PODESTA, Vittorio ITALY 19:47.96
2. FREI, Heinz SWITZERLAND 20:07.45 +0:19.49
3. MORNEAU, Rico INDEPENDANT 20:35.90 +0:47.94
5. MOREAU, Charles CANADA 20:42.00 +0:54.04
MEN C1
1. TEUBER, Michael GERMANY 19:39.09
2. MASINI, Giancarlo ITALY 20:04.07 +0:24.98
3. WINKLER, Erich GERMANY 20:28.18 +0:49.09
9. MILLEY, Jaye CANADA 21:45.23 2:06.14
MEN H2
1. SHERIDAN, Brian USA 23:17.20
2. MAZZONE, Luca ITALY 23:40.97 +0:23.77
3. CECILLON, Rodolph FRANCE 23:57.34 +0:40.14
8. LABBE, Robert CANADA 26:04.05 +2:46.85
MEN H4
1. WILK, Rafal POLAND 19:37.81
2. GIERA, Krystian POLAND 19:48.80 +0:10.99
3. JEFFRE, Bernd GERMANY 19:50.57 +0:12.76
11. LEDO, Mark CANADA 21:00.03 +1:22.22
MEN T2
1. DURST, Hans-Peter GERMANY 22:10.44
2. BOYLE, Ryan USA 23:02.59 +0:52.15
3. RAGGINO, Livio ITALY 23:46.81 +1:36.37
7. CORRIVEAU JOLIN, Louis-Albert CANADA 25:02.48 +2:52.04
MEN B
1. TER SCHURE, Vincent / FRANSEN, Timo INDEPENDANT 16:06 32:26.98
2. SCHEIDIES, Aaron / RILEY, Colin USA 16:24 33:14.17 +0:47.19
3. GONZALEZ GARCIA, Carlos / MARTIN INFANTE, Noel SPAIN 16:58 33:34.01 +1:07.03
10. CHALIFOUR, Daniel / CLOUTIER, Alexandre CANADA 17:00 34:14.09 +1:47.11
16. CARRIER, Alexandre / LAFLAMME, Aroussen CANADA 17:35 35:19.02 +2:52.04
21. CROTEAU-DAIGLE, Matthieu / BOILY, Pierre-Olivier CANADA 18:39 37:12.50 +4:45.52
WOMEN B
1. TURNHAM, Lora / HALL, Corrine GREAT BRITAIN 18:38 37:34.67
2. PODKOSCIELNA, Iwona WNUCZEK, Aleksandra POLAND 18:24 37:36.23 +0:01.56
3. VAN BOMMEL, Anouk / JOCHEMS, Sigrid INDEPENDANT 18:47 37:46.42 +0:11.75
5. WELDON, Robbi / CARON, Joanie CANADA 19:15 38:50.25 +1:15.58
9. RYAN, Shawna / LEMIEUX, Audrey CANADA 19:30 39:38.27 +2:03.60
Day 2 – Road Races
WOMEN T1
1. GAUTIER, Shelley (CANADA) 50:48
2. SIBAGATOVA, Yulia (RUSSIA) 53:29 +2:41
3. PEROVA, Svetlana (RUSSIA) 1:00:47 +9:59
MEN C3
1. ANOBILE, Fabio (ITALY) 1:40:00
2. WARIAS, Steffen (GERMANY) ST
3. CLIFFORD, Eoghan (IRELAND) ST
DNF SAMETZ, Michael (CANADA)
MEN H3
1. FREI, Heinz (SWITZERLAND) 1:30:33
2. ABLINGER, Walter (AUSTRIA) 1:31:40 +1:07
3. DEBERG, Jean Francois (BELGIUM) 1:34:39 +4:06
4. MOREAU, Charles (CANADA) 1:35:12 +4:39
MEN H2
1. FANKHAUSER, Tobias (SWITZERLAND) 1:15:52
2. MAZZONE, Luca (ITALY) ST
3. LION, Yaakov Kobi (ISRAEL) +4:10
8. LABBE, Robert (CANADA) +20:26
MEN H4
1. WILK, Rafal (POLAND) 1:27:37
2. BOSREDON, Mathieu (FRANCE) 1:29:11 +1:34
3. FRUEHWIRTH, Thomas (AUSTRIA) 1:29:23 +1:46
5. LEDO, Mark (CANADA) +5:45
MEN T2
1. DURST, Hans-Peter (GERMANY) 1:03:35
2. BOYLE, Ryan (USA) +0:36
3. VONDRACEK, David (CZECH REPUBLIC) +1:14
5. CORRIVEAU JOLIN, Louis-Albert (CANADA) +2:58