August 14, 2011 (Nove Mesto Na Morave, Czech Republic) – The Elite Women's XC race is underway in Nove Mesto in the Czech Republic under sunny skies following rain yesterday for round #6 of the UCI MTB WCup with 67 riders on the start line. Canada's Catharine Pendrel (Luna Pro) is looking to challenge Julie Bresset (Fra) Bh-Suntour-Peisey Vallandry for the overall series lead.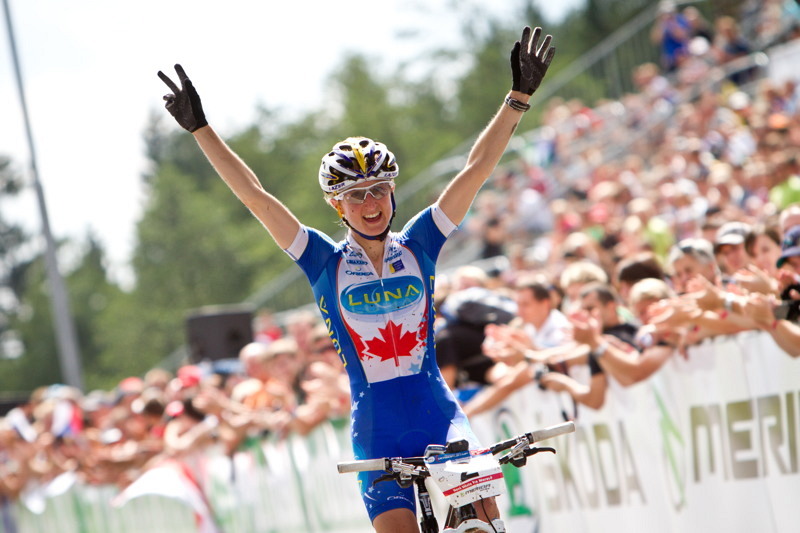 Fellow Canucks Marie-Hélène Prémont (Maxxis-Rocky Mountain) and Emily Batty (Subaru-Trek) are racing as well along with Amanda Sin (3 Rocks Racing). The Elite women will complete 1 start loop of the 3.2km circuit and 6 laps of the 4.2km  course. The U23 Women are also on course and will complete 1 start loop and 5 laps – no Canadians are racing in the U23 race. Nove Mesto is well known as an xc skiing WCup venue but this is the first UCI MTB XC WCup… there are 18 TV cameras on course and lots of spectators on hand cheering for local star Katerina Nash (Cze) Luna Pro.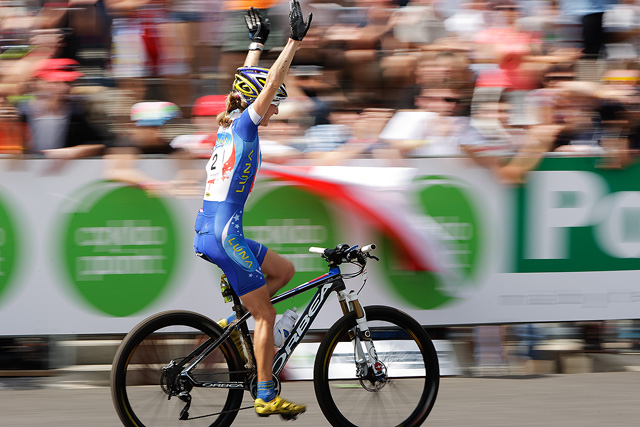 Start Loop
Bresset jumps out in front on the start loop…Eva Lechner (Ita) Colnago Farbe Sudtirol is in second followed by Nathalie Schneitter (Sui) Colnago Farbe Sudtirol in third with Gunn-Rita Dahle Flesjaa (Nor) Multivan Merida Biking Team in 4th… Pendrel is in 5th, Prémont is around 10th with Batty just behind.
Bresset has a small gap as Pendrel passes Dahle and moves up into 3rd behind…
Lap 1
Bresset comes thru in 9:55 to start the first of six laps… Lechner is at 10s in 2nd, Pendrel is at 15s in 3rd with Schneitter and Dahle in 4th and 5th at 20s. Premont is in 10th and Batty is 11th. Katerina Nash (Cze) Luna Pro Team the local favourite is in 14th…
Bresset continues to lead as Pendrel passes Lechner to take over 2nd…Katherine Compton (USA) Rabobank-Giant Off-Road Team is in 4th with Dahle in 5th.
Pendrel bridges to Bresset and two pull away with Lechner in 3rd. Thru the technical zone Pendrel gets past Bresset and is now leading…
Bresset recovers and regains the lead… now she's pulling away from Pendrel.
Lap 2
Bresset comes thru in 25:19 and has a 16s gap on Pendrel alone in second… Lechner is at 28s in third with Dahle at 42s with Irina Kalentieva (Rus) Topeak Ergon Racing Team right on her wheel in 5th.
Premont is in 7th at 57s with Batty not far behind in 9th at 1:09.
Bresset continues to lead as Pendrel tries to close down the gap. If Bresset wins she'll almost certainly win the overall WCup title.
Kalentieva passes Dahle and takes over 4th… Premont is also making gains and passes Annie Last (Gbr) to take over 6th as Batty is also moving up passing Schneitter and is now 8th.
Kalentieva takes over 3rd near the finish of the lap…
Lap 3
Bresset has extended her lead by 2s as she starts the 3rd lap in 41:00 with Pendrel at 18s. Kalentieva is in 3rd at 50s with Lechner in 4th at 51s. Premont is in 6th at 1:23 and Batty is in 8th at 1:40.
Pendrel is making gains on Bresset – she knows the white leader's jersey is at stake. Lechner is not letting Kalentieva get away as Dahle is alone in 5th… Last tries to contain Premont in 6th.
Pendrel bridges to Bresset and they're riding together… up the climb Bresset fumbles and comes out of her pedal as Pendrel takes over the lead – Bresset has trouble re-clipping in and the gap is widening.
The gap to Bresset is 10s as Pendrel starts to pull away…  Bresset is having trouble in the technical sections.
Kalentieva is in third as Lechner is not able to keep pace… Bresset crashes.
Pendrel has more than doubled her lead and looks strong and confident – Bresset is looking frustrated as she tries to regain her composure.
The lead moto gets its front wheel caught in a wooden bridge section over some rocks and goes down – Pendrel goes by.
Lechner also has some trouble and goes off course into a gully as Dahle takes over 4th.
Lap 4
Pendrel comes thru in 56:53 and sees her gap is growing over Bresset now at 28s. Kalentieva is in third at 1:00. Dahle is in 4th at 1:21 as Lechner recovers and is 5th at 1:33.
Last has caught and passed Premont to take over 6th and comes thru in 1:48… Premont is 7th and Batty is with her in 8th at 2:07.
Pendrel knows she got a strong lead and keeps the pressure on – a win will put her within striking distance of the leader's jersey.
U23 women – Pauline Ferrand Prevot (Fra) Lapierre International has the lead followed by Yana Belomoyna (Ukr) Infotre – Bi & Esse-Leecougan in second followed by Barbara Benko (Hun) Focus MIG Team in third.
Batty takes over 7th as Premont is losing some ground… Lea Davison (USA) Specialized Racing is gaining on her. Last is trying to catch Lechner for the last podium spot.
Bresset is just spinning her wheels as she seems resigned to second place perhaps wondering how she lost this race that she was leading…
Lap 5
Pendrel starts the penultimate lap in 1:12:55  as she powers ahead and gains time on Bresset now at 34s in second. Kalentieva is at 1 minute in 3rd. Dahle is 4th at 1:45… Lechner is 5th at 2:02 with Last gaining now only 7s behind in 6th.
Batty comes thru in 7th at 2:31 with Davison passing Premont to take over 8th at 2:46… Premont is at 2:50.
Pendrel is riding smooth and continues thru the lap… Last continues to shadow Lechner as Davison behind is gaining on Batty.
Kalentieva comes off the bike over a rocky section and loses some time…
Lap 6  Final
Pendrel starts her last lap with a time of 1:28:58… she has a commanding lead on Bresset at 34s. Kalentieva comes thru in 1:33 so she lost a half minute with her fumble on the rocks. Dahle is in 4th at 2:13 and looks good to land on the podium her first since 2008.
Lechner is in 5th at 2:28 with Last close behind at 2:33 in 6th… Davison has caught Batty as the two come across the line in 3:04 in 7th and 8th… Premont is 9th at 3:22.
Pendrel, 31, is on her way to her 6th WCup win and her second victory this year – only 140 pts separate her from Bresset for the overall series lead.
Results
Elite Women
1. Catharine Pendrel (Can) Luna Pro Team 1:45:23    
2. Julie Bresset (Fra) BH-Suntour-Peisey Vallandry 0:59
3. Irina Kalentieva (Rus) Topeak Ergon Racing Team 1:49
4. Gunn-Rita Dahle Flesjaa (Nor) Multivan Merida Biking Team 2:07
5. Eva Lechner (Ita) Colnago Farbe Sudtirol 2:27
6. Annie Last (Gbr) British National Team 2:41
7. Lea Davison (USA) Specialized Racing 2:57
8. Emily Batty (Can) Subaru-Trek 3:05    
9. Marie-Hélène Prémont (Can) Team Maxxis-Rocky Mountain 3:35  
10. Esther Süss (Sui) Wheeler-iXS Pro Team 4:18
11. Elisabeth Osl (Aut) Ghost Factory Racing Team 4:51
12. Nathalie Schneitter (Sui) Colnago Farbe Sudtirol 4:54
13. Katerina Nash (Cze) Luna Pro Team 5:15
14. Georgia Gould (USA) Luna Pro Team 6:02
15. Heather Irmiger (USA) Subaru-Trek 6:41
16. Blaza Klemencic (Slo) Felt Oetztal X-Bionic Team 7:07
17. Marielle Saner-Guinchard (Sui) Bikepark.ch Scott 7:22
18. Sarah Koba (Sui) Giant Swiss SR-Suntour 7:54
19. Laura Metzler (Fra) BH-Suntour-Peisey Vallandry 8:12
20. Lene Byberg (Nor) Specialized Racing 8:15
21. Sabrina Enaux (Fra) Felt Oetztal X-Bionic Team 8:20
22. Anne Terpstra (Ned) MPL Specialized MTB Team 9:13
23. Vera Andreeva (Rus) 9:26
24. Elisabeth Brandau (Ger) Central Haibike Pro Team 9:27
25. Cécile Ravanel (Fra) GT Skoda Chamonix 9:48
26. Sabine Spitz (Ger) Central Haibike Pro Team 10:20
27. Katrin Leumann (Sui) Ghost Factory Racing Team 10:35
28. Katherine Compton (USA) Rabobank-Giant Off-Road Team 11:01
29. Anna Szafraniec (Pol) CCC Polkowice 11:11
30. Adelheid Morath (Ger) Felt Oetztal X-Bionic Team 11:15
31. Karen Hanlen (Gbr) 11:30
32. Hanna Klein (Ger) Rothaus Poison-Bikes 11:40
33. Janka Stevkova (Svk) 11:59
34. Tanja Zakelj (Slo) Orbea Geax 12:07
35. Mary Mcconneloug (USA) Kenda/Seven/NoTubes 12:13
36. Tereza Hurikova (Cze) Central Haibike Pro Team 12:17
37. Amanda Sin (Can) 3Rox Racing 13:51    
38. Rosara Joseph (Gbr) Rabobank-Giant Off-Road Team 14:19
39. Anja Gradl (Ger) Ghost Factory Racing Team -1 lap
40. Nina Homovec (Slo) Orbea Geax -1 lap
41. Alexandra Engen (Swe) Rothaus Poison-Bikes -1 lap
42. Krista Park (USA) -2 laps
43. Pavlina Sulcova (Cze) Merida Biking Team -2 laps
44. Anna Villar Argente (Esp) -2 laps
45. Pavla Havlikova (Cze) -2 laps
46. Sandra Santanyes Murillo (Esp) -2 laps
47. Lee Craigie (Gbr) -2 laps
48. Carina Kirssi (Fin) V.Z.W. Goeman Scott Cycling Team -2 laps
49. Nicoletta De Jager (Ned) -2 laps
50. Katherine O'Shea (Aus) -2 laps
51. Githa Michiels (Bel) Trek-Kmc Trade Team Vzw -3 laps
52. Judith Pollinger (Ita) Infotre-Bi & Esse-Leecougan -3 laps
53. Angela Carolina Parra Sierra (Col) Asptt Definitive Gitane -3 laps
54. Melanie Späth (Ger) -3 laps
55. Lucie Vesela (Cze) GT Czech Team -3 laps
56. Jodie Willett (Aus) -3 laps
57. Tatjana Dold (Ger) -3 laps
58. Eszter Dosa (Hun) -3 laps
59. Daniela Storch (Ger) -3 laps
60. Lenka Bulisova (Cze) -4 laps
61. Elena Ondasova (Svk) -4 laps
62. Inbar Ronen (Isr) -4 laps
DNF Rocio Gamonal Ferrera (Esp)
DNF Caitlin Elliott (Irl)
DNF Stephania Magri (Mlt)
DNS Daniela Veronesi (Ita)
DNS Nataliya Krompets (Ukr) ISD Cycling Team     
U23
1. Yana Belomoyna (Ukr) Infotre-Bi & Esse-Leecougan 1:36:24
2. Barbara Benko (Hun) Focus MIG Team 1:32
3. Pauline Ferrand Prevot (Fra) lapierre International 2:04
4. Mona Eiberweiser (Ger) Ghost Factory Racing Team 2:36
5. Serena Calvetti (Ita) 3:04
6. Fanny Bourdon (Fra) GT Skoda Chamonix 5:35
7. Elisabeth Sveum (Nor) Team Merida Smart Safety 5:52
8. Vivienne Meyer (Sui) Colnago Farbe Sudtirol 6:10
9. Katherine O'neill (Gbr) 6:15
10. Samara Sheppard (Gbr) 6:51
11. Laura Valentina Abril Restrepo (Col) 9:33
12. Noga Korem (Isr) 10:00
13. Jitka Skarnitzlova (Cze) 10:16
14. Hana Jezkova (Cze) GT Czech Team 10:21
15. Karolina Kalasova (Cze) Rubena-Birell-Specialized Cycling Team 10:59
16. Marta Tereshchuk (Ukr) Infotre-Bi & Esse-Leecougan 12:39
17. Mariske Strauss (RSA) 15:37
18. Nicole Hanselmann (Sui) -1 lap
19. Weronika Rybarczyk (Pol) -1 lap
20. Caitlin De Wet (RSA) -1 lap
21. Michaela Malarikova (Svk) -2 laps
22. Rozanne Slik (Ned) Feenstra Stevens Bike Team -2 laps
23. Carla Haines (Gbr) -2 laps
24. Radka Pospisilova (Cze) -2 laps
25. Zsofia Keri (Hun) -2 laps
DNF Rebecca Henderson (Aus)
DNS Kathrin Stirnemann (Sui) Central Haibike Pro Team
DNS Nadine Rieder (Ger)
Overall Standings after 6 Events (brief)
U23 Women
1. Pauline Ferrand Prevot (Fra) Lapierre International 420 points
2. Barbara Benko (Hun) Focus MIG Team 345
3. Elisabeth Sveum (Nor) Team Merida Smart Safety 314
14. Mikaela Kofman (Can) Team Canada 85
Elite Women
1. Julie Bresset (Fra) BH-Suntour-Peisey Vallandry 1,310 pts
2. Catharine Pendrel (Can) Luna Pro Team 1,170
3. Irina Kalentieva (Rus) Topeak Ergon Racing Team 740
4. Marie-Helene Premont (Can) Team Maxxis-Rocky Mountain 730
5. Eva Lechner (Ita) Colnago Farbe Sudtirol 668
6. Lene Byberg (Nor) Specialized Racing 608
7. Annika Langvad (Den) 582
8. Elisabeth Osl (Aut) Ghost Factory Racing Team 557
9. Gunn-Rita Dahle Flesjaa (Nor) Multivan Merida Biking Team 540
10. Maja Wloszczowska (Pol) CCC Polkowice 535
11. Emily Batty (Can) Subaru-Trek 526
12. Nathalie Schneitter (Sui) Colnago Farbe Sudtirol 523
13. Georgia Gould (USA) Luna Pro Team 500
14. Esther Süss (Sui) 490
15. Katerina Nash (Cze) Luna Pro Team 489
16. Annie Last (Gbr) 425
17. Sabine Spitz (Ger) Central Haibike Pro Team 419
18. Blaza Klemencic (Slo) Felt Oetztal X-Bionic Team 416
19. Tanja Zakelj (Slo) Orbea Geax 415
20. Chengyuan Ren (Chn) Specialized Racing 390
21. Katrin Leumann (Sui) Ghost Factory Racing Team 385
22. Lea Davison (USA) Specialized Racing 360
23. Sabrina Enaux (Fra) Felt Oetztal X-Bionic Team 359
24. Katherine Compton (USA) Rabobank-Giant Off-Road Team 325
25. Heather Irmiger (USA) Subaru-Trek 303
26. Tereza Hurikova (Cze) Central Haibike Pro Team 301
27. Alexandra Engen (Swe) 297
28. Cécile Ravanel (Fra) GT Skoda Chamonix 293
29. Mary Mcconneloug (USA) 292
30. Hanna Klein (Ger) 280
31. Anna Szafraniec (Pol) CCC Polkowice 280
32. Rosara Joseph (Nzl) Rabobank-Giant Off-Road Team 238
33. Anja Gradl (Ger) Ghost Factory Racing Team 235
34. Nina Homovec (Slo) Orbea Geax 232
35. Elisabeth Brandau (Ger) Central Haibike Pro Team 226
36. Karen Hanlen (Nzl) 226
37. Amanda Sin (Can) 3 Rox Racing 220
38. Sarah Koba (Sui) Giant Swiss Sr-Suntour 210
39. Laura Turpijn (Ned) Team Merida Combee 195
40. Laura Metzler (Fra) BH-Suntour-Peisey Vallandry 194
41. Adelheid Morath (Ger) Felt Oetztal X-Bionic Team 184
42. Anne Terpstra (Ned) MPL Specialized MTB Team 154
43. Marielle Saner-Guinchard (Sui) Bikepark.Ch Scott 148
44. Rie Katayama (Jpn) 145
45. Katherine O'shea (Aus) 127
46. Krista Park (USA) 122
47. Vera Andreeva (Rus) 108
48. Silke Schmidt (Ger) 104
49. Anna Villar Argente (Esp) 103
50. Janka Stevkova (Svk) 96
51. Mical Dyck (Can) 92
52. Pavla Havlikova (Cze) 90
53. Magdalena Sadlecka (Pol) CCC Polkowice 82
54. Sandra Walter (Can) Xprezo-Borsao 75
55. Catherine Vipond (Can) Norco 70
56. Jean Ann Berkenpas (Can) Xprezo-Borsao 68
57. Judith Pollinger (Ita) Infotre-Bi & Esse-Leecougan 55
58. Coralie Redelsperger (Fra) 54
59. Sandra Santanyes Murillo (Esp) 52
60. Githa Michiels (Bel) Trek-Kmc Trade Team Vzw 52
61. Aleksandra Dawidowicz (Pol) CCC Polkowice 50
62. Nicoletta De Jager (Ned) 50
63. Ann Berglund (Swe) 49
64. Chloe Forsman (USA) 47
65. Cindy Montambault (Can) 46
66. Nataliya Krompets (Ukr) ISD Cycling Team 40
67. Daniela Veronesi (Ita) 37
68. Meghan Korol (USA) 34
69. Rowena Fry (Aus) 33
70. Judy Freeman (USA) 32
71. Brandi Heisterman (Can) 30
72. Erin Huck (USA) 27
73. Pavlina Sulcova (Cze) Merida Biking Team 25
74. Laura Lorenza Morfin Macouzet (Mex) 25
75. Melanie Späth (Ger) 25
76. Sofia Pezzatti (Sui) 24
77. Oksana Rybakova (Rus) 24
78. Fabienne Niederberger (Sui) 24
79. Caroline Villeneuve (Can) 23
80. Maaris Meier (Est) 23
81. Katherine Sherwin (USA) 22
82. Lee Craigie (Gbr) 21
83. Carina Kirssi (Fin) V.Z.W. Goeman Scott Cycling Team 20
84. Daniela Campuzano (Mex) Turbo Bike Team 20
85. Inbar Ronen (Isr) 20
86. Sarah Kaufmann (USA) 19
87. Stephanie Wiedner (Aut) 18
88. Carolyn Popovic (USA) 17
89. Rocio Gamonal Ferrera (Esp) 17
90. Zephanie Blasi (USA) 16
91. Angela Carolina Parra Sierra (Col) ASPTT Definitive Gitane 15
92. Bryna Blanchard (USA) 15
93. Maddie Horton (Gbr) 15
94. Samantha Sanders (RSA) 15
95. Anneke Beerten (Ned) Milka Trek MTB Racing Team 14
96. Lucie Vesela (Cze) GT Czech Team 13
97. Gracie Elvin (Aus) 13
98. Jodie Willett (Aus) 12
99. Jenni King (Aus) 12
100. Tatjana Dold (Ger) 11
101. Eszter Dosa (Hun) 10
102. Maria Osl (Aut) Fischer-BMC 10
103. Daniela Storch (Ger) 9
104. Lenka Bulisova (Cze) 8
105. Michalina Ziolkowska (Pol) 8
106. Kristien Nelen (Bel) V.Z.W. Goeman Scott Cycling Team 8