August 14, 2011 (Nove Mesto Na Morave, Czech Republic) – All eyes will be on local star and WCup XC Series  leader, Jaroslav Kulhavy (Cze) Specialized Racing, for the Elite Men's XC race soon underway. The beautiful sunny and dry conditions continue at the new WCup venue in Nove Mesto well known as the site for WCup XC Ski races. Kulhavy's main challenge will come from Nino Schurter (Sui) Scott-Swisspower MTB-Racing and Julien Absalon (Fra) Orbea in second and third respectively in the overall standings – there are 22 cameras on the course to TV coverage and there are HUGE crowds here to see Kulhavy perform.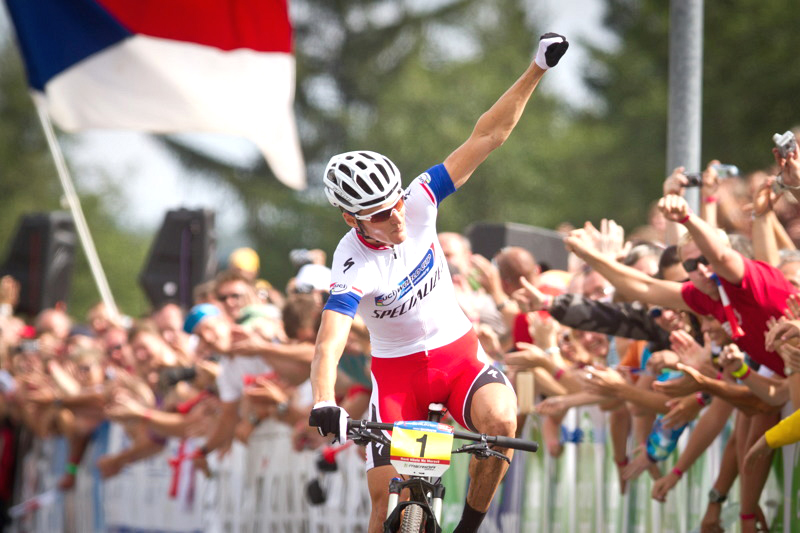 Canada's Geoff Kabush (Team Maxxis-Rocky Mountain) leads the four Canucks on the start line including Derek Zandstra (3 Rocks Racing), Adam Morka (Trek Canada) and Cameron Jette. The men will complete 1 start loop of the 3.2km circuit and 7 laps of the 4.2km  course – there are 124 starters for today's race.
Start Loop
José Antonio Hermida Ramos (Esp) Multivan Merida Biking Team takes the lead as the race is underway. Moritz Milatz (Ger) BMC Mountainbike Racing Team is with him…
Now Thomas Litscher (Sui) Felt Oetztal X-Bionic Team takes over the lead… the pace is fast as Florian Vogel (Sui) Scott-Suisspower MTB-Racing now at the front.
Kulhavy has charged to the front… Schurter is in second with Vogel on his wheel. Absalon is 8th or 9th – Kabush is in the 20s. Kulhavy has a gap already as the crowd cheers him on…
Lap 1
Kulhavy comes thur in 8:06 followed by Vogel and Schurter at 8s… Litscher is 4th at 14s, Stéphane Tempier (Fra) TX Active Bianchi is 5th followed by Ralph Naef (Sui) Multivan Merida Biking Team and then Hermida in 6th – Absalon is 7th at 25s.
Kulhavy is on fire and is pulling away… Vogel drops Schurter and is in second as Hermida moves up as well. Kabush is 37th at 1:18 followed by Zandstra in 69th at 2:01, Jette is 94th at 2:32 and Morka is 101st at 2:39.
Kulhavy is alone at the and looks like he's unstoppable – Hermida takes over third now with Schurter in fourth followed by a large group of chasers.
Lap 2
Kulhavy comes thru in 21:00 completing the first lap in 12:54 – in second and third are Vogel and Hermida together at 33s – Vogel has a rear wheel puncture – that will cost him dearly.
Marco Aurelio Fontana (Ita) Cannondale Factory Racing leads the chase group with Manuel Fumic (Ger) Cannondale Factory Racing behind then it's Schurter and Litscher… and Rudi Van Houts (Ned) Multivan Merida Biking Team.
The second chase group with Absalon is lead by Burry Stander (RSA) Specialized Racing…
Fontana and Fumic have separated themselves and are trying to work together to catch Hermida.
Kulhavy is almost finished the second lap…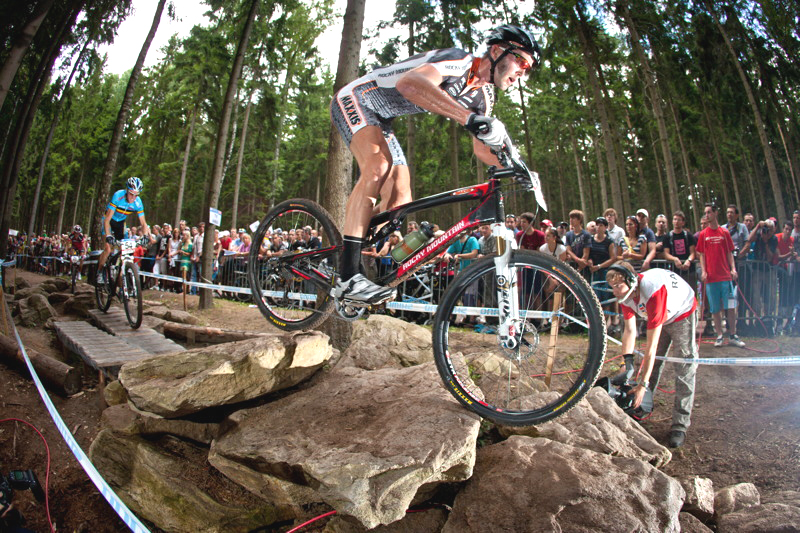 Lap 3
The time is 34:15 as Kulhavy begins his third lap… a little slower than the previous lap at 13:15. In second at 31s it's Hermida on his own.
Fumic takes over 3rd at 58s with Fontana, Van Houts, and Schurter with him. Litscher is in 7th at 1:05 followed by Vogel in 8th who was able to catch back on following his puncture. Absalon is in 10th at 1:17.
Kabush has moved up 3 spots and is in 34th in 3:08… Zandstra has made big gains moving up to 44th at 3:51. Jette is now 8oth at 5:24 and Morka is now in 82nd at 5:30.
Lap 4
Kulhavy is on his own and looks smooth and strong as he matches his previous lap time of 13:15 and stops the clock at 47:30.
Hermida is 36s behind the race leader and in third and fourth it's Fumic and Schurter together at 1:22 as they look behind to see Fontana and the other chasers just behind at 1:24 including  Van Houts, Lukas Flückiger (Sui) Trek World Racing, Maxime Marotte (Fra) BH-Suntour-Peisey Vallandry… then it's Moritz Milatz (Ger) BMC Mountainbike Racing Team and Absalon.
A Japanese rider goes down in the rock garden and needs to be rescued by officials… he's back in the race.
Schurter, Fontana and Fumic have bridged to Hermida as the four pull away… but Fumic can't hold the pace as the lap is almost done.
Lap 5
Kulhavy come thru in 1:00:53 finishing that lap a bit slower in 13:23… he knows he's in control and can afford to relax a bit.
The three chasers lead by Hermida come thru in 1:24… then it's Fumic in 5th, Flückiger 6th, Marotte in 7th and Absalon in 8th.
Hermida gets dropped by Schurter and Fontana as he falters seeming that he couldn't decide on which route to take … now he's trying to catch back on.
Absalon attacks from behind and has bridged to the lead chasers… he's on Hermida's wheel. The Frenchman is leaving Hermida behind and is chasing down Schurter and Fontana for the top podium positions.
Behind Fumic crashes on a downhill section…
Lap 6
With 2 to go it's Kulhavy dominating at 1:14:29… his lead has been extended to 1:25 as Fontana and Schurter come thru in 2nd and 3rd – and then it's Absalon and Hermida at 1:31.
In 6th it's Flückiger followed by Sergio Mantecon Gutierrez (Esp) Wildwolf-Trek Racing in 7th. Then it's Marotte in 8th (1:54) and Van Houts in 9th (2:04) with Fumic in 10th (2:12).
Schurter and Absalon attack and drop Fontana and Hermida…
Kabush has made more gains now in 31st at 5:19 while Zandra has dropped back to 55th at 7:52… Morka is now 71st at 9:49… Jette is behind him.
Huge crowds are cheering on Kulhavy who has delivered at the world famous Nova Mesto venue site of the 2013 Nordic World Championships.
Schurter drops Absalon as the lap is almost done… behind Hermida attacks and is trying to bridge to the lead chasers.
Sam Schultz (USA) Subaru-Trek is the top American rider in 15th with Todd Wells (Specialized) staying in the USA to win the Leadville Classic yesterday. Schultz had his bike stolen from his hotel room but luckily police found it only 100 metres away in a ditch.
Lap 7 Final
Kulhavy comes thru in 1:28:o5 and will certainly win today and wrap up the UCI MTB WCup 2011 title barring any mishap – and will win the first WCup in front of his home crowd.
Absalon catches back on and he crosses the line in 2nd at 1:14 with Schurter at 1:15… then it's Hermida in 4th at 1:26.
It's Flückiger, Mantecon and Fontana battling for 5th place – the final spot on the podium.
Schurter is trying to shake Absalon as they drop Hermida…
Kulhavy is in the stadium as Schurter takes over 2nd place… the crowd is going wild as he goes by them with his hand out.
Results
Elite Men
1. Jaroslav Kulhavy (Cze) Specialized Racing 1:41:52
2. Nino Schurter (Sui) Scott-Swisspower MTB-Racing 0:45
3. Julien Absalon (Fra) Orbea 0:54
4. José Antonio Hermida Ramos (Esp) Multivan Merida Biking Team 1:23
5. Sergio Mantecon Gutierrez (Esp) Wildwolf-Trek Racing 1:51
6. Lukas Flückiger (Sui) Trek World Racing 2:11
7. Maxime Marotte (Fra) BH-Suntour-Peisey Vallandry 2:32
8. Christoph Sauser (Sui) Specialized Racing 2:46
9. Moritz Milatz (Ger) BMC Mountainbike Racing Team 2:54
10. Mathias Flückiger (Sui) Trek World Racing 3:03
11. Manuel Fumic (Ger) Cannondale Factory Racing 3:16
12. Florian Vogel (Sui) Scott-Swisspower MTB-Racing 3:23
13. Rudi Van Houts (Ned) Multivan Merida Biking Team 3:25
14. Carlos Coloma Nicolas (Esp) Wildwolf-Trek Racing 3:37
15. Samuel Schultz (USA) Subaru-Trek 3:43
16. Martin Gujan (Sui) Cannondale Factory Racing 4:35
17. Ruben Ruzafa Cueto (Esp) Orbea 4:47
18. Fabian Giger (Sui) Rabobank-Giant Off-Road Team 5:02
19. Burry Stander (RSA) Specialized Racing 5:10
20. Karl Markt (Aut) Felt Oetztal X-Bionic Team 5:14
21. Stéphane Tempier (Fra) TX Active Bianchi 5:19
22. Jeremy Horgan-Kobelski (USA) Subaru-Trek 5:27
23. Marco Aurelio Fontana (Ita) Cannondale Factory Racing 5:36
24. Kristian Hynek (Cze) 5:39
25. Kevin Van Hoovels (Bel) Versluys-Evenza Team 5:51
26. Henk Jaap Moorlag (Ned) Rabobank-Giant Off-Road Team 5:56
27. Wolfram Kurschat (Ger) Topeak Ergon Racing Team 6:20
28. Jiri Friedl (Cze) Rubena-Birell-Specialized Cycling Team 6:28
29. Jan Skarnitzl (Cze) Rubena-Birell-Specialized Cycling 6:34
30. Geoff Kabush (Can) Team Maxxis-Rocky Mountain 6:41
31. Inaki Lejarreta Errasti (Esp) Orbea 6:41
32. Andrea Tiberi (Ita) Torpado Surfing Shop 6:52
33. Jukka Vastaranta (Fin) Milka Trek MTB Racing Team 6:59
34. Catriel Andres Soto (Arg) Team Protek 7:03
35. Christoph Soukup (Aut) 7:03
36. Lukas Kaufmann (Sui) Easton Rockets 7:18
37. Milan Spesny (Cze) S&H Superior MTB Team 7:33
38. Liam Killeen (Gbr) Giant Factory Off-Road Team 7:50
39. Jelmer Pietersma (Ned) Milka Trek MTB Racing Team 8:02
40. Cédric Ravanel (Fra) GT Skoda Chamonix 8:10
41. Adam Craig (USA) Rabobank-Giant Off-Road Team 8:25
42. Anton Sintsov (Rus) 8:34
43. Derek Zandstra (Can) 3 Rox Racing 8:37
44. Kohei Yamamoto (Jpn) Team Bridgestone Anchor 8:42
45. Umberto Corti (Ita) Team CBE Tecnoimpianti A.S.D. 8:42
46. Filip Eberl (Cze) 9:02
47. Matous Ulman (Cze) S&H Superior MTB Team 9:22
48. Martino Fruet (Ita) L'Arcobaleno Carraro 9:40
49. Ivan Alvarez Gutierrez (Esp) Giant Italia Team 9:53
50. Balz Weber (Sui) BMC Mountainbike Racing Team 10:00
51. Jochen Kass (Ger) Multivan Merida Biking Team 10:08
52. Hannes Metzler (Aut) Muskelkater Genesis Team 10:09
53. Robert Gehbauer (Aut) 10:41
54. Robert Mennen (Ger) Topeak Ergon Racing Team 10:58
55. Marek Galinski (Pol) JBG-2 Professional MTB Team 11:01
56. Tony Longo (Ita) TX Active Bianchi 11:34
57. Emil Lindgren (Swe) Rabobank-Giant Off-Road Team 12:30
58. Uwe Hochenwarter (Aut) Muskelkater Genesis Team 13:09
59. Ralph Naef (Sui) Multivan Merida Biking Team -1 lap
60. Simon Scheiber (Aut) Felt Oetztal X-Bionic Team -1 lap
61. Rene Tann (Ger) -1 lap
62. Michal Lami (Svk) -1 lap
63. Sid Taberlay (Aus) Kenda-H2O Overdrive -1 lap
64. Andras Parti (Hun) Euro One-Cube MTB Team -1 lap
65. Spencer Paxson (USA) Kona -1 lap
66. Michael Broderick (USA) Kenda/Seven/NoTubes -1 lap
67. Sepp Freiburghaus (Sui) Thoemus Racing Team -1 lap
68. Adam Morka (Can) Trek Canada -1 lap
69. Pascal Meyer (Sui) Thoemus Racing Team -1 lap
70. Giuseppe Lamastra (Ita) Elettroveneta-Corratec -1 lap
71. Robby De Bock (Bel) -1 lap
72. Niels Wubben (Ned) Rabobank-Giant Off-Road Team -1 lap
73. Nicola Rohrbach (Sui) Elettroveneta-Corratec -2 laps
74. Steffen Thum (Ger) -2 laps
75. Julien Taramarcaz (Sui) BMC Mountainbike Racing Team -2 laps
76. Szilard Buruczki (Hun) -2 laps
77. Carl Jones (Nzl) -2 laps
78. Kazuhiro Yamamoto (Jpn) -2 laps
79. Cameron Jette (Can) 3 Rox Racing -2 laps
80. Matthias Waldhart (Aut) -2 laps
81. Ken Onodera (Jpn) -3 laps
82. Oleksandr Gerashchenko (Ukr) ISD Cycling Team -3 laps
83. Sang Hoon Na (Kor) -3 laps
84. Simon Gegenheimer (Ger) -3 laps
85. Eddie Andres Rendon (Col) -3 laps
86. Martin Fanger (Sui) Giant Swiss SR-Suntour -3 laps
87. Martin Loo (Est) Infotre-Bi & Esse-Leecougan -3 laps
88. Seiya Hirano (Jpn) Team Bridgestone Anchor -3 laps
89. Pierre-Geoffroy Plantet (Fra) lapierre International -3 laps
90. Chun Hing Chan (Hkg) -3 laps
91. Kyosuke Takei (Jpn) -3 laps
92. Renay Groustra (RSA) -3 laps
93. Giancarlo Sax (Sui) Thoemus Racing Team -3 laps
94. Cristobal Silva Ibaceta (Chi) -3 laps
95. Ludovic Dubau (Fra) Team Newcycling -3 laps
96. Marco Schätzing (Ger) Team Firebike-Droessiger -3 laps
97. Luis Anderson Mejia Sanchez (Col) Asptt Definitive Gitane -3 laps
98. Gabor Bogar (Hun) Euro One-Cube MTB Team -3 laps
99. Lukas Sablik (Cze) -3 laps
100. Periklis Ilias (Gre) Team Protek -3 laps
101. Martin Haring (Svk) -4 laps
102. Oliver Munnik (RSA) -4 laps
103. Georgios Pattes-Toumanis (Gre) Team Protek -4 laps
104. Marc Colom (Fra) Team Newcycling -4 laps
105. Paul Remy (Fra) -4 laps
106. Severin Disch (Sui) Thoemus Racing Team -4 laps
107. John Whittington (Gbr) -5 laps
DNF Thomas Litscher (Sui) Felt Oetztal X-Bionic Team
DNF Patrik Gallati (Sui) BMC Mountainbike Racing Team
DNF Oliver Beckingsale (Gbr) Endura MTB Racing Team
DNF Jiri Novak (Cze) S&H Superior MTB Team
DNF Irjan Luttenberg (Ned) MPL Specialized MTB Team
DNF Daniel Mcconnell (Aus)
DNF Sergji Rysenko (Ukr) ISD Cycling Team
DNF Sven Nys (Bel) Landbouwkrediet/Colnago
DNF Michele Casagrande (Ita) Elettroveneta-Corratec
DNF Michal Prokop (Cze)
DNS Ola Kjören (Nor) Team Fokus-Danica
DNS Daniel Federspiel (Aut)
DNS Pierre Lebreton (Fra) BH-Suntour-Peisey Vallandry
DNS Alexis Vuillermoz (Fra) lapierre International
DNS Lee Williams (Gbr)
DNS Pascal Hossay (Bel) G-Skin-Deforche MTB Racing Team
DNS  Michal Kanera (Cze) Rubena-Birell-Specialized Cycling Team
Overall Standings after 6 Events
1. Jaroslav Kulhavy (Cze) Specialized Racing 1,360 pts
2. Nino Schurter (Sui) Scott-Swisspower MTB-Racing 1,070
3. Julien Absalon (Fra) Orbea 810
4. Maxime Marotte (Fra) BH-Suntour-Peisey Vallandry 740
5. José Antonio Hermida Ramos (Esp) Multivan Merida Biking Team 728
6. Burry Stander (RSA) Specialized Racing 708
7. Christoph Sauser (Sui) Specialized Racing 650
8. Marco Aurelio Fontana (Ita) Cannondale Factory Racing 600
9. Manuel Fumic (Ger) Cannondale Factory Racing 568
10. Stéphane Tempier (Fra) TX Active Bianchi 532
11. Florian Vogel (Sui) Scott-Swisspower MTB-Racing 498
12. Lukas Flückiger (Sui) Trek World Racing 496
13. Carlos Coloma Nicolas (Esp) Wildwolf-Trek Racing 488
14. Mathias Flückiger (Sui) Trek World Racing 478
15. Rudi Van Houts (Ned) Multivan Merida Biking Team 450
16. Thomas Litscher (Sui) Felt Oetztal X-Bionic Team 437
17. Fabian Giger (Sui) Rabobank-Giant Off-Road Team 434
18. Moritz Milatz (Ger) BMC Mountainbike Racing Team 431
19. Martin Gujan (Sui) Cannondale Factory Racing 413
20. Sergio Mantecon Gutierrez (Esp) Wildwolf-Trek Racing 392
21. Todd Wells (USA) Specialized Racing 369
22. Inaki Lejarreta Errasti (Esp) Orbea 367
23. Ivan Alvarez Gutierrez (Esp) Giant Italia Team 358
24. Geoff Kabush (Can) Team Maxxis-Rocky Mountain 327
25. Liam Killeen (Gbr) Giant Factory Off-Road Team 318
26. Karl Markt (Aut) Felt Oetztal X-Bionic Team 304
27. Ralph Naef (Sui) Multivan Merida Biking Team 249
28. Jan Skarnitzl (Cze) Rubena-Birell-Specialized Cycling Team 249
29. Patrik Gallati (Sui) BMC Mountainbike Racing Team 241
30. Jochen Kass (Ger) Multivan Merida Biking Team 235
31. Jeremy Horgan-Kobelski (USA) Subaru-Trek 228
32. Derek Zandstra (Can) 225
33. Martin Fanger (Sui) Giant Swiss Sr-Suntour 214
34. Samuel Schultz (USA) Subaru-Trek 213
35. Matous Ulman (Cze) S&H Superior MTB Team 204
36. Henk Jaap Moorlag (Ned) Rabobank-Giant Off-Road Team 182
37. Wolfram Kurschat (Ger) Topeak Ergon Racing Team 179
38. Ruben Ruzafa Cueto (Esp) Orbea 174
39. Jiri Friedl (Cze) Rubena-Birell-Specialized Cycling Team 173
40. Cédric Ravanel (Fra) GT Skoda Chamonix 169
41. Lukas Kaufmann (Sui) 168
42. Adam Craig (USA) Rabobank-Giant Off-Road Team 142
43. Kevin Van Hoovels (Bel) Versluys-Evenza Team 142
44. Kohei Yamamoto (Jpn) Team Bridgestone Anchor 141
45. Marek Galinski (Pol) JBG-2 Professional MTB Team 137
46. Oliver Beckingsale (Gbr) 135
47. Andras Parti (Hun) Euro One-Cube MTB Team 134
48. Marc Colom (Fra) Team Newcycling 130
49. Pierre-Geoffroy Plantet (Fra) Lapierre International 125
50. Nicola Rohrbach (Sui) Elettroveneta-Corratec 125
51. Severin Disch (Sui) Thoemus Racing Team 114
52. Uwe Hochenwarter (Aut) Muskelkater Genesis Team 109
53. Jeremiah Bishop (USA) 100
54. Martino Fruet (Ita) 99
55. Jiri Novak (Cze) S&H Superior MTB Team 90
56. Jelmer Pietersma (Ned) Milka Trek MTB Racing Team 85
57. Catriel Andres Soto (Arg) Team Protek 84
58. Irjan Luttenberg (Ned) Mpl Specialized MTB Team 82
59. Christoph Soukup (Aut) 78
60. Daniel Mcconnell (Aus) 73
61. Jukka Vastaranta (Fin) Milka Trek MTB Racing Team 70
62. Sepp Freiburghaus (Sui) Thoemus Racing Team 68
63. Emil Lindgren (Swe) Rabobank-Giant Off-Road Team 65
64. Kristian Hynek (Cze) 58
65. Milan Spesny (Cze) S&H Superior MTB Team 54
66. Robert Mennen (Ger) Topeak Ergon Racing Team 52
67. Pascal Meyer (Sui) Thoemus Racing Team 51
68. Balz Weber (Sui) BMC Mountainbike Racing Team 50
69. Chris Jongewaard (Aus) Milka Trek MTB Racing Team 47
70. Hannes Metzler (Aut) Muskelkater Genesis Team 46
71. Adam Morka (Can) 43
72. Andrea Tiberi (Ita) Torpado Surfing Shop 42
73. Tony Longo (Ita) TX Active Bianchi 41
74. Filip Eberl (Cze) 38
75. Michal Lami (Svk) 38
76. Niels Wubben (Ned) Rabobank-Giant Off-Road Team 37
77. Matthew Hadley (Can) 34
78. Jean-Christophe Peraud (Fra) 32
79. Umberto Corti (Ita) Team CBE Tecnoimpianti A.S.D. 32
80. Andrew Watson (Can) 32
81. Spencer Paxson (USA) Kona 30
82. Lachlan Norris (Aus) Giant Factory Off-Road Team 30
83. Anton Sintsov (Rus) 26
84. Peter Glassford (Can) 25
85. Periklis Ilias (Gre) Team Protek 21
86. Max Plaxton (Can) 20
87. Eric Batty (Can) 19
88. Michele Casagrande (Ita) Elettroveneta-Corratec 19
89. Rotem Ishai (Isr) 17
90. Martin Loo (Est) Infotre-Bi & Esse-Leecougan 17
91. Robert Gehbauer (Aut) 15
92. Benjamin Wittrup Justesen (Den) 15
93. Raphael Gagne (Can) 13
94. Alban Lakata (Aut) Topeak Ergon Racing Team 13
95. Joshua Carlson (Aus) 11
96. Rene Tann (Ger) 10
97. Michael Broderick (USA) 9
98. Simon Scheiber (Aut) Felt Oetztal X-Bionic Team 8