June 30, 2012 (Windham, New York) – It's hot in Windham in the beautiful Catskills Mountains, 28 degrees, as the Elite Women's race is soon underway with series leader and MSA winner, Catharine Pendrel (Can) Luna Pro Team gunning for another victory and extend her overall lead possibly wrapping up the title. Gunn-Rita Dahle Flesjaa (Nor) Multivan Merida Biking Team is her biggest threat as Julie Bresset (Fra) is not on the start line missing MSA as well preparting for London 2012. The women will complete 5 laps of the 5.15km course with the start in downtown Windham…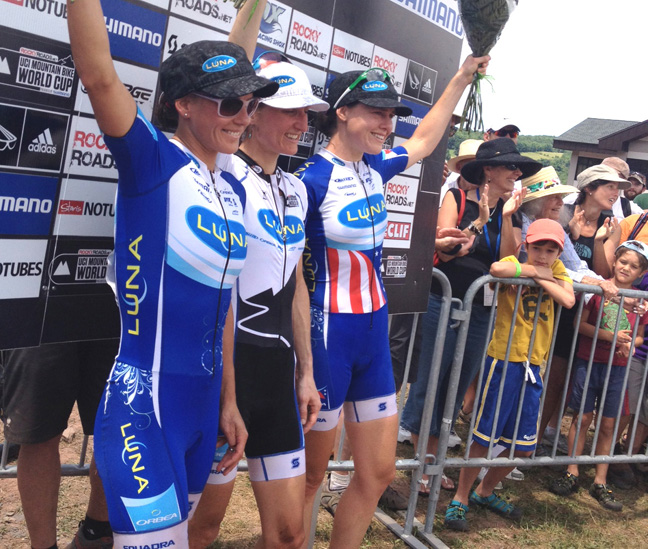 Lap 1
Georgia Gould (USA) Luna Pro Team is out front with Marie-Helene Premont (Can) Rocky Mountain there as well…Pendrel is around 15th and Emily Batty (Can) Subaru-Trek is 20th.
Up the massive first climb the riders are strung out… Premont takes the lead.
Pendrel is moving up as the women head into the woods and will appreciate the shade.
It's Premont, Gould and now Katerina Nash (Cze) Luna Pro Team is in third… now Gould attacks 2/3 of the way thru the climb and takes the lead.
Pendrel is now 4th… sorry 6th. Dahle Flesjaa is 4th and Katrin Leumann (Sui) Ghost Factory Racing Team is 5th.
Thru the 2nd food zone it's Gould in 1st, Premont at 3s and Nash in 3rd  – Dahle Flesjaa is 4th at 12s – Leumann is 5th at 22s and Premont is 6th at 26s – Batty is now 11th at 50s.
On the descent it's Gould gapping Premont with Nash on her wheel.
Lap 2
Gould is thru in 21:04…
2. Premont 0:11
3. Nash 0:11
4. Dahle Flesjaa 0:12
5. Pendrel 0:25
6. Leumann 0:33
7. Kalentieva 0:49
8. Last 0:52
9. Davison 1:04
10. Engen 1:05
11. Batty 1:07
Gould continues to set the pace at the front…
Elisabeth Osl (Aut) Ghost Factory Racing Team and Elisabeth Brandau (Ger) Notebooksbilliger.De Team move up on Batty…
Pendrel joins the three lead chasers… and takes over 2nd place.
Gould suffers in the heat and will be aware of pacing herself… now with a commanding lead of 30s.
Batty has dropped to 14th at 2min…
Gould is on the descent and will complete the lap soon…
Lap 3
Gould starts her 3rd lap in 39:46…
Pendrel and Nash are on their own in 2nd and 3rd at 27s – Dahle Flesjaa and Premont are 4th and 5th at 38 seconds.
It's a LUNA race with the top three setting the pace as the chasers are gaining on Gould… Premont is lagging a bit on Dahle Flesjaa
Gould would love to win her first WCup… she's got 29s near the top of the climb.
Pendrel and Nash continue to lead the chase – Dahle Flesjaa at 39s has dropped Premont now at 55s and is trying to bridge to Pendrel.
Davison is 6th – Kalentieva 7th – Engen is 8th – Last is 9th at 2:04 – Mary Mcconneloug (USA) is 10th – Batty is now 13th.
Lap 4
With two to go it's Gould at 58:54 with Pendrel and Nash at 31s – so the leader has opened it up a bit.
Dahle Flesjaa is 4th at 40 seconds trying to bridge… Premont is 5th at 40 seconds holding on to her podium spot.
Pendrel is starting to push on the climb as Nash is a bit behind – the World Champ is on a 26″ full suspension bike with a new Fox lock-out system.
Near the top of the climb Gould is looking strong and extends her lead over the chasers to 42 seconds.
Pendrel is second at 42 – and Nash is at 50s – Dahle Flesjaa is at 1:03 – Premont is 5ht a 1:29 – Davison is at 1:54.
Batty is now 14th – she's not at her best in this brutal heat.
Gould is almost ready to start her final lap – Pendrel is pulling away from Nash on the descent.
Lap 5 FINAL
Gould is looking strong and is about 17min away from her first WCup victory.
Pendrel and Nash are at 45s as Nash gets back on Pendrel's wheel.
Dahle Flesjaa is 4th at 1:06 and destined for another podium as is Premont in 5th at 1:41 followed by local favourite Davison in 6th at 2:10
On the climb it's Gould in charge… can Pendrel reel her in again as she did at MSA ?
Gould is extended her gap at the top of the climb – with 55s over Pendrel who dropped Nash.
Gould is looking good to win her first WCup at home…and Pendrel will lock up the title.
Flat tire for Gould.. ? The unthinkable as her tire flatted on the descent and she gets passed by Pendrel and Nash…
Pendrel takes it… Nash is second and Gould runs her bike across for third.
Pendrel takes the series overall..
Results
1. Catharine Pendrel (Can) Luna Pro Team  1:37:53
2. Katerina Nash (Cze) Luna Pro Team  0:01
3. Georgia Gould (USA) Luna Pro Team  0:10
4. Marie-Helene Premont (Can)  Rocky Mountain 1:03
5. Lea Davison (USA) Specialized Racing  1:50
6. Alexandra Engen (Swe) Ghost Factory Racing Team  2:17
7. Gunn-Rita Dahle Flesjaa (Nor) Multivan Merida Biking Team  2:25
8. Irina Kalentieva (Rus) Topeak Ergon Racing Team  2:47
9. Annie Last (Gbr) Milka Brentjens MTB Racing Team  3:03
10. Katrin Leumann (Sui) Ghost Factory Racing Team  4:12
11. Emily Batty (Can) Subaru-Trek  4:30
12. Tanja Zakelj (Slo) Salcano Factory Team  4:58
13. Mary McConneloug (USA)  5:07
14. Elisabeth Brandau (Ger) Notebooksbilliger.de Team  5:16
15. Magdalena Sadlecka (Pol) CCC Polkowice  6:51
16. Lucie Chainel-Lefevre (Fra) BH-SR Suntour-Peisey Vallandry  6:59
17. Anne Terpstra (Ned)  7:12
18. Elisabeth Osl (Aut) Ghost Factory Racing Team  7:33
19. Heather Irmiger (USA) Subaru-Trek  7:54
20. Kathrin Stirnemann (Sui) Sabine Spitz Haibike Team  8:11
21. Cécile Ravanel (Fra) GT Skoda Chamonix  8:25
22. Sandra Walter (Can) Xprezo-Borsao 8:43
23. Amanda Sin (Can) Scott-3Roxracing  9:34
24. Mikaela Kofman (Can) Scott-3Roxracing  0:16
25. Fanny Bourdon (Fra) GT Skoda Chamonix  0:10:36
26. Annika Langvad (Den) Team Fujibikes Rockets  0:10:57
27. Jean Ann Berkenpas (Can) Xprezo-Borsao 0:11:47
28. Erin Huck (USA)  0:12:54
29. Cindy Montambault (Can)  0:14:10
30. Laura Lorenza Morfin Macouzet (Mex)
31. Katherine O'Shea (Aus)  0:14:38
32. Daniela Campuzano (Mex)  0:15:59
33. Agustina Maria Apaza (Arg)  0:17:15
34. Amy Dombroski (USA)   -1lap
35. Adriana Rojas (Crc)
36. Aleksandra Mooradian (Pol)
37. Serrano Rodriguez (Ecu)
38. Caroline Mani (Fra)
39. Noelia Rodriguez (Arg)
40. Sarah Kaufmann (USA)
41. Nina Baum (USA)   -2laps
42. Bryna Blanchard (USA)
43. Maxine Filby (Gbr)
44. Katherine Herrera (Crc)
45. Sally Gabriel (Gbr)   -3laps
DNF  Blaza Klemencic (Slo) Felt Oetztal X-Bionic Team
DNF  Allison Mann (USA)
Standings after Round 6
1. Catharine Pendrel (Can) Luna Pro Team 1,190
2. Katerina Nash (Cze) Luna Pro Team 859
3. Gunn-Rita Dahle Flesjaa (Nor) Multivan Merida Biking Team 798
4. Georgia Gould (USA) Luna Pro Team 753
5. Julie Bresset (Fra)  750
6. Emily Batty (Can)  735
7. Maja Wloszczowska (Pol)  670
8. Irina Kalentieva (Rus)  645
9. Marie-Helene Premont (Can)  616
10. Katrin Leumann (Sui)  542
11. Annie Last (Gbr)  542
12. Lea Davison (USA)  512
13. Elisabeth Osl (Aut)  468
14. Blaza Klemencic (Slo)  402
15. Alexandra Engen (Swe)  397
16. Pauline Ferrand Prevot (Fra)  374
17. Tanja Zakelj (Slo)  361
18. Sabine Spitz (Ger)  349
19. Lucie Chainel-Lefevre (Fra)  340
20. Esther Süss (Sui)  332
21. Mary McConneloug (USA)  315
22. Heather Irmiger (USA)  311
23. Sabrina Enaux (Fra)  296
24. Eva Lechner (Ita)  295
25. Elisabeth Brandau (Ger)  275
26. Annika Langvad (Den)  262
27. Amanda Sin (Can)  256
28. Magdalena Sadlecka (Pol)  246
29. Kathrin Stirnemann (Sui)  245
30. Karen Hanlen (Nzl)  234
31. Adelheid Morath (Ger)  230
32. Anne Terpstra (Ned)  215
33. Marielle Saner-Guinchard (Sui)  209
34. Nathalie Schneitter (Sui)  207
35. Aleksandra Dawidowicz (Pol)  196
36. Cécile Ravanel (Fra)  183
37. Rosara Joseph (Nzl)  182
38. Tereza Hurikova (Cze)  181
39. Jean Ann Berkenpas (Can)  164
40. Fanny Bourdon (Fra)  159
41. Julie Krasniak (Fra)  155
42. Nataliya Krompets (Ukr)  153
43. Lene Byberg (Nor)  142
44. Sandra Walter (Can)  136
45. Vera Andreeva (Rus)  126
46. Laura Turpijn (Ned)  125
47. Anna Szafraniec (Pol)  120
48. Mikaela Kofman (Can)  118
49. Janka Stevkova (Svk)  118
50. Hanna Klein (Ger)  118
51. Rie Katayama (Jpn)  114
52. Elisabeth Sveum (Nor)  111
53. Sarah Koba (Sui)  110
54. Qinglan Shi (Chn)  105
55. Silke Schmidt (Ger)  103
56. Katherine O'Shea (Aus)  98
57. Heidi Sandsto Rosaasen (Nor)  93
58. Judy Freeman (USA)  91
59. Erin Huck (USA)  84
60. Agustina Maria Apaza (Arg)  84
61. Katarzyna Solus-Miskowicz (Pol)  84
62. Aleksandra Mooradian (Pol)  82
63. Noelia Rodriguez (Arg)  81
64. Laura Metzler (Fra)  80
65. Adriana Rojas (Crc)  76
66. Anja Gradl (Ger)  70
67. Corina Gantenbein (Sui)  63
68. Sarah Kaufmann (USA)  60
69. Maxine Filby (Gbr)  55
70. Caroline Mani (Fra)  55
71. Katherine Herrera (Crc)  52
72. Katherine Compton (USA)  51
73. Rowena Fry (Aus)  51
74. Lee Craigie (Gbr)  50
75. Cindy Montambault (Can)  48
76. Githa Michiels (Bel)  47
77. Laura Lorenza Morfin Macouzet (Mex)  46
78. Mandy Dreyer (Can)  46
79. Daniela Campuzano (Mex)  42
80. Amy Dombroski (USA)  38
81. Pavla Havlikova (Cze)  38
82. Chloe Woodruff (USA)  36
83. Samantha Sanders (RSA)  36
84. Alexandra Gabriela Serrano Rodriguez (Ecu)  32
85. Jenni King (Aus)  31
86. Caroline Villeneuve (Can)  29
87. Nina Baum (USA)  27
88. Bryna Blanchard (USA)  26
89. Anna Villar Argente (Esp)  24
90. Sally Gabriel (Gbr)  23
91. Ivonne Kraft (Ger)  20
92. Nicoletta De Jager (Ned)  15
93. Willow Rockwell (USA)  14
94. Asa Maria Erlandsson (Swe)  13
95. Jodie Willett (Aus)  13
96. Lucie Vesela (Cze)  12
97. Pavlina Sulcova (Cze)  10
98. Franziska Brun (Sui)  9
99. Catherine Vipond (Can)  9
100. Julia Colvin (RSA)  9
101. Judith Pollinger (Ita)  8
102. Jane Nussli (Gbr)  8
103. Melanie Palframan (RSA)  8