June 23, 2012 (Mont-Ste-Anne, QC) – The sun is out for the start of the Elite Men's race is now underway with more big guns on the line as 98 starters are lead by Nino Schurter (Sui) Scott Swisspower. For Canada it's Max Plaxton (Specialized) and Geoff Kabush (Scott-3Roxracing looking for a strong result in front of the home crowd. The men are effectively doing 6 laps – 1 long start loop and 5 laps.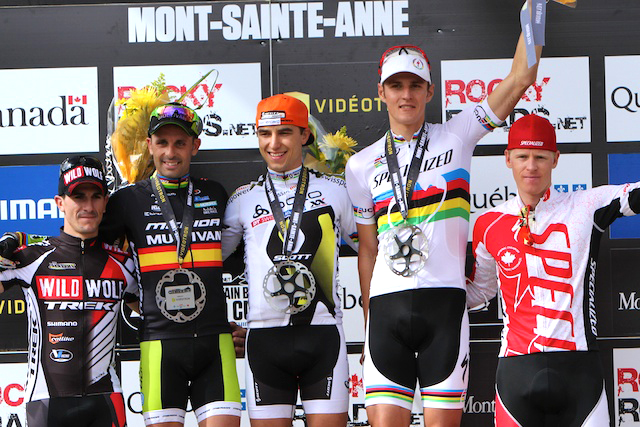 Start Loop
Naef gets the holeshot with Vogel and Schurter up there…
Schurter now takes over the lead – followed by Kulhavy and Fontana.
Schurter is really moving well down the switchback descent he's putting more time on his rivals – 20+seconds
Lap 1
Schurter has a commanding lead of 23s over Kulhavy in 2nd with Marco Fontana on his wheel – then it's Vogel at 24 with Hermida followed by Coloma.
Plaxton is 15 at 1:09 and Kabush is 17th at 1:20
Lap 2
Schurter comes thru in 33:04 but the gap is dropping as Hermida is at 17s.
It's a 2-rider race as Fontana is 3rd at 52s with Vogel in 4th at 53s – Kulhavy is in 5th at 54s.
Plaxton is 11th at 1:36.
Lap 3
Rain clouds are moving in at MSA – Schurter begins Lap 3 at 49:49, Hermida 2nd at 14s, Kulhavy 3rd at 53s.
Plaxton is now 9th at 1:58, Kabush is 13th at 2:32.
Up the switchback climb Plaxton crashes as Stander passes him – Plaxton is back on the bike and chasing.
Lap 4
Schurter remains in control starting his penultimate lap at 1:06:35 – Hermida is 2nd at 16s – Kulhavy is 3rd at 1:17.
Plaxton is now 7th at 2:14
Schurter flats but is in the tech zone – Hermida passes him and is now leading – Schurter is back on his bike.
Thunder and lightening now at Mont-Ste-Anne – the rain is coming down.
Schurter is gaining on Hermida – he catches him as the laps ends.
Lap 5 FINAL
Hermida and Schurter are together at 1:23:42… Schurter has never won at MSA.
Schurter is leading by 2 bike lengths… down the Beatrice rock garden.
Schurter can't shake Hermida – Kulhavy is a minute behind – Coloma is in 4th.
PLAXTON is in 5th – on the podium if he can hold it.
Schurter and Hermida are sprinting to the finish…
Results
1. Nino Schurter (Sui) Scott-Swisspower MTB Racing Team  1:41:24
2. José Antonio Hermida Ramos (Esp) Multivan Merida Biking Team
3. Jaroslav Kulhavy (Cze) Specialized Racing  1:49
4. Carlos Coloma Nicolas (Esp) Wildwolf-Trek Pro Racing  2:28
5. Max Plaxton (Can) Specialized 2:39    
6. Sergio Mantecon Gutierrez (Esp) Wildwolf-Trek Pro Racing  2:45
7. Burry Stander (RSA) Specialized Racing  2:58
8. Florian Vogel (Sui) Scott-Swisspower MTB Racing Team  3:07
9. Marco Aurelio Fontana (Ita) Cannondale Factory Racing  3:09
10. Manuel Fumic (Ger) Cannondale Factory Racing  3:10
11. Ralph Naef (Sui) Multivan Merida Biking Team  3:45
12. Martin Gujan (Sui) Cannondale Factory Racing  3:57
13. Mathias Flückiger (Sui) Trek World Racing  4:09
14. Maxime Marotte (Fra) BH-SR Suntour-Peisey Vallandry  4:44
15. Thomas Litscher (Sui) Felt Oetztal X-Bionic Team  5:35
16. Geoff Kabush (Can) Scott-3Roxracing  6:44   
17. Fabian Giger (Sui) Rabobank Giant Offroad Team  6:54
18. Jochen Kass (Ger) Multivan Merida Biking Team  6:55
19. Daniel Mcconnell (Aus)  7:01
20. Samuel Schultz (USA) Subaru-Trek  7:11
21. Raphael Gagne (Can) Rocky Mountain 7:28   
22. Todd Wells (USA) Specialized Racing  7:47
23. Emil Lindgren (Swe) Rabobank Giant Offroad Team  7:55
24. Adam Craig (USA) Rabobank Giant Offroad Team  8:04
25. Severin Disch (Sui) Thoemus Racing Team  8:10
26. Martin Fanger (Sui) Giant Swiss SR-Suntour  8:29
27. Catriel Andres Soto (Arg) Wildwolf-Trek Pro Racing  8:43
28. Kohei Yamamoto (Jpn) Specialized Racing  8:45
29. Marcel Wildhaber (Sui) Scott-Swisspower MTB Racing Team  9:44
30. Fabien Canal (Fra) GT Skoda Chamonix  9:51
31. Henk Jaap Moorlag* (Ned) Rabobank Giant Offroad Team  9:56
32. Martin Loo (Est) Hard Rock Canossa Merida  9:57
33. Stéphane Tempier (Fra) TX Active Bianchi  0:10:34
34. Jeremiah Bishop (USA) Cannondale Factory Racing  0:11:08
35. Andrew Watson (Can) Norco 0:11:21     
36. Derek Zandstra (Can) Scott-3Roxracing  0:11:39    
37. Liam Killeen (Gbr) Giant Factory Off-Road Team
38. Sepp Freiburghaus (Sui) Thoemus Racing Team  0:12:04
39. Ruben Ruzafa Cueto (Esp) Orbea Racing Team  0:12:05
40. Jérémy Huguenin (Sui) Giant Swiss SR-Suntour  0:12:27
41. Andy Eyring (Ger)  0:13:07
42. Neal Kindree (Can)  0:13:24
43. Karl Markt (Aut) Felt Oetztal X-Bionic Team  0:13:33
44. Spencer Paxson (USA) Kona  0:13:34
45. Cameron Jette (Can) Scott-3Roxracing  0:14:52    
46. Adam Morka (Can) Trek Canada 0:15:35    
47. Stephen Ettinger (USA) BMC Mountainbike Racing Team  0:15:37
48.  Michael Broderick (USA)      -1 lap
49.  Rudi Van Houts (Ned) Multivan Merida Biking Team -1 lap
50.  Daniel Eymann (Sui) Thoemus Racing Team   -1 lap
51.  Mitchell Hoke (USA)      -1 lap
52.  David Fletcher (Gbr) Orange Monkey-Cannondale    -1 lap
53.  Matthew Hadley (Can) Xprezo-Borsao     -1 lap
54.  Peter Glassford (Can) Trek Canada    -1 lap
55.  Pete Ostroski (USA)      -1 lap
56.  Sid Taberlay (Aus)      -1 lap
57.  Alex Grant (USA) Cannondale Factory Racing   -1 lap
58.  Craig Richey (Can)      -1 lap
59.  Julien Taramarcaz (Sui) BMC Mountainbike Racing Team  -2 laps
60.  Dave Henderson (Gbr)      -2 laps
61.  Kris Sneddon (Can) Kona     -2 laps
62.  Lee Williams (Gbr)      -2 laps
63.  Jeremy Horgan-Kobelski (USA) Subaru-Trek     -2 laps
48.  Luciano Caraccioli (Arg)      -3 laps
49.  Marc-Andre Daigle (Can)      -3 laps
50.  Nathan Guerra (USA)      -3 laps
51.  Filippo Barbieri (Bra)      -4 laps
DNF  Christoph Sauser (Sui) Specialized Racing
DNF  Andras Parti (Hun)
DNF  Lukas Flückiger (Sui) Trek World Racing
DNF  Moritz Milatz (Ger) BMC Mountainbike Racing Team
Standings after 5 Rounds
1. Nino Schurter (Sui) Scott-Swisspower MTB Racing Team 950  pts
2. Jaroslav Kulhavy (Cze) Specialized Racing 785
3. Burry Stander (RSA) Specialized Racing 688
4. Julien Absalon (Fra) Orbea 650
5. José Antonio Hermida Ramos (Esp) Multivan Merida Biking Team 605
6. Manuel Fumic (Ger)  565
7. Fabian Giger (Sui)  512
8. Marco Aurelio Fontana (Ita)  510
9. Florian Vogel (Sui)  500
10. Ralph Naef (Sui)  485
11. Stéphane Tempier (Fra)  404
12. Sergio Mantecon Gutierrez (Esp)  402
13. Maxime Marotte (Fra)  392
14. Lukas Flückiger (Sui)  385
15. Carlos Coloma Nicolas (Esp)  377
16. Martin Gujan (Sui)  365
17. Christoph Sauser (Sui)  364
18. Max Plaxton (Can) Specialized 352  
19. Jean-Christophe Peraud (Fra)  331
20. Mathias Flückiger (Sui)  316
21. Rudi Van Houts (Ned)  303
22. Emil Lindgren (Swe)  302
23. Moritz Milatz (Ger)  290
24. Jochen Kass (Ger)  282
25. Geoff Kabush (Can)  Scott-3Roxracing 266
26. Liam Killeen (Gbr)  238
27. Samuel Schultz (USA)  228
28. Thomas Litscher (Sui)  224
29. Daniel Mcconnell (Aus)  220
30. Kohei Yamamoto (Jpn)  216
31. Karl Markt (Aut)  214
32. Ivan Alvarez Gutierrez (Esp)  190
33. Wolfram Kurschat (Ger)  187
34. Henk Jaap Moorlag* (Ned)  171
35. Catriel Andres Soto (Arg)  166
36. Martin Fanger (Sui)  162
37. Inaki Lejarreta Errasti (Esp)  160
38. Fabien Canal (Fra)  149
39. Todd Wells (USA)  145
40. Marek* Konwa (Pol)  143
41. Michele Casagrande (Ita)  135
42. Milan Spesny (Cze)  124
43. Tony Longo (Ita)  111
44. Stephen Ettinger (USA)  111
45. Derek Zandstra (Can) Scott-3Roxracing 110
46. Alexis Vuillermoz (Fra)  105
47. Jan Skarnitzl (Cze)  104
48. Sven Nys (Bel)  100
49. Martino Fruet (Ita)  98
50. Jürg Graf (Sui)  98
51. Jiri Novak (Cze)  91
52. Jeremiah Bishop (USA)  90
53. Adam Craig (USA)  87
54. Chris Jongewaard (Aus)  82
55. Andrea Tiberi (Ita)  70
56. Matous Ulman (Cze)  68
57. Raphael Gagne (Can) Rocky Mountain 64
58. Andras Parti (Hun)  63
59. Marcel Wildhaber (Sui)  62
60. Sepp Freiburghaus (Sui)  60
61. Severin Disch (Sui)  56
62. Uwe Hochenwarter (Aut)  56
63. Cédric Ravanel (Fra)  53
64. Kevin Van Hoovels (Bel)  53
65. Piotr Brzozka (Pol)  51
66. Martin Loo (Est)  50
67. Julien Taramarcaz (Sui)  49
68. Jérémy Huguenin (Sui)  48
69. Umberto Corti (Ita)  48
70. Lukas Sablik (Cze)  42
71. Lachlan Norris (Aus)  41
72. David Fletcher (Gbr)  40
73. Jeremy Horgan-Kobelski (USA)  40
74. Marek Galinski (Pol)  37
75. Andrew Watson (Can)  Norco 36
76. Nicola Rohrbach (Sui)  34
77. Robert Mennen (Ger)  30
78. Philip Buys (RSA)  30
79. Ruben Ruzafa Cueto (Esp)  29
80. Alban Lakata (Aut)  29
81. Andy Eyring (Ger)  27
82. Periklis Ilias (Gre)  27
83. Neal Kindree (Can)  26
84. Spencer Paxson (USA)  24
85. Patrik Gallati (Sui)  24
86. Cameron Jette (Can) Scott-3Roxracing   23  
87. Adam Morka (Can) Trek 22  
88. Michael Broderick (USA)  20
89. Kristian Hynek (Cze)  20
90. Alexis Chenevier (Fra)  19
91. Daniel Eymann (Sui)  18
92. Mitchell Hoke (USA)  17
93. Paul Van Der Ploeg (Aus)  16
94. Matthew Hadley (Can)  Xprezo-Borsao 15
95. Sergji Rysenko (Ukr)  15
96. Peter Glassford (Can) Trek Canada 14  
97. Pete Ostroski (USA)  13
98. Ruben Almeida (Por)  13
99. Sid Taberlay (Aus)  12
100. Hannes Metzler (Aut)  12
101. Alex Grant (USA)  11
102. Kevin Pauwels (Bel)  11
103. Craig Richey (Can)  10  
104. Michal Lami (Svk)  10
105. David Joao Serralheiro Rosa (Por)  10
106. Sebastien Carabin (Bel)  10
107. Marc Bassingthwaighte (Nam)  9
108. Dave Henderson (Gbr)  8
Team Standings after 5 Rounds
1. Specialized Racing  360  pts
2. Cannondale Factory Racing  300
3. Multivan Merida Biking Team  295
4. Scott-Swisspower MTB Racing Team  259
5. Rabobank Giant Offroad Team  160
6. Wildwolf-Trek Pro Racing  143
7. Trek World Racing  137
8. Orbea Racing Team  134
9. BH-SR Suntour-Peisey Vallandry  76
10. TX Active Bianchi  74
11. Bmc Mountainbike Racing Team  59
12. Felt Oetztal X-Bionic Team  55
13. Scott-3Roxracing  50   
14. Elettroveneta-Corratec  24
15. Subaru-Trek  22
16. Giant Factory Off-Road Team  20
17. Topeak Ergon Racing Team  17
18. Giant Swiss SR-Suntour  15
19. Rubena Auto-Mencik Specialized  8
20. Thoemus Racing Team  6
21. Lapierre International  6
22. S&H Superior MTB Team  5
23. Milka-Superior MTB Racing Team  3
24. GT Skoda Chamonix  1
25. Euroone-Waberer's-Cube MTB Team  1