June 04, 2012 (Val di Sol, Italy) – After a long hiatus, the UCI Downhill World Cup resumed this weekend in Val Di Sole, Italy for round #2. It was Aaron Gwin (USA) Trek World Racing decimating the competition for the men, and Rachel Atherton (Gbr) GT Factory Racing taking the win for the women. Canada's Steve Smith (Can) Devinci Global Racing was 10th despite dislocating his finger in practice on Saturday and not being able to complete his qualifying run.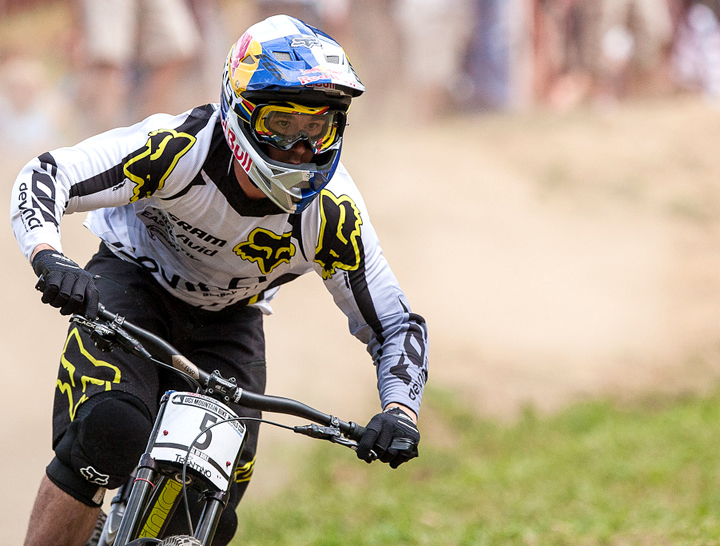 Gwin (USA) took the win by 7.85 seconds, showing he is still at the top of his game. Greg Minnaar (RSA) Santa Cruz Syndicate and Gee Atherton (Gbr) GT Factory Racing rounded out the podium here in sunny Italy.
"It was pretty wild, it was so wild I could barely hold on at times. I knew I could do this, but have no idea how I held on. On this track you can throw it away so easily. I focused on a few spots – I screwed up in qualifying and tried to do them a little bit better. I just kinda let it happen. I tried not to switch up much between qualifying and my race run," said Gwin.
Atherton (GBR) was 4.485 seconds ahead of Myriam Nicole (Commencal/Riding Addiction) of France in second place. In third it was defending world champion Emmeline Ragot (MS Mondraker Team), also of France. Canada's Miranda Miller (Santa Cruz/SRAM) finished a respectable 12th.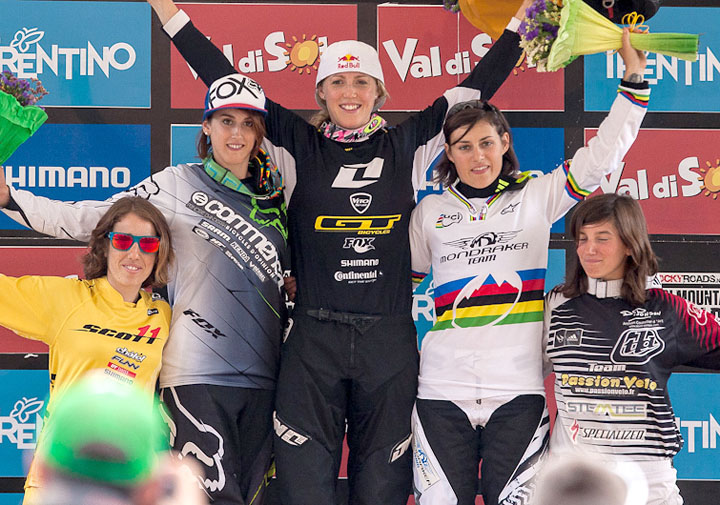 Smith led the charge for Canada with a respectable 10th place, salvaging some crucial world cup overall standings points. His mechanic went as far as to pad his grip with foam and athletic tape in order to help Smith keep his hands on the bar.
"It was pretty scary with one hand. I felt like I was cruising. It's all I could really do, my hand kept wanting to slip off and roll forward. It didn't feel so good to ride tame, but I had to do it.
"I was a bit surprised when I crossed the line as high as I did.  It's really good for points. My hand was feeling so sketchy, I couldn't grip the bars at all. I had to change up some lines and not hit the G holes as hard as I normally would."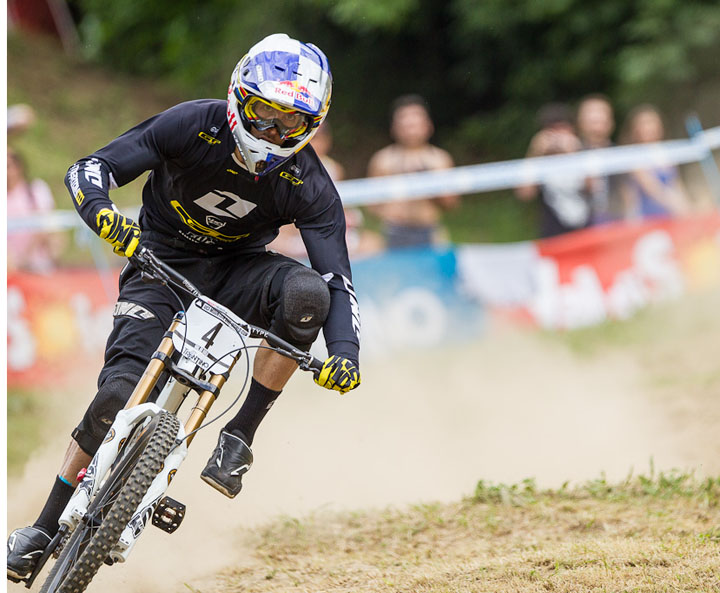 The entire World Cup now moves on to Fort William, Scotland, for the next round of racing next weekend.