April 24, 2014 (Cairns, Australia) – Two weeks after the opening of the international season in the South African sun of Pietermaritzburg the world's best mountain bike specialists are in Cairns, Australia for the second round of the circuit. Before returning to Europe, the World Cup stops over in this South East Australian city 18 years after the first Worlds were held in the country.
"There are obviously good memories returning when arriving here," confided Spain's José Hermida (Multivan Merida), Junior World Champion in 1996 and still a major player in the Elite after nearly  two decades.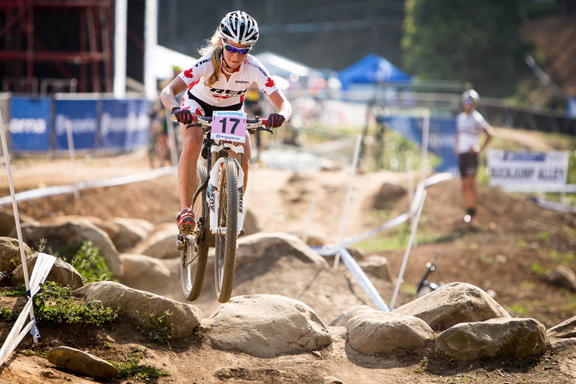 Olympic Cross-country: A dream opportunity for Absalon
Previously unbeaten on the Pietermaritzburg circuit since 2011, Nino Schurter (Sui) Scott Odlo MTB Racing Team had to make do with sixth place in South Africa after flatting in the second-to-last lap while battling with Julien Absalon (Fra) BMC Racing Team. The French rider grabbed his 27th World Cup victory and arrives in Australia with the leader's jersey on his shoulders. It has been three years, since his victory in Offenburg, that he hasn't had this privilege.
Unlike a large number of the athletes, the double Olympic Champion chose to return home between Pietermaritzburg and Cairns to prepare his race. Was it the right choice?  He has a unique opportunity to take off in the absence of Schurter who is racing as part of the Orica Green Edge road team at the UCI WorldTour event Tour de Romandie.
Canada's Max Plaxton (Sho-Air/Cannondale) is also on the start list after missing round one in South Africa due to a nagging knee injury. Canadian endurance specialist Cory Wallace (Kona) is the second of two Canucks among the elite men's ranks.
Another victory for Absalon would allow him to join the American Julie Furtado and the Norwegian Gunn Rita Dahle as one of the best athletes in the history of the discipline.
In the women's competition, Jolanda Neff (Sui) Liv Pro XC Team delivered an impressive performance to winning in South Africa. The 21-year-old Swiss rider appears more than capable of living up to her status, especially as the technical circuit in Australia should suit her perfectly.
Emily Batty (Trek Factory Racing) and Mikaela Kofman (Scott-3Rox Racing) are the solo two Canadians on the elite women's start list, with Catharine Pendrel (Luna Pro Team) still recovering from a broken collarbone sustained earlier this month.
Downhill: Carpenter and Gwin need to confirm
They have two opposite paths. On the one hand a young 21-year-old woman, 2011 Juniors World Champion, who is one of the future stars of the discipline. On the other hand, the ex "master" of world downhill who returns after 20 difficult months way a long way from victory.
Britain's Manon Carpenter (Madison Saracen Factory Team) and the American Aaron Gwin (Specialized Racing DH) don't have a great deal in common except for one (important) detail: they are both leaders of the UCI Mountain Bike World Cup after their wins in Pietermaritzburg. And both need to confirm their performances in Australia. But on the track that will also host the Worlds in 2017, their biggest threat could well be local.
Indeed Tracey and Mick Hannah dream of a family double in their backyard. The brother and sister ride in the Hutchinson UR colours and have already won rounds of the UCI Mountain Bike World Cup, but never on the same day. After medals at last year's World Championships (bronze for Tracey, silver for Mick), can they make Cairns their glory day?
They will also have to watch out for another sister-brother duo, World Champion Rachel Atherton and her brother Gee, looking for a first victory of the season.
The biggest Canadian contingent can be found in the DH events, with three women in the elite race: Micalya Gatto (Pivot Factory Team), Casey Brown (Bergamont Hayes World Team), and Australia-based Claire Buchar (Kovarik Racing). Forrest Riesco (Banshee/RaceFace) and Matt Hardwick are representing Canada in the elite men's event, with defending World Cup champ Steve Smith (Devinci Global Racing) still out due to injury.
Cross-country Eliminator: Who will be first leader?
Cross-country Eliminator specialists make their debut in Australia. Six rounds (Cairns – Nove Mesto – Albstadt – Mont Sainte Anne – Windham and Méribel) are on the programme of this short cross-country format. Last year Austria's Daniel Federspiel and Sweden's Alexandra Engen where the overall winners after an indecisive season.
Who will pull on the first leader's jersey? World Champion Paul Van der Ploeg (Australia) will inaugurate his rainbow jersey in front of his home crowd. But there is an impressive line-up behind him, many of whom have a chance of climbing onto the highest step of the podium. As well as Federspiel, watch out also for other winners from last year: Great Britain's Gallagher, Belgium's Fabrice Mels and the German Simon Gegenheimer.
In the women's competition, Alexandra Engen's main rival comes in the form of fellow Swedish athlete Jenny Rissveds, winner in Nove Mesto and Hafjell last year.
No Canadians are registered for the Eliminator events.
Follow the action live at www.redbull.tv