July 09, 2011 (Windham, New York) – The Elite Women's XC race will soon be underway in in Windham, NY for round #5 of the UCI MTB WCup as Canada's Catharine Pendrel (Luna Pro) is looking to follow up her MSA win with another victory wrestle the overall leader's jersey from Julie Bresset (Fra) Bh-Suntour-Peisey Vallandry – only 140pts separate them.  Fellow Canucks Marie-Hélène Prémont (Maxxis-Rocky Mountain) and Emily Batty (Subaru-Trek) will be looking to up their game as well. The women will complete 5 laps of the 5.5km circuit with 197m of elevation – it's a beautiful sunny day in Windham with a light breeze.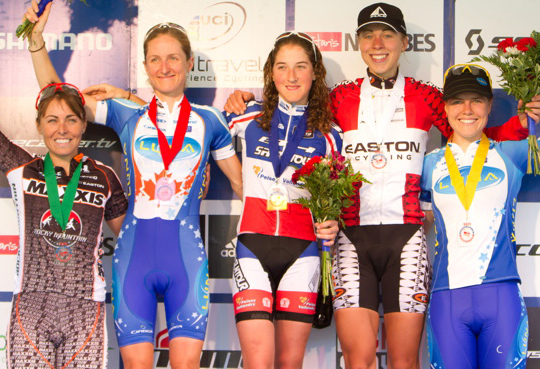 Lap 1
Eva Lechner (Ita) Colnago Farbe Sudtirol takes the holeshot with Bresset in second and  Elisabeth Osl (Aut) Ghost Factory Racing Team in third and Pendrel having a better start than at MSA.
Blaza Klemencic (Slo) Felt Oetztal X-Bionic Team has taken over the lead up the climb with Bresset in second and Lechner in third – Pendrel still up there.
Pendrel attacks and takes over the lead… Bresset is on her wheel – Batty is in the 20s.
Pendrel and Bresset have a gap – Pendrel is on a full suspension bike. Lechner is leading the chase group behind at about 15s with Premont in 4th.
Lap 2
Pendrel and Bresset come thru together in 19:05… they've extended their lead to 40s. Osl leads the chasers with Premont in 4th and Klemencic is in 5th… the chase group has 7 riders – Batty is 25th.
Through the feedzone and up the climb Bresset attacks but Pendrel is right with her. On the descent it's Bresset still leading as Premont is now 6th or 7th and there are now 8 in the chase group.
At the 1/2 way point it's still Bresset in front with Pendrel right on her wheel. Thru the second feedzone Pendrel takes over the lead as they're extending their lead over the 8 chasers.
Thru the switchback section Pendrel tries to open a gap but Bresset is not letting her get away… the second lap is almost over.
Irina Kalentieva (Rus) Topeak Ergon Racing Team, Annika Langvad (Den), Maja Wloszczowska (Pol) Ccc Polkowice and Georgia Gould (Usa) Luna Pro Team are in the 8-rider chase group.
Bresset takes over the lead on the descent
Lap 3
Bresset is in front with Pendrel on her wheel in 37:59…
Osl, Premont and Langvad are trying to break away from the chase group but they're losing time on the leaders now at 1:04 behind.
Pendrel attacks on the climb and takes over the lead – behind the chasers regroup as one is dangling off the back.
U23 women – France's Pauline Ferrand Prevot (Lapierre International) is leading – the top Canuck is Mikaela Kofman in the top ten (we think 8th).
Premont takes over the lead of the chase group – she was second to Pendrel last year here in Windham and knows the course and is trying to bring down the gap.
Thru the Switchback section in and out of the forest Pendrel tries to drop Bresset but the French rider is not easy prey. Pendrel won here last year and won the overall title for the first time so Windham is special.
On the downhill to the finish Premont is on her own in third with Langvad not far behind.
Lap 4
Pendrel and Bresset are together as they start the penultimate lap in 57:27… Premont is in third and has made gains now at 39s followed by Langvad at 48s, Osl is 5th at 59 with Wloszczowska in the same time.
Thru the first feedzone and up the climb Bresset takes over the lead as Premont continues to try and close the gap – she can now see the two leaders ahead.
Behind the 6 chasers are not far behind and they know there's a podium spot at stake.
Thru the second feedzone it's Pendrel out front with Bresset on her wheel… not far beind is Premont at 30s and trying hard to close the gap down with Langvad in 4th.
On the descent Pendrel can't shake Bresset… into the forest they'll soon be on the final lap. Langvad has bridged to Premont.
U23 – Ferrand Prevot continues to lead with Switzerland's Kathrin Stirnemann in second… Norway's Sveum is 3rd.
Lap 5 Final
It's Pendrel and Bresset now on the bell lap in 1:16:49… thru the feedzone they both take on water. In third it's Langvad at 50s with Premont on her wheel in 4th.
Behind another 20s it's Nash, Gould and Kalentieva.
Pendrel leads up the climb… Langvad is gapping Premont and taking over 3rd.
Thru the second feedzone it's Pendrel with Bresset on her wheel… then it's  Langvad in 3rd and Premont in 4th but Gould is making gains on Premont and Kalentieva is charging as well…
Now Bresset is in front thru the switchback… with 7-8s over Pendrel. Bresset is moving well – Pendrel has lost more time… did she crash ?
Results
U23 Women
1. Pauline Ferrand Prevot (Fra) Lapierre International 1:21:45
2. Elisabeth Sveum (Nor) Team Merida Smart Safety 0:18
3. Kathrin Stirnemann (Sui) Central Haibike Pro Team 0:27
6. Mikaela Kofman (Can) Team Canada 4:10
9. Rebecca Beaumont (Can) 5:44
11. Laura Bietola (Can) 10:14
14. Kristina Laforge (Can) 13:52
17. Valerie Meunier (Can)  15:58
18. Cayley Brooks (Can) 19:41
19. Andréanne Pichette (Can) -1 lap
Elite Women
1. Julie Bresset (Fra) BH-Suntour-Peisey Vallandry 1:35:36
2. Catharine Pendrel (Can) Luna Pro Team 0:39
3. Annika Langvad (Den) 01:24
4. Marie-Helene Premont (Can) Team Maxxis-Rocky Mountain 01:29
5. Georgia Gould (USA) Luna Pro Team 01:30
6. Irina Kalentieva (Rus) Topeak Ergon Racing Team 01:49
7. Katerina Nash (Cze) Luna Pro Team 02:02
8. Blaza Klemencic (Slo) Felt Oetztal X-Bionic Team 02:14
9. Elisabeth Osl (Aut) Ghost Factory Racing Team 02:15
10. Maja Wloszczowska (Pol) CCC Polkowice 02:33
11. Gunn-Rita Dahle Flesjaa (Nor) Multivan Merida Biking Team 02:34
12. Tanja Zakelj (Slo) Orbea Geax 03:02
13. Katherine Compton (USA) Rabobank-Giant Off-Road Team 03:25
14. Adelheid Morath (Ger) Felt Oetztal X-Bionic Team 04:37
15. Lea Davison (USA) Specialized Racing 04:55
16. Cécile Ravanel (Fra) GT Skoda Chamonix 05:08
17. Esther Süss (Sui) 05:39
18. Emily Batty (Can) Subaru-Trek 05:55
19. Annie Last (Gbr) 06:12
20. Alexandra Engen (Swe) 06:14
21. Eva Lechner (Ita) Colnago Farbe Sudtirol 06:16
22. Lene Byberg (Nor) Specialized Racing 07:10
23. Elisabeth Brandau (Ger) Central Haibike Pro Team 07:33
24. Katrin Leumann (Sui) Ghost Factory Racing Team 07:44
25. Heather Irmiger (USA) Subaru-Trek 08:08
26. Tereza Hurikova (Cze) Central Haibike Pro Team 08:09
27. Laura Turpijn (Ned) Team Merida Combee 08:11
28. Anja Gradl (Ger) Ghost Factory Racing Team 08:12
29. Karen Hanlen (Nzl) 08:52
30. Amanda Sin (Can) 3 Rocks Racing 09:03
31. Marielle Saner-Guinchard (Sui) Bikepark.Ch Scott 09:06
32. Mary Mcconneloug (USA) 09:58
33. Sabrina Enaux (Fra) Felt Oetztal X-Bionic Team 10:37
34. Hanna Klein (Ger) 11:21
35. Jean Ann Berkenpas (Can) Xprezo-Borsao 11:42
36. Catherine Vipond (Can) Norco 11:43
37. Judy Freeman (USA) 12:12
38. Nina Homovec (Slo) Orbea Geax 13:17
39. Sandra Walter (Can) Xprezo-Borsao 13:44
40. Mical Dyck (Can) Trek Canada 14:27
41. Erin Huck (USA) 14:52
42. Katherine O'shea (Aus) 15:04
43. Laura Lorenza Morfin Macouzet (Mex) 15:14
44. Krista Park (USA) 15:24
45. Ann Berglund (Swe) 16:46
46. Katherine Sherwin (USA) 17:04
47. Cindy Montambault (Can) 17:15
48. Daniela Campuzano (Mex) Turbo Bike Team 17:42
49. Sarah Kaufmann (USA) 18:00
50. Nathalie Schneitter (Sui) Colnago Farbe Sudtirol -1 lap
51. Carolyn Popovic (USA) -1 lap
52. Zephanie Blasi (USA) -1 lap
53. Bryna Blanchard (USA) -1 lap
54. Rowena Fry (Aus) -2 laps
55. Meghan Korol (USA) -3 laps
DNF Magdalena Sadlecka (Pol) CCC Polkowice
DNF Chloe Forsman (USA)
Overall Standings after 5 Rounds
1. Julie Bresset (Fra) BH-Suntour-Peisey Vallandry 1110
2. Catharine Pendrel (Can) Luna Pro Team 920
3. Marie-Helene Premont (Can) Team Maxxis-Rocky Mountain 630
4. Annika Langvad (Den) 582
5. Irina Kalentieva (Rus) Topeak Ergon Racing Team 580
6. Lene Byberg (Nor) Specialized Racing 542
7. Maja Wloszczowska (Pol) CCC Polkowice 535
8. Eva Lechner (Ita) Colnago Farbe Sudtirol 528
9. Elisabeth Osl (Aut) Ghost Factory Racing Team 467
10. Nathalie Schneitter (Sui) Colnago Farbe Sudtirol 438
11. Georgia Gould (USA) Luna Pro Team 422
12. Emily Batty (Can) Subaru-Trek 416
13. Katerina Nash (Cze) Luna Pro Team 409
14. Esther Süss (Sui) 395
15. Chengyuan Ren (Chn) Specialized Racing 390
16. Gunn-Rita Dahle Flesjaa (Nor) Multivan Merida Biking Team 390
17. Tanja Zakelj (Slo) Orbea Geax 377
18. Sabine Spitz (Ger) Central Haibike Pro Team 365
19. Blaza Klemencic (Slo) Felt Oetztal X-Bionic Team 342
20. Katrin Leumann (Sui) Ghost Factory Racing Team 333
21. Sabrina Enaux (Fra) Felt Oetztal X-Bionic Team 295
22. Annie Last (Gbr) 295
23. Katherine Compton (USA) Rabobank-Giant Off-Road Team 275
24. Alexandra Engen (Swe) 270
25. Tereza Hurikova (Cze) Central Haibike Pro Team 267
26. Mary Mcconneloug (USA) 256
27. Lea Davison (USA) Specialized Racing 240
28. Hanna Klein (Ger) 238
29. Cécile Ravanel (Fra) GT Skoda Chamonix 237
30. Anna Szafraniec (Pol) CCC Polkowice 232
31. Heather Irmiger (USA) Subaru-Trek 227
32. Rosara Joseph (Nzl) Rabobank-Giant Off-Road Team 208
33. Anja Gradl (Ger) Ghost Factory Racing Team 206
34. Nina Homovec (Slo) Orbea Geax 204
35. Laura Turpijn (Ned) Team Merida Combee 195
36. Amanda Sin (Can) 188
37. Karen Hanlen (Nzl) 182
38. Elisabeth Brandau (Ger) Central Haibike Pro Team 168
39. Rie Katayama (Jpn) 145
40. Sarah Koba (Sui) Giant Suiss SR-Suntour 140
41. Adelheid Morath (Ger) Felt Oetztal X-Bionic Team 138
42. Laura Metzler (Fra) BH-Suntour-Peisey Vallandry 126
43. Katherine O'shea (Aus) 109
44. Silke Schmidt (Ger) 104
45. Krista Park (USA) 96
46. Anne Terpstra (Ned) MPL Specialized MTB Team 92
47. Mical Dyck (Can) 92
48. Magdalena Sadlecka (Pol) CCC Polkowice 82
49. Anna Villar Argente (Esp) 79
50. Marielle Saner-Guinchard (Sui) Bikepark.Ch Scott 76
51. Sandra Walter (Can) 75
52. Catherine Vipond (Can) 70
53. Jean Ann Berkenpas (Can) 68
54. Pavla Havlikova (Cze) 67
55. Janka Stevkova (Svk) 56
56. Coralie Redelsperger (Fra) 54
57. Aleksandra Dawidowicz (Pol) CCC Polkowice 50
58. Ann Berglund (Swe) 49
59. Vera Andreeva (Rus) 48
60. Chloe Forsman (USA) 47
61. Cindy Montambault (Can) 46
62. Nataliya Krompets (Ukr) Isd Cycling Team 40
63. Judith Pollinger (Ita) Infotre-Bi & Esse-Leecougan 39
64. Daniela Veronesi (Ita) 37
65. Githa Michiels (Bel) Trek-KMC Trade Team Vzw 35
66. Meghan Korol (USA) 34
67. Rowena Fry (Aus) 33
68. Judy Freeman (USA) 32
69. Nicoletta De Jager (Ned) 31
70. Brandi Heisterman (Can) 30
71. Sandra Santanyes Murillo (Esp) 30
72. Erin Huck (USA) 27
73. Laura Lorenza Morfin Macouzet (Mex) 25
74. Sofia Pezzatti (Sui) 24
75. Oksana Rybakova (Rus) 24
76. Fabienne Niederberger (Sui) 24
77. Caroline Villeneuve (Can) 23
78. Maaris Meier (Est) 23
79. Katherine Sherwin (USA) 22
80. Daniela Campuzano (Mex) Turbo Bike Team 20
81. Inbar Ronen (Isr) 20
82. Sarah Kaufmann (USA) 19
83. Stephanie Wiedner (Aut) 18
84. Carolyn Popovic (USA) 17
85. Rocio Gamonal Ferrera (Esp) 17
86. Zephanie Blasi (USA) 16
87. Bryna Blanchard (USA) 15
88. Maddie Horton (Gbr) 15
89. Samantha Sanders (RSA) 15
90. Anneke Beerten (Ned) Milka Trek MTB Racing Team 14
91. Gracie Elvin (Aus) 13
92. Jenni King (Aus) 12
93. Melanie Espth (Ger) 11
94. Maria Osl (Aut) Fischer-BMC 10
95. Michalina Ziolkowska (Pol) 8
96. Kristien Nelen (Bel) V.Z.W. Goeman Scott Cycling Team 8