July 10, 2011 (Windham, New York) – Rachel Atherton (Gbr) Commencal took the win at round #5 of the UCI MTB WCup in Windham on Sunday as top qualifier Floriane Pugin (Fra) Scott 11 settled for second with Tracy Moseley (Gbr) Trek World Racing placing 3rd on the podium.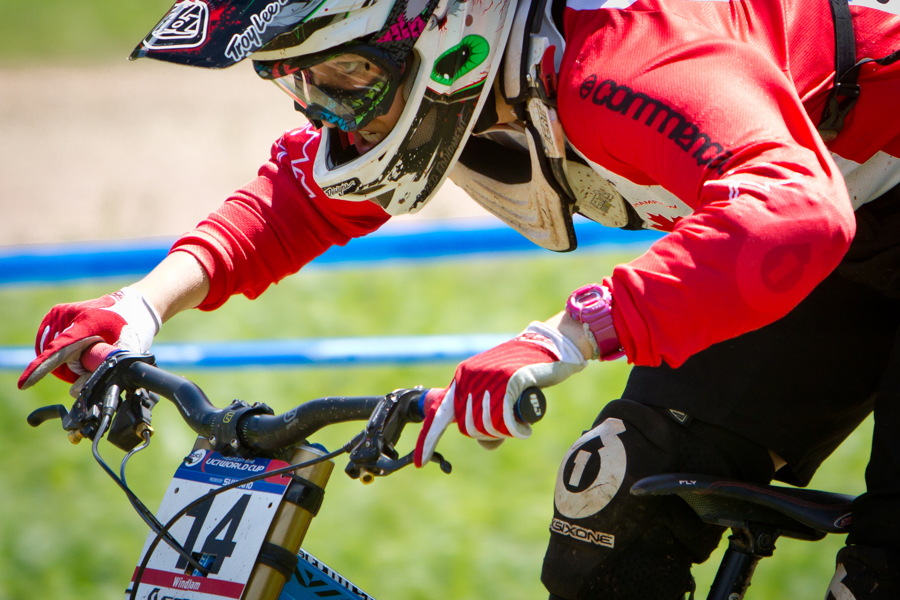 Canada's Micayla Gatto (Team Young Guns) moved up from 12th in the qualifications to make the top 10 as she claimed 9th while Miranda Miller (Can) Santa Cruz/SRAM also advanced finishing 12th.
Moseley continues to lead overall with Pugin in second and Atherton in third. Gatto sits in 13th while Miller is in 17th overall and Anne Laplante (Can)  Xprezo-Borsao is 31st.
Results
Elite Women
1. Rachel Atherton (Gbr) Commencal  2:50.029
2. Floriane Pugin (Fra) Scott 11  1.348
3. Tracy Moseley (Gbr) Trek World Racing  2.671
4. Myriam Nicole (Fra) Riding Addiction Commencal  4.058
5. Emilie Siegenthaler (Sui) Scott 11  8.719
6. Petra Bernhard (Aut) Alpine Commencal Austria  8.853
7. Sabrina Jonnier (Fra) Team Maxxis-Rocky Mountain  8.877
8. Emmeline Ragot (Fra) Team GR  0:10.344
9. Micayla Gatto (Can)  Team Young Guns 0:10.377
10. Jill Kintner (USA)  0:12.324
11. Jessica Stone (Gbr)  0:13.809
12. Miranda Miller (Can) Santa Cruz/SRAM 0:13.930
13. Miriam Ruchti (Sui)  0:14.376
14. Manon Carpenter * (Gbr) Madison Saracen  0:14.841
15. Jacqueline Harmony (USA)  0:15.166
16. Céline Gros (Fra) Team Morzine-Avoriaz/Haute-Savoie  0:16.377
17. Joanna Petterson (RSA)  0:17.253
18. Katy Curd (Gbr)  0:18.454
19. Fionn Griffiths (Gbr) Team GR  0:25.589
20. Lauren Daney * (USA)  0:52.723
21. Melissa Buhl (USA)  0:55.768
Standings after 5 Rounds
1. Tracy Moseley (Gbr) Trek World Racing  1080  pts
2. Floriane Pugin (Fra) Scott 11  980
3. Rachel Atherton (Gbr) Commencal  820
4. Sabrina Jonnier (Fra) Team Maxxis-Rocky Mountain  625
5. Myriam Nicole (Fra) Riding Addiction Commencal  569
6. Emilie Siegenthaler (Sui) Scott 11  475
7. Petra Bernhard (Aut) Alpine Commencal Austria  437
8. Emmeline Ragot (Fra) Team GR  430
9. Fionn Griffiths (Gbr) Team GR  297
10. Jill Kintner (USA)  281
11. Céline Gros (Fra) Team Morzine-Avoriaz/Haute-Savoie  270
12. Manon Carpenter* (Gbr) Madison Saracen  235
13. Micayla Gatto (Can)  Team Young Guns 235
14. Mio Suemasa (Jpn)  181
15. Miriam Ruchti (Sui)  175
16. Jacqueline Harmony (USA)  145
17. Miranda Miller (Can) Santa Cruz/SRAM 105
18. Jessica Stone (Gbr)  90
19. Morgane Charre (Fra) Passion Velo Thiers Stemtee  85
20. Harriet Rucknagel (Ger)  80
21. Anita Ager-Wick (Nor)  80
22. Fanny Lombard (Fra)  35
23. Joanne Muoser (Sui) SC-Intense  30
24. Rika Olivier (RSA)  25
25. Joanna Petterson (RSA)  20
26. Darian Harvey (USA)  20
27. Maria Michalogiannaki (Gre) Unior Tools Team  20
28. Katy Curd (Gbr)  15
29. Gabriela Williams (Cze)  15
30. Sandra Reynier* (Fra) CK Racing Santacruz  15
31. Anne Laplante (Can)  Xprezo-Borsao 10
32. Emily Horridge (Gbr)  10
33. Lauren Daney* (USA)  5