July 09, 2011 (Windham, New York) – There are 83 starters for the Elite Men's XC race as they'll complete 6 laps of the 5.5km circuit with 197m of elevation in Windham, NY. Jaroslav Kulhavy (Cze) Specialized Racing, new series leader, is the man to beat as he won his first WCup here last year. Nino Schurter (Sui) Scott-Swisspower MTB-Racing will be looking for redemption after coming second at MSA. Absent is Julien Absalon (Fra) Orbea as he was at MSA. Canada's Geoff Kabush (Can) Team Maxxis-Rocky Mountain will be looking for another solid performance if not a podium altho he prefers wet conditions and today is hot and dry.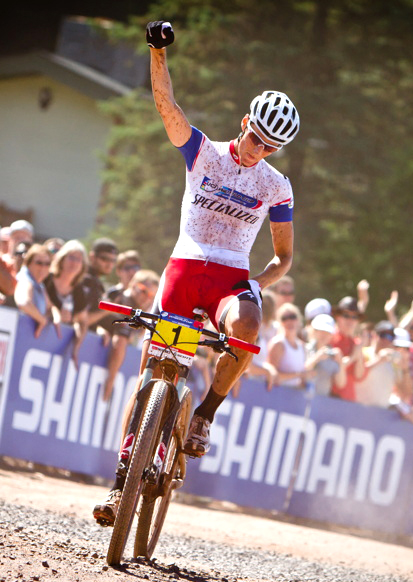 Lap 1
It's a clean start as Marco Fontana (Ita) Aurelio Cannondale Factory Racing is off the front with Florian Vogel (Sui) Scott-Swisspower Mtb-Racing in second. Jaroslav Kulhavy (Cze) Specialized Racing is in 4th – Kabush is 15th.
Thru the feedzone it's Vogel in front now with Kulhavy moving up followed by Nino Schurter (Sui) Scott-Swisspower Mtb-Racing.
Kulhavy attacks up the climb and only Schurter responds… they've got a got a gap of 10-15s on a chase group of five – Vogel, Manuel Fumic (Ger) Cannondale Factory Racing, Moritz Milatz (Ger) Bmc Mountainbike Racing Team , Fontana and Maxime Marotte (Fra) Bh-Suntour-Peisey Vallandry.
Thru the switchback Kulhavy attacks and is on his own out front…
Lap 2
Kulhavy comes thru in 15:48 (sub 16 lap) followed by Schurter in second at 11s.
Following in 3rd it's Marotte then Vogel and Fontana all together at 27s. Kabush is in 18th at 53s.
Christoph Sauser (Sui) Specialized Racing has joined the chase group as Kulhavy powers away – he's on a full suspension 29er. Marotte is leading the chasers and they are very close behind Schurter…
The race is looking like a repeat of the MSA WCup but Schurter is not as solid in second as he was at Mont Ste-Anne.
Marotte is now on Schurter's wheel thru the switchback section – Kulhavy looks solid and relaxed out front on his own.
Thru the second feedzone the second lap will soon be over – Vogel has moved up with Marotte and Schurter but can they do anything against the Kulhavy machine.
On the downhill to finish it's Schurter, Vogel and Marotte trying to reel in Kulhavy.
Lap 3
Kulhavy finishes lap 2 in 31:34… behind at 27s is Schurter, Vogel and Marotte – at 35s is Sauser, Fontana, Fumic and Burry Stander (Rsa) Specialized Racing who has moved up.
Sauser comes to the front of the second chase group and they will catch Schurter's group so it'll be 7-strong chasing the leader.
Kabush is still in the hi teens trying to move up…
José Antonio Hermida Ramos (Esp) Multivan Merida Biking Team is on his own behind the lead chase group. Kulhavy is not looking stressed as he powers off the front at the 1/2 way point.
Sauser moves to the front of the lead chase group… thru the second feedzone Kabush is in a group of 6 riders behind Hermida.
Thru the descent Hermida has caught the lead chase group…
Lap 4
Kulhavy has extended his lead and starts the second half of his race in 47:26… now at 48s it's Fontana, Schurter, Vogel and Sauser.
Up the climb it's Schurter leading the chase and they may have resigned themselves to battle for second. Behind there several small chase groups. Stéphane Tempier (Fra) Tx Active Bianchi is in 10th Todd Wells (Usa) Specialized is in 12th.
Kabush is about 1:20 behind in the high teens… Derek Zandstra (3Rox Racing) is in the 30s with Adam Morka (Trek Canada) and Matt Hadley (Xprezo-Borsao) together further back in the 40s or 50s?
Kabush has a mechanical…
Kulhavy, a former Junior MTB Worlds Champ, is extending his lead…
Lap 5
Kulhavy likes the Windham course where he won his first WCup last year as he starts lap 5 in 1:03:20.
Behind at 59s it's Schurter, Stander and Fontana… thru the lap the chase groups behind are stringing out as the heat takes it's toll.
Tempier and Wells have caught Vogel as the three are in a battle for 10th.
The four chasers Fontana, Schurter, Sauser and Stander continue behind Kulhavy and will likely form the final podium.
Lap 6 Final
On his final lap Kulhavy looks smooth and confident in 1:19:27.
Schurter, Sauser, Stander, Fontana are all together at just under a minute… then it's Hermida in 6th at 1:27 with Marotte in 8th.
Thru the lap Sauser and Schurter attack as they battle of the podium… behind it's Stander on his own in third with Fontana on his own in 4th. Fumic further back punctures…
Kulhavy will certainly win his 4th WCup and extend his overall lead in the series…
Schurter attacks thru the second feedzone as they'll hit the single track and the descent – he wants second as Sauser is waning.
Thru the switchback forest section it's Kulhavy in charge as Schurter takes over second but Sauser is not giving up… there's a rock garden to come on the descent.
Kulhavy is almost home… Sauser won't catch Schurter.
Results
1. Jaroslav Kulhavy (Cze) Specialized Racing 1:35:34
2. Nino Schurter (Sui) Scott-Suisspower MTB-Racing 00:29
3. Christoph Sauser (Sui) Specialized Racing 00:30
4. Burry Stander (RSA) Specialized Racing 00:48
5. Maxime Marotte (Fra) BH-Suntour-Peisey Vallandry 01:14
6. Marco Aurelio Fontana (Ita) Cannondale Factory Racing 01:24
7. José Antonio Hermida Ramos (Esp) Multivan Merida Biking Team 01:33
8. Stéphane Tempier (Fra) TX Active Bianchi 02:39
9. Lukas Flückiger (Sui) Trek World Racing 02:49
10. Mathias Flückiger (Sui) Trek World Racing 02:52
11. Todd Wells (USA) Specialized Racing 03:04
12. Florian Vogel (Sui) Scott-Suisspower MTB-Racing 03:24
13. Manuel Fumic (Ger) Cannondale Factory Racing
14. Thomas Litscher (Sui) Felt Oetztal X-Bionic Team 03:36
15. Rudi Van Houts (Ned) Multivan Merida Biking Team 03:45
16. Patrik Gallati (Sui) BMC Mountainbike Racing Team 03:47
17. Liam Killeen (Gbr) Giant Factory Off-Road Team 04:01
18. Geoff Kabush (Can) Team Maxxis-Rocky Mountain 04:18
19. Adam Craig (USA) Rabobank-Giant Off-Road Team 04:26
20. Cédric Ravanel (Fra) GT Skoda Chamonix 04:30
21. Jan Skarnitzl (Cze) Rubena-Birell-Specialized Cycling Team 04:51
22. Sergio Mantecon Gutierrez (Esp) Wildwolf-Trek Racing 04:57
23. Jochen Kass (Ger) Multivan Merida Biking Team 05:04
24. Inaki Lejarreta Errasti (Esp) Orbea 05:10
25. Matous Ulman (Cze) S&H Superior MTB Team 05:14
26. Marc Colom (Fra) Team Newcycling 05:18
27. Fabian Giger (Sui) Rabobank-Giant Off-Road Team 05:21
28. Ralph Naef (Sui) Multivan Merida Biking Team
29. Jeremiah Bishop (USA) 05:37
30. Martin Fanger (Sui) Giant Suiss Sr-Suntour 05:51
31. Kohei Yamamoto (Jpn) Team Bridgestone Anchor 06:05
32. Ivan Alvarez Gutierrez (Esp) Giant Italia Team 06:41
33. Jeremy Horgan-Kobelski (USA) Subaru-Trek 06:56
34. Derek Zandstra (Can) 3 Rocks Racing 07:04
35. Andras Parti (Hun) Euro One-Cube MTB Team 07:13
36. Marek Galinski (Pol) Jbg-2 Professional MTB Team 07:25
37. Pascal Meyer (Sui) Thoemus Racing Team 07:35
38. Martin Gujan (Sui) Cannondale Factory Racing 07:38
39. Severin Disch (Sui) Thoemus Racing Team 07:43
40. Wolfram Kurschat (Ger) Topeak Ergon Racing Team 07:54
41. Oliver Beckingsale (Gbr) 08:08
42. Pierre-Geoffroy Plantet (Fra) Lapierre International 08:49
43. Moritz Milatz (Ger) BMC Mountainbike Racing Team 09:05
44. Henk Jaap Moorlag (Ned) Rabobank-Giant Off-Road Team 09:16
45. Samuel Schultz (USA) Subaru-Trek 09:24
46. Lukas Kaufmann (Sui) 09:29
47. Carlos Coloma Nicolas (Esp) Wildwolf-Trek Racing 09:42
48. Matthew Hadley (Can) Xprezo-Borsao 09:46
49. Emil Lindgren (Swe) Rabobank-Giant Off-Road Team 10:02
50. Lachlan Norris (Aus) Giant Factory Off-Road Team 10:06
51. Rotem Ishai (Isr) 10:14
52. Adam Morka (Can) Trek Canada 10:20
53. Benjamin Wittrup Justesen (Den) 10:24
54. Michal Lami (Svk) 10:42
55. Sepp Freiburghaus (Sui) Thoemus Racing Team 10:43
56. Karl Markt (Aut) Felt Oetztal X-Bionic Team 10:51
57. Irjan Luttenberg (Ned) MPL Specialized MTB Team 11:04
58. Andrew Watson (Can) Norco 11:29
59. Peter Glassford (Can) Trek Canada 11:56
60. Jiri Novak (Cze) S&H Superior MTB Team 12:28
61. Eric Batty (Can) Trek Canada 12:32
62. Spencer Paxson (USA) Kona 13:10
63. Niels Wubben (Ned) Rabobank-Giant Off-Road Team 14:00
64. Pierre Lebreton (Fra) BH-Suntour-Peisey Vallandry 14:19
65. Uwe Hochenwarter (Aut) Muskelkater Genesis Team -1 lap
66. José Juan Escarcega (Mex) -1 lap
67. Cristobal Silva Ibaceta (Chi) -1 lap
68. Justin Lindine (USA) -1 lap
69. Seiya Hirano (Jpn) Team Bridgestone Anchor -1 lap
70. Troy Wells (USA) -1 lap
71. Travis Woodruff (USA) -1 lap
72. Michael Broderick (USA) -1 lap
73. Klaus Nielsen (Den) -1 lap
74. Nicola Rohrbach (Sui) Elettroveneta-Corratec -1 lap
75. Cameron Jette (Can) -1 lap
76. Ignacio Torres (Mex) Turbo Bike Team -2 laps
77. Christian Bickel (Sui) -2 laps
78. Marc-Andre Daigle (Can) -2 laps
79. Leni Trudel (Can) -2 laps
80. Emmanuel Valencia (Mex) Turbo Bike Team -2 laps
81. Christopher Hamlin (USA) -2 laps
82. Michael Mccalla (USA) -3 laps
83. Alex Ryan (USA) -3 laps
Overall Standings after 5 Rounds
1. Jaroslav Kulhavy (Cze) Specialized Racing 1110
2. Nino Schurter (Sui) Scott-Suisspower MTB-Racing 870
3. Julien Absalon (Fra) Orbea 650
4. Burry Stander (RSA) Specialized Racing 640
5. Maxime Marotte (Fra) BH-Suntour-Peisey Vallandry 620
6. José Antonio Hermida Ramos (Esp) Multivan Merida Biking Team 578
7. Marco Aurelio Fontana (Ita) Cannondale Factory Racing 540
8. Christoph Sauser (Sui) Specialized Racing 540
9. Manuel Fumic (Ger) Cannondale Factory Racing 478
10. Stéphane Tempier (Fra) TX Active Bianchi 468
11. Thomas Litscher (Sui) Felt Oetztal X-Bionic Team 437
12. Florian Vogel (Sui) Scott-Suisspower MTB-Racing 413
13. Carlos Coloma Nicolas (Esp) Wildwolf-Trek Racing 410
14. Mathias Flückiger (Sui) Trek World Racing 383
15. Rudi Van Houts (Ned) Multivan Merida Biking Team 370
16. Todd Wells (USA) Specialized Racing 369
17. Lukas Flückiger (Sui) Trek World Racing 366
18. Fabian Giger (Sui) Rabobank-Giant Off-Road Team 364
19. Martin Gujan (Sui) Cannondale Factory Racing 339
20. Ivan Alvarez Gutierrez (Esp) Giant Italia Team 339
21. Moritz Milatz (Ger) BMC Mountainbike Racing Team 331
22. Inaki Lejarreta Errasti (Esp) Orbea 323
23. Liam Killeen (Gbr) Giant Factory Off-Road Team 288
24. Geoff Kabush (Can) Team Maxxis-Rocky Mountain 281
25. Sergio Mantecon Gutierrez (Esp) Wildwolf-Trek Racing 252
26. Patrik Gallati (Sui) BMC Mountainbike Racing Team 241
27. Ralph Naef (Sui) Multivan Merida Biking Team 240
28. Karl Markt (Aut) Felt Oetztal X-Bionic Team 238
29. Jochen Kass (Ger) Multivan Merida Biking Team 218
30. Martin Fanger (Sui) Giant Suiss Sr-Suntour 214
31. Jan Skarnitzl (Cze) Rubena-Birell-Specialized Cycling Team 201
32. Derek Zandstra (Can) 200
33. Matous Ulman (Cze) S&H Superior MTB Team 183
34. Jeremy Horgan-Kobelski (USA) Subaru-Trek 166
35. Cédric Ravanel (Fra) GT Skoda Chamonix 141
36. Samuel Schultz (USA) Subaru-Trek 137
37. Oliver Beckingsale (Gbr) 135
38. Lukas Kaufmann (Sui) 134
39. Andras Parti (Hun) Euro One-Cube MTB Team 134
40. Marc Colom (Fra) Team Newcycling 130
41. Henk Jaap Moorlag (Ned) Rabobank-Giant Off-Road Team 128
42. Wolfram Kurschat (Ger) Topeak Ergon Racing Team 127
43. Pierre-Geoffroy Plantet (Fra) Lapierre International 125
44. Nicola Rohrbach (Sui) Elettroveneta-Corratec 125
45. Marek Galinski (Pol) Jbg-2 Professional MTB Team 124
46. Jiri Friedl (Cze) Rubena-Birell-Specialized Cycling Team 123
47. Kohei Yamamoto (Jpn) Team Bridgestone Anchor 117
48. Adam Craig (USA) Rabobank-Giant Off-Road Team 115
49. Severin Disch (Sui) Thoemus Racing Team 114
50. Ruben Ruzafa Cueto (Esp) Orbea 102
51. Jeremiah Bishop (USA) 100
52. Uwe Hochenwarter (Aut) Muskelkater Genesis Team 99
53. Jiri Novak (Cze) S&H Superior MTB Team 90
54. Kevin Van Hoovels (Bel) Versluys-Evenza Team 86
55. Irjan Luttenberg (Ned) MPL Specialized MTB Team 82
56. Martino Fruet (Ita) 79
57. Daniel Mcconnell (Aus) 73
58. Sepp Freiburghaus (Sui) Thoemus Racing Team 68
59. Jelmer Pietersma (Ned) Milka Trek MTB Racing Team 56
60. Emil Lindgren (Swe) Rabobank-Giant Off-Road Team 54
61. Pascal Meyer (Sui) Thoemus Racing Team 51
62. Chris Jongewaard (Aus) 47
63. Catriel Andres Soto (Arg) Team Protek 46
64. Adam Morka (Can) 43
65. Christoph Soukup (Aut) 42
66. Robert Mennen (Ger) Topeak Ergon Racing Team 38
67. Michal Lami (Svk) 38
68. Niels Wubben (Ned) Rabobank-Giant Off-Road Team 37
69. Matthew Hadley (Can) 34
70. Balz Weber (Sui) BMC Mountainbike Racing Team 32
71. Jean-Christophe Peraud (Fra) 32
72. Andrew Watson (Can) 32
73. Spencer Paxson (USA) Kona 30
74. Jukka Vastaranta (Fin) Milka Trek MTB Racing Team 30
75. Lachlan Norris (Aus) Giant Factory Off-Road Team 30
76. Hannes Metzler (Aut) Muskelkater Genesis Team 30
77. Tony Longo (Ita) TX Active Bianchi 29
78. Peter Glassford (Can) 25
79. Milan Spesny (Cze) S&H Superior MTB Team 22
80. Periklis Ilias (Gre) Team Protek 21
81. Max Plaxton (Can) 20
82. Eric Batty (Can) 19
83. Michele Casagrande (Ita) Elettroveneta-Corratec 19
84. Rotem Ishai (Isr) 17
85. Martin Loo (Est) Infotre-Bi & Esse-Leecougan 17
86. Filip Eberl (Cze) 16
87. Benjamin Wittrup Justesen (Den) 15
88. Raphael Gagne (Can) 13
89. Alban Lakata (Aut) Topeak Ergon Racing Team 13
90. Joshua Carlson (Aus) 11
91. Rene Tann (Ger) 10
92. Michael Broderick (USA) 9
93. Umberto Corti (Ita) Team CBE Tecnoimpianti A.S.D. 9